"It's our policy not to comment on ongoing operations, but I can assure you that S.H.I.E.L.D. has the situation completely under control."
The specific order and/or accurate dates presented in this article has never been confirmed by Marvel Studios, and therefore it can be inaccurate, incomplete, or partial.
"Rogers. What'd your father die of?"
"Mustard gas. He was in the 107th Infantry. I was hoping I could be assigned-"
―A doctor and Steve Rogers
This is a timeline of events that occurred during the 1910s.
1911
January
2nd
February
6th
May
9th
1912
March
23rd
April
10th
11th
15th
1913
January
9th
1914
January
2nd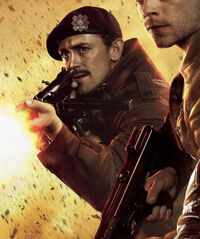 July
28th
1915
November
29th
1917
March
8th
10th
May
29th
August
15th
1918
May
8th
July
4th
18th
August
14th
November
11th
1919
January
March
October
21st
References
↑ 2.0 2.1 2.2 2.3 2.4 2.5 2.6 Sometimes the Marvel Cinematic Universe alludes to people who existed in our world, and it is assumed they were born on the same day in the universe, for timeline purposes.
Ad blocker interference detected!
Wikia is a free-to-use site that makes money from advertising. We have a modified experience for viewers using ad blockers

Wikia is not accessible if you've made further modifications. Remove the custom ad blocker rule(s) and the page will load as expected.