"It's our policy not to comment on ongoing operations, but I can assure you that S.H.I.E.L.D. has the situation completely under control."
The specific order and/or accurate dates presented in this article has never been confirmed by Marvel Studios, and therefore it can be inaccurate, incomplete, or partial.
"I know things seem bleak, but you are, in fact, a fortunate man. You're imprisoned, yes, but it is an American prison. And America is the land of opportunity."
This is a timeline of events that occurred during the 1940s.
1940
February
2nd
July
18th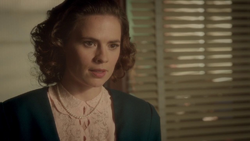 At her job in the Bletchley Park, England, Peggy Carter's colleagues reveal that they have been betting when Fred, Peggy's boyfriend, would finally ask Carter to marry him.[2]
Afterwards, Carter's boss, Edwards, gives her a letter from the S.O.E. about a new division of war requesting for her services.[2]
Carter rejects the offer.[2]
20th
At the wedding party of Peggy Carter and Fred Wells, all of their friends and companions are invited.[2]

At the table where Peggy sits, her brother and her committed Wells make a toast.[2]
Michael challenges Peggy to finish her beer but she does not want to. During a talk between Michael and Fred of the war, Carter talks about her acceptance on the S.O.E. Fred then leaves the Carter brothers so they can talk. They argue but Peggy tells Michael that she has already refused the offer.[2]
August
7th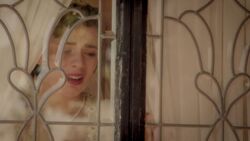 Getting ready for her wedding, Peggy Carter and her mother see her wedding dress as some soldiers arrive at Carter's house telling her mother that her son Michael had died in the war. Peggy, seeing in her window the suffering of her mother, decides to join the S.O.E..[2]
Peggy Carter enlists herself in the British counter-intelligence and security agency MI5. She cancels her marriage.[2]
October
November
11th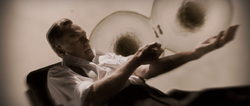 13th
1941
April
15th
A company called the Winter Consulting Group makes a shipment.[6]
May
25th
June
13th
A record is made of a shipment made in New York by the Hand under the company name of Wütend Enterprises.[6]
August
4th
December
7th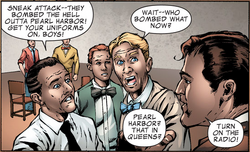 9th
11th
24th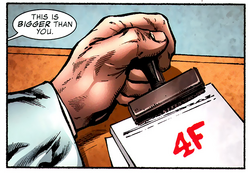 Steve Rogers and Bucky Barnes visit US Recruiting and Induction Center in New York City, but Rogers is classified as 4F and rejected from service. He goes on to be rejected a further four times in four different cities.[1]
25th
26th
1942
January
5th
17th
March
9th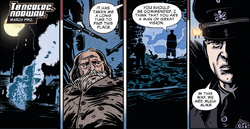 May
22nd
June
5th
6th
7th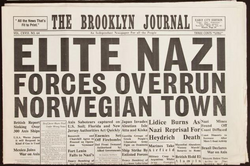 10th
12th
16th
19th-24th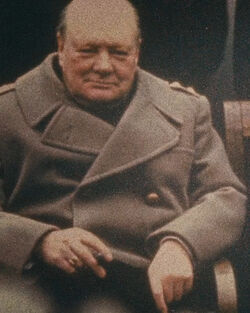 20th
July
1st-27th
9th
August
After the discovery of the Tesseract
8th
22nd
1943
February
25th
June
4th
7th
11th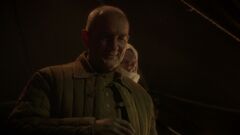 At an army camp for the Soviet Armed Forces, Johann Fennhoff is interrupted by a surgeon needing his assistance during an amputation of the leg of a soldier called Ovechkin.[20]
To help the soldier, Fennhoff uses his hypnosis-technique on him.[20]
As Ovechkin is completely focused on a memory of a chess game he had with his mother before enlisting in the army, the surgeons amputate his leg without him feeling any pain.[20]
14th
15th
22nd
23rd
Unwilling to be kept for research, Steve Rogers joins the USO and goes on a morale-boosting tour of the US, the UK, and troops stationed in Italy.[4]

Given the name 'Captain America' he becomes a national celebrity, appearing in films, comic books and card collections and establishing himself as a symbol of America's participation in the war.[4][5]
The Western Allies' bombing offensive sees massive successes as Nazi satellite state targets are obliterated.[4][5]
September
October
November
3rd
4th
Steve Rogers is presumed dead, but soon arrives with most of the soldiers he saved from the HYDRA facility.[4]
Rogers brings together some of the men he saved in the HYDRA base and creates a team that will eventually be known as the Howling Commandos.[4][5]
5th
19th
Nazi forces retake Zhitomir.[4]
December
1944
January
February
March
29th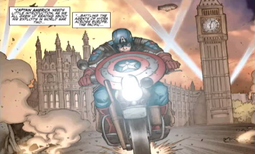 Captain America tries to get a file from HYDRA agents in London, who run away and attempt to hide in an air raid shelter. The Captain encourages the citizens inside the shelter to attack the agents by giving them a speech of heroism and strength in numbers.[22]
April
Battle of Finow:

General John McGinnis' soldiers raid the laboratories of Howard Stark, stealing all documents about his research and the Midnight Oil, a defensive gas created by Stark. Wanting to help the Soviet Armed Forces in crushing the German defenses in the city of Finow in Germany, Air Force planes fly over the battlefield and release the Midnight Oil.[23][24]

However, the gas has a different effect on the Soviets than they were expecting. Hundreds of soldiers went mad and began killing everyone around them. One of the only few soldiers to survive is Johann Fennhoff, who survived by putting a gas mask on his face. His brother, however, was not as lucky, having been killed along with 246 of his comrades.[23]
27th
May
11th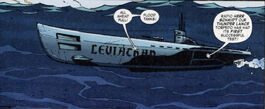 June
A supposed massacre occurs that leaves no survivors. The only known person involved is a person with the name 'M. Carter'. (In 1947, a redacted file is recovered on this event by Jack Thompson which he uses against Peggy Carter, to discredit her, who he supposedly believes is behind this; a fact she says is not true which leaves more suspicion on what truly happened that day and who 'M. Carter' really is).[26]
6th-11th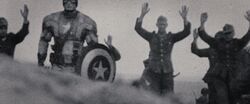 September
Johann Fennhoff is captured by Leviathan, along with three other men. When one of them refuses to join because he wants to be with his family, he is stabbed in the jugular vein by Dottie Underwood, who is now a member of Leviathan. The remaining three are told that Pasha's family will be killed so that the whole family will be together again. Fennhoff chooses to remain alive by joining Leviathan.[24]
1945
January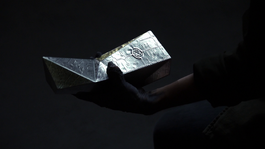 Werner Reinhardt captures a group of villagers from China who have found the mysterious Obelisk in Chaves, Portugal. Based on stories and fables from the villagers, Reinhardt comes to learn of the Kree's visit to Earth millennia ago, but misinterprets their visit as an attempt to conquer the planet.[28] When he shows the Obelisk to Schmidt, he says that the Obelisk may hold the answer to death itself.[16]
February
1st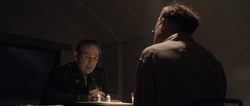 3rd
5th
19th
March
2nd
4th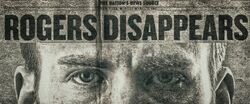 5th
20th
April
12th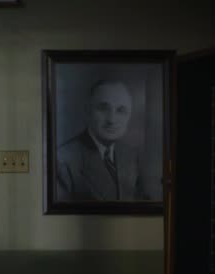 30th
In his bunker in Berlin, Adolf Hitler appoints Grand Admiral Karl Doenitz, the Commander-in-Chief of the German Navy, as his successor. Hitler commits a suicide in order to evade capture after Nazi Germany's defeat. Nazi propaganda attempts to present his death as a heroic fall in the struggle against Bolshevism.[35]
May
7th
8th
9th
German Field Marshall Wilhelm Keitel signs the unconditional surrender of Nazi Germany at Soviet headquarters in Berlin.[27]
19th
The United States begin Operation Overcast, later renamed Operation Paperclip, an effort to recruit former Nazi scientists to work for the United States.
21st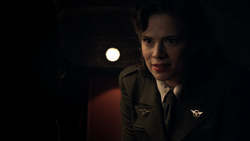 23rd
June
25th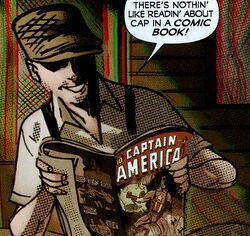 August
6th
9th
15th
September
2nd
17th
December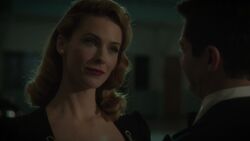 1946
January
16th
March
15th
Tired of being underappreciated by her misogynistic superior John Flynn, who gives her nothing more than paperwork to do because she is a woman, Peggy Carter, ignoring orders from the Strategic Scientific Reserve, single-handedly retrieves a vial of formula marked with the Zodiac emblem by fighting several guards.[42]
16th
The next day, John Flynn reprimands Carter for not going through proper procedures in the Zodiac mission. However Howard Stark contacts Flynn, telling him that Carter is going to co-manage the newly created S.H.I.E.L.D. with him.[42]
18th
Howard Stark returns home from his pleasure trip in Monaco and discovers that someone had cut a hole into the vault of his mansion and stole his inventions stored there. He puts the plans for S.H.I.E.L.D. on hold with no warning to Peggy Carter, who is left clueless and has to return to her work at the SSR.[33]
April
1st
3rd
Howard Stark's inventions begin turning up on the black market.[33]
11th
12th
13th
14th
15th
16th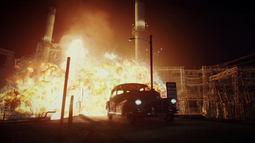 17th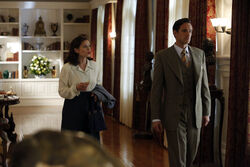 18th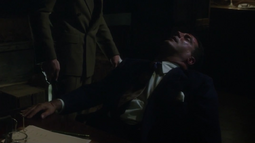 19th
20th
Upon arriving at Stark's mansion, Carter, who had listened to Jarvis's interrogation, asks if Jarvis wants to tell her anything. But he tells her nothing. They descend into a hole in the floor, leading towards the sewers.[11]
At the New York Bell Company Office, Daniel Sousa and Ray Krzeminski start their night shift. Jack Thompson, before leaving, gives them a file with the information he received about the man in the green suit.[11]
Edwin Jarvis and Peggy Carter follow the sewers. While following the path, Jarvis tells Carter that he was dishonorably discharged from the army and charged with treason. He also tells her that it is because of Stark that he and his wife were not prosecuted.[11]

At the end of the sewers, Carter recognizes the symbol Brannis had drawn for her on a boat, The Heartbreak. In the boat, they find many of Stark's stolen items. At first, Carter plans to turn the items in herself, so she could get the credit and be respected; Jarvis advises her against it, citing she would only be seen as a possible collaborator of Stark. Carter then tells Jarvis to call the Strategic Scientific Reserve, to make sure that Sousa gets the credit and that they do not recognize his voice.[11]
Sousa and Krzeminski travel to the harbor to investigate the anonymous tip. While, on the boat, Carter fights Jerome Zandow, the protector of the stolen items. Carter uses a device called the Constrictor to take him down.[11]
Upon arriving, Sousa and Krzeminski find the items and the knocked down Zandow. They then call for reinforcement to bring the items back to the office. Krzeminski is ordered to bring Zandow to the office.[11]

While waiting at a stop sign, a car driven by an unknown woman rams their car. Krzeminski gets out of the car, just to be killed by the woman, who afterwards also kills Zandow.[11][43]
21st
Peggy Carter arrives at the SSR base to find both the women downstairs as well as the agents upstairs saddened by the death of Krzeminski. Sousa takes it as a reminder that death can happen any moment and thinks the anonymous tipper tricked them into coming, saying that he is going to find that bastard. Roger Dooley tells the agents that he blames Howard Stark and wants action plans to make sure they will not lose any more agents. He goes off to call Krzeminski's wife, while Jack Thompson calls his girlfriend.[11][43]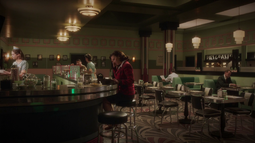 22nd
23rd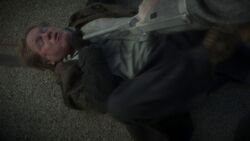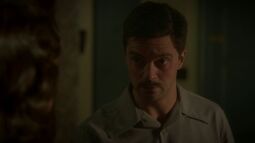 Carter angrily talks to Stark about lying to her. Carter suspects Stark of using the vial to make millions of dollars and calls him a man who is out for his own gain no matter what. She tells him that she is done working as a corporate spy and leaves the room to get away from his stink, telling Stark that he has to be gone when she gets back.[44]
Assassination of Otto Mink: When Dottie Underwood leaves her room she notices Mink trying to enter Carter's room. When she does not go back into her room, Mink threatens her with a Automatic Pistol. Underwood who wants to have his gun, kills him and drags the body to her room.[44][43]
24th
25th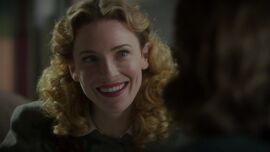 Dottie Underwood wakes up from a dream about her days back at the Red Room Academy and starts her morning workout, before having breakfast with Peggy Carter at the L&L Automat. [45][43]
During breakfast, Underwood plans a tour through New York, with Carter giving her advice. Before they both leave the L&L Automat, Underwood throws Carter's bag on the ground, making it look like an accident. While gathering Carter her stuff to put it back in her bag, Underwood steals Carter her room key.[45]
On her way to work, Carter buys today's newspaper at a stand. At the stand she is met by Edwin Jarvis who wants to have a moment of her time. While she does have a talk with him, she does not want anything to do with him or Howard Stark anymore.[45]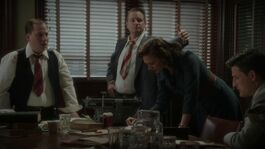 26th
In New York, Dooley waits for Edwin Jarvis at his car. When Jarvis arrives, Dooley asks him about the fist fight Stark had with McGinnis. When Jarvis says he does not know anything about this, Dooley tells him that he just wants to know the truth and gives Jarvis a card with his number.[45]
At the Griffith Hotel, Dottie Underwood uses the key she stole from Carter to enter her bedroom. Here, she steals one of the photos taken in the Strategic Scientific Reserve's lab and the Sweet Dreams Lipstick.[45]

Before leaving the room, she places the string of rope back on the door lock, something that Carter uses as a check if someone entered her room.[45]
As Carter bids farewell to the Howling Commandos, Carter asks Ivchenko if he wants to go with them to the United States, claiming that they could use his help to fight Leviathan. Ivchenko, claiming he has nowhere else to go, agrees.[45]
On the plane ride home, Carter and Thompson have a conversation about how Thompson froze during the fight. Thompson decides to tell Carter the truth about how he became a war hero. The Japanese he killed entering his camp, carried white flags and were attempting to surrender, he just noticed too late and buried the white flags before anyone would notice.[45]

Thompson tells her that he has been trying to tell the truth since he came home from the war and that it becomes harder and harder to live with everyone thinking he is a guy he is not. She decides that his secret is safe.[45]
Before going to sleep, Underwood cuffs her self to the bed.[45]
Dooley, who just got debriefed about the mission, meets Ivchenko. Thompson invites Carter, who was talking with Daniel Sousa to join them at the bar, telling her he owns her a bourbon. Sousa, now distrustful of Carter, looks at the photo from La Martinique while Carter walks away.[45][43]
May
7th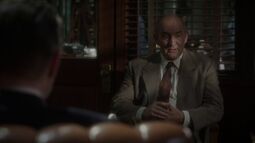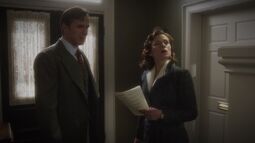 Jarvis arrives at the Automat and Carter explains the situation to him, asking for a list of all the women Stark has entertained in the last six months.[24]
Dottie Underwood leaves the subway system in front of the New York Bell Company Office. She has a quick look at the building before entering the opposite building for a job interview at Seth Honicky's Dentistry Office.[24]
Daniel Sousa visits the prison to learn more about the woman that attacked Sheldon McFee. In exchange for the identification of a woman on the picture, Sousa would shorten McFee's time in prison. Sousa then shows him a photo of Carter, who identifies her as the woman that attacked him.[24]
To get the list of the women that Stark dated in the last six months, Carter and Jarvis visit Albert, a jeweler that makes bracelets for every woman Stark dates.[24]

Upon seeing the list, Carter starts crossing names of the list, explaining to Jarvis that these people are well known and established people in New York City and could not be Russian spies.[24]
During the interview, Underwood kills Seth Honicky.[24]
Carter and Jarvis start visiting the women left on the list, trying to see if they got scars on the wrist from being cuffed to the bed. The first three women on the list do not have the scars. Next on the list is Ida Emke.[24]
As Ivchenko and Dooley take a break from work to have a drink, Underwood prepares a sniper gun to watch the office up close. While seemingly looking outside to see more of the City, Ivchenko communicates to Underwood in code, by tapping with his fingers.[24]
Ivchenko tells Underwood that he needs more time and orders her to kill Carter.[24]
When there is no one at home in the apartment of Emke, Carter enters the room to find information. Here she notices scratches on the bedpost from handcuffs. Carter tells Jarvis to track down the owners of the building while she talks to neighbors to gain more information about Emke. Afterwords, they would meet at the Automat.[24]
Still on their break, Dooley and Ivchenko talk about Dooleys family problems. Ivchenko uses this time to try and hypnotize Dooley. They are disturbed when Sousa enters the office to give Dooley the information he required about Carter being a traitor. Dooley sends agents from Washington, D.C. to the Automat to arrest Carter.[24]
Ambush at the L&L Automat:

At the Automat, Carter and Jarvis share the information they gained. Carter then notices that everyone besides a few agents from D.C. leave the Automat, which is part of procedure 791: Isolate the suspects, remove the civilians before arrest.[24]

Carter then tells Jarvis to block the front door while she takes care of the rest. Carter takes out the three agents inside the Automat, then leaves with Jarvis via the backdoor. Here they are stopped by Thompson, who keeps Carter at gunpoint. Carter then knocks him down. Jarvis and Carter split up and agree to meet at the Dublin house. Before leaving the street to visit the Griffith Hotel she is again stopped at gunpoint. This time by Daniel Sousa. She apologizes to him before running away.[24]

Back at the office, Dooley is displeased to hear that Carter managed to escape the men. Dooley threatens that they will become grade school hall monitors if they fail to apprehend Carter.[24]

Ivchenko hypnotizes Yauch, while talking to him and has him tell everything he knows about the Howard Stark investigation, his inventions and how to escape the building. Ivchenko, then instructs Yauch to commit suicide.[24]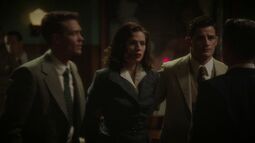 At the New York Bell Company Office, Carter tells Dooley that she can explain it all.[24]
When Fry wants all the residents downstairs, Martinelli knocks on Underwoods door to get her. When she enters the room she notices it being empty. [24]
In the interrogation room, where she is handcuffed to the table, Dooley tells his men not to go easy on her just because she is a girl.[24]
Carter is interrogated by three different men in three different styles: Daniel Sousa, who uses friendship; Chief Dooley, who uses fatherly disappointment; and Jack Thompson, who cites betrayal from Howard Stark.[20]

Ivchenko watches with amazement as Carter calculates each man's speech with an appropriate response.[20]
When Thompson questions why he is watching the interviews, Ivchenko chooses to leave to avoid further confrontation.[20]
Edwin Jarvis tries to help Carter with a false confession he forged with Howard Stark's name. But Dooley wants Stark in exchange for Carter and keeps them both in the office.
Ivchenko communicates with Dottie Underwood, who is stationed across the street in the dentistry office of Seth Honicky. In Morse Code, he tells her to get ready for evacuation, however Carter and Jarvis catches him signaling. Dooley tells Ivchenko to close the window but, as he does, he sees Thompson and Sousa leading agents across the street. He knows he has to escalate his plans.[20]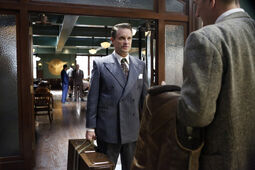 Ivchenko takes control of Dooley and has him clear the lab of Alex Doobin. They find Item 17; as an extra bonus, Ivchenko finds a Stark Heat Vest, about which he had heard stories. Dooley allows Ivchenko to leave the New York Bell Company uncontested.[20]
Escape from SSR Custody: The agents find Dottie Underwood across the street. She fights her way pass them and picks up Ivchenko with a car. She tells him that they have been discovered; Ivchenko is calm, telling his accomplice that the SSR will be too busy to pursue them. He tells her that Item 17 needs to be tested.[20]
Dooley awakens from the dream that Ivchenko gave him; he is strapped in the Stark Heat Vest with no way of escaping. Fearing the lives of his colleagues, Roger Dooley jumps from a window as the vest explodes. The pain that Ivchenko has caused the SSR, makes him now their number one priority.[20]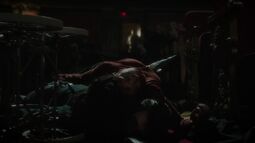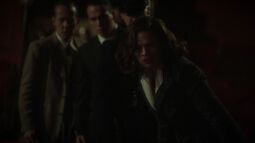 Sousa discovers the canister of the gas that caused forty-seven people to kill each other and accidentally inhales it. He attacks Thompson and slaps Carter before being knocked unconscious. When he awakens, Sousa does not have a clear memory of what he has done; Carter explains to him what happened.[23][46]
8th
9th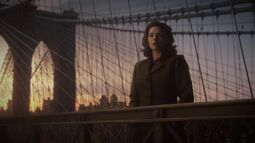 June
6th
September
27th
1947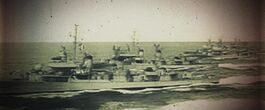 July
9th
10th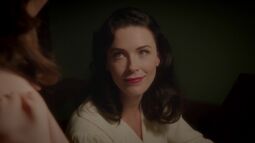 Carter begins to interrogate Underwood in order to discover why she attempted to steal a lapel pin, which was inside a vault.[37]
Daniel Sousa, chief of the SSR's new West Coast Office, asks Thompson to send an agent as backup due to a recent incident involving a mysterious murderer. Thompson decides to send Carter over to Los Angeles, and takes over Underwood's interrogation.[37][49]
11th
12th
13th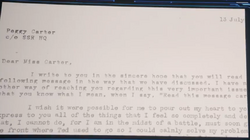 14th
Peggy Carter goes to the home of Jason Wilkes to meet with Daniel Sousa and Agent Vega. They want to discover what possible connection Wilkes had to the men who tried to kill him and Carter the night before. The three find the evidence that Wilkes is a Communist spy, including the gun used to kill agents White and Beringer, but Carter does not believe the evidence, because it was too easy to find.[51]
Carter and Edwin Jarvis go to the set where Stark Pictures is filming a motion picture based on the Kid Colt comic to show Howard Stark the film that Wilkes gave her, with the origin of Zero Matter. Due to a symbol of the Arena Club on Wilkes' file they discuss the possibility of the club being involved in recent events.[51]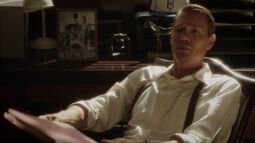 Carter finds Jack Thompson in Sousa's office when she comes to the Auerbach Theatrical Agency; he wants her to sign a forged report saying that Wilkes was a Russian spy and conclude the investigation. Carter refuses, so Thompson does it himself. He tells Carter that she is to accompany him back to New York City.[51]
Stark, Jarvis, and Carter make a plan to sneak Carter into the men-only Arena Club to plant eavesdropping devices.[51]
Infiltration into the Arena Club:

Peggy Carter uses the distraction created by Howard Stark and Edwin Jarvis, who brought women into the men-only Arena Club, to infiltrate a hidden room where the Council of Nine meet.[51][49]
There she finds two newspapers with July 16, 1947 as the date, which is set within the nearby future.[51][49]

Both newspapers report that Representative Anderson has resigned from his Senate bid, with one saying that he was in a sexual scandal. Carter is not able to procure the papers lest she be found by Rufus Hunt. Fortunately, Jarvis helps Carter to leave the club before she is caught.[51][49]
15th
Carter tells Jack Thompson and Sousa about the newspapers, but Thompson does not believe her. Storming out of his office, Sousa calms Carter's anger, but he stops once he notices objects floating in her presence.[51][49]
California State Representative Anderson is forced by the Council of Nine to resign from the Senate election, leaving Council member Calvin Chadwick unopposed.[51]

Carter goes to Stark wondering if she has been affected by the exposure to Zero Matter. Stark uses his genius to create a concoction that makes Wilkes visible and audible, though not tangible; the two scientists start to work together to find a cure for his dilemma.[51]
Meanwhile, Sousa discovers a lead, a woman by the name of Agnes Cully, who was a scientist during World War II, and whose genius helped the Allies and eventually put Isodyne Energy on the map.[51]
Carter goes to see Frost since she was also in the explosion that gave Wilkes his abilities.[51]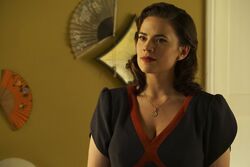 Frost continually lies during the conversation. She then asks her husband to have Rufus Hunt kill Carter.[51]
Thompson is visited by FBI agent Vernon Masters just as Thompson finishes watching the stolen film. Masters says that Wilkes stole something sensitive from Isodyne Energy and hopes that Thompson can retrieve it for him. Thompson feigns ignorance at first, but later gives Masters the film reel, lying about having seen the film.[51]
Attack on Peggy Carter: While Carter is exercising to relieve stress, Hunt attacks her; however, Carter and Jarvis force him to flee after Carter shoots his hand.[51][49]
16th
18th
19th
In order to help Wilkes by using Scott's corpse, Carter and Edwin Jarvis go to where the body of Jane Scott is held to take it to Wilkes. However, they discover that Whitney Frost and Calvin Chadwick are already there with the same intentions. As Frost absorbs the Zero Matter from the corpse, she tells her husband that she needs an Atomic Bomb to recreate the rift that created the initial anomaly.[52][49]
Due to Sousa and Violet's engagement, a small party is held in the Auerbach Theatrical Agency for the chief.[52]
Carter and Jarvis inform Wilkes of what happened, and he tells them that Frost must be stopped. Jarvis reveals that Howard Stark conducted intelligence on his rival, Hugh Jones of the Roxxon Oil Corporation. From these intelligence reports he knows that one warehouse had excessively security and suspects that's where the atomic bombs are located.[52]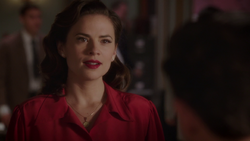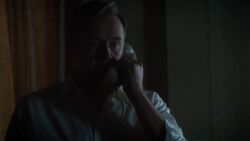 On their way home, after Frost falls asleep, Chadwick decides to stand up for himself against Frost and calls an emergency meeting of the Council to explain the situation to them.[52]
Talking to Carter while she rests from her wound, Wilkes suddenly begins to fade away.[52]
Wilkes is beginning to disappear from the human world and fades into another dimension, as a nearby rift beckons him to enter. Wilkes desires to enter, but when he hears Peggy Carter calling his name, he is brought back to the human world. He explains the occurrence to Carter and Jarvis, and they decide to make a containment device for him to stay tangible. Wilkes discovers that he needs mass to be contained.[53][49]
20th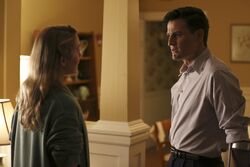 21st
22nd
23rd
24th
Now working with Thompson, the group of Carter, Jarvis, Sousa and Samberly follow Manfredi and Frost's men into the desert where Frost manages to create an atomic explosion to recreate the incident that created the Zero Matter in the first place.[54][49]
The experiment opens a rift in the sky; Frost stands near the rift, but it absorbs only Wilkes. Carter's team fires the Gamma Cannon at the rift, but Jarvis goes solo to confront Frost and shoots her in revenge, hoping to kill her.[54]
Wilkes lays silent on the desert ground as the rift collapses.[54]
However, Frost heals quickly and tells Manfredi not to kill her enemies, since Wilkes might be more cooperative if they are alive.[54]
Carter and Jarvis are forced to enter one of Manfredi's trucks.[55]
Jack Thompson, Aloysius Samberly and Sousa see an SSR car approaching, but Sousa warns them that agents Vega and Blackwell work for Vernon Masters and were probably sent to kill them.[55]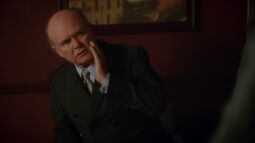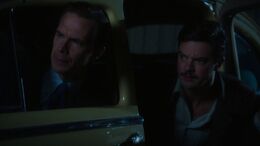 As Frost pursues, she gets hit by a car driven by Edwin Jarvis and Howard Stark. Everyone gets inside Stark and Samberly's cars as Frost stands and frowns.[26][49]
25th
Sousa and Thompson arrest agents Harper and Vega and all other Strategic Scientific Reserve agents loyal to Masters.[26]
Frost begins to formulate ways to make a permanent opening for the Zero Matter to infect the Earth. Frost's distant attitude angers Joseph Manfredi, who feels that she is not the woman with whom he fell in love; so he decides to ask for Carter's help.[26]
Manfredi visits Carter and the others at Stark's Estate and revealing himself to be a friend of Stark. Manfredi reveals Frost's plan and agrees to help them infiltrate Frost's room so they can take pictures of her formulas.[55]
Using Frost's formulas, the team create a new Gamma Cannon that will be capable of closing Zero Matter's rift once Frost has been separated from it.[55]
Thompson looks through Masters' belongings and discovers that the pin from the Arena Club is actually a key.[26][49]
26th
27th
Ana Jarvis goes home from the hospital with her husband Edwin. They say goodbye to Carter, who is about to return to New York City.[26][49]
Frost is visited by Manfredi in prison.[26]
Carter begins a relationship with Sousa.[26]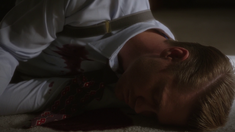 Attack on Jack Thompson: Meanwhile, Thompson is packing his bags to return to New York City when he learns that Carter plans to stay in Los Angeles for a while longer. When he answers a knock on his hotel door, he is shot. The shooter steals the redacted file on Carter and leaves.[26][49]
1948
July
21st
Steven Demetre Georgiou, later called Yusuf Islam, and later known by his stage name Cat Stevens is born.[18][12]
1949
January
August
13th
Arnim Zola is released from prison and recruited to S.H.I.E.L.D. as part of Operation Paperclip. Some time later, Zola and some former HYDRA agents track down Bucky Barnes, who survived the drop and was taken into custody by Soviet Union soldiers. Since that moment, they had kept Barnes frozen and alive, but missing an arm. Once he was found by Zola and his agents, they take him into their custody.[27]
September
October
12th
References
↑ 2.00 2.01 2.02 2.03 2.04 2.05 2.06 2.07 2.08 2.09 2.10 2.11 2.12 2.13 2.14 2.15 2.16 Agent Carter: 2.04: Smoke & Mirrors
↑ 4.00 4.01 4.02 4.03 4.04 4.05 4.06 4.07 4.08 4.09 4.10 4.11 4.12 4.13 4.14 4.15 4.16 4.17 4.18 4.19 4.20 4.21 4.22 4.23 4.24 4.25 4.26 4.27 4.28 4.29 4.30 4.31 4.32 4.33 4.34 4.35 4.36 4.37 4.38 4.39 4.40 4.41 4.42 4.43 4.44 4.45 4.46 4.47 4.48 4.49 4.50 4.51 4.52 Captain America: The First Avenger
↑ 5.00 5.01 5.02 5.03 5.04 5.05 5.06 5.07 5.08 5.09 5.10 5.11 5.12 5.13 5.14 5.15 5.16 5.17 5.18 5.19 5.20 5.21 5.22 5.23 5.24 5.25 Captain America: The First Avenger Adaptation
↑ 7.0 7.1 7.2 7.3 Sometimes the Marvel Cinematic Universe alludes to events which happened in our world, and it is assumed they happened on the same dates in the universe, for timeline purposes.
↑ 11.00 11.01 11.02 11.03 11.04 11.05 11.06 11.07 11.08 11.09 11.10 11.11 11.12 11.13 11.14 11.15 11.16 11.17 11.18 Agent Carter: 1.03: Time and Tide
↑ 12.0 12.1 12.2 12.3 12.4 12.5 12.6 Sometimes the Marvel Cinematic Universe alludes to people who existed in our world, and it is assumed they were born on the same day in the universe, for timeline purposes.
↑ The insignia of the German Afrika Korps on the boxes carried by HYDRA soldiers in Shadows implies the corpse was found somewhere in North Africa before the surrender of the Army Group Africa on May 13, 1943.
↑ 20.00 20.01 20.02 20.03 20.04 20.05 20.06 20.07 20.08 20.09 20.10 20.11 20.12 Agent Carter: 1.07: Snafu
↑ 21.0 21.1 21.2 Captain America: The First Avenger Adaptation, Volume 2
↑ 23.00 23.01 23.02 23.03 23.04 23.05 23.06 23.07 23.08 23.09 23.10 23.11 23.12 Agent Carter: 1.08: Valediction
↑ 24.00 24.01 24.02 24.03 24.04 24.05 24.06 24.07 24.08 24.09 24.10 24.11 24.12 24.13 24.14 24.15 24.16 24.17 24.18 24.19 24.20 24.21 24.22 24.23 24.24 24.25 24.26 Agent Carter: 1.06: A Sin to Err
↑ 26.00 26.01 26.02 26.03 26.04 26.05 26.06 26.07 26.08 26.09 26.10 26.11 26.12 Agent Carter: 2.10: Hollywood Ending
↑ From the various references to past events, characters' ages in relation to events, rough dates, and timespans, as well as the actors' ages, past dates referred to in Luke Cage: Season 1 work out as explained here.
↑ 33.00 33.01 33.02 33.03 33.04 33.05 33.06 33.07 33.08 33.09 33.10 33.11 33.12 33.13 33.14 33.15 33.16 33.17 33.18 33.19 33.20 33.21 33.22 33.23 33.24 33.25 33.26 33.27 33.28 33.29 33.30 33.31 33.32 33.33 33.34 33.35 Agent Carter: 1.01: Now is Not the End
↑ 37.00 37.01 37.02 37.03 37.04 37.05 37.06 37.07 37.08 37.09 37.10 37.11 37.12 37.13 37.14 37.15 37.16 37.17 37.18 37.19 Agent Carter: 2.01: The Lady in the Lake
↑ In an extended scene from The Incredible Hulk, General Ross says he was 27 when he came home from Vietnam. Working back from the dates that The Incredible Hulk and Captain America: Civil War are set and William Hurt's age when he filmed both, then taking a weighted average, Ross would have been born around 1952. However, this would put his return around 1979. The last American troops withdrew from Vietnam in March 1973, so it can be assumed that Ross withdrew with the last of them and no earlier. If he was 27 in March 1973, that means he was born around September 1945.
↑ 41.00 41.01 41.02 41.03 41.04 41.05 41.06 41.07 41.08 41.09 41.10 41.11 41.12 41.13 41.14 41.15 41.16 41.17 41.18 41.19 41.20 41.21 41.22 41.23 41.24 41.25 41.26 41.27 Agent Carter: 1.02: Bridge and Tunnel
↑ 43.00 43.01 43.02 43.03 43.04 43.05 43.06 43.07 43.08 43.09 43.10 43.11 43.12 43.13 43.14 43.15 43.16 43.17 43.18 43.19 43.20 43.21 43.22 43.23 43.24 43.25 43.26 43.27 43.28 43.29 43.30 43.31 43.32 43.33 In The Iron Ceiling, Carter translates a coded message saying a deal will occur on "April 27th," to which Thompson replies , "That's less than two days from now." The season is in 1946, a year after Rogers' disappearance in March 1945, and approaching the first anniversary of V-E Day on May 8, 1945 (seen in Valediction). This places that on April 25, 1946, and the events of Now is Not the End to The Iron Ceiling revolve around that date.
↑ 44.00 44.01 44.02 44.03 44.04 44.05 44.06 44.07 44.08 44.09 44.10 44.11 44.12 44.13 44.14 44.15 44.16 44.17 44.18 44.19 44.20 44.21 44.22 44.23 44.24 44.25 44.26 44.27 Agent Carter: 1.04: The Blitzkrieg Button
↑ 45.00 45.01 45.02 45.03 45.04 45.05 45.06 45.07 45.08 45.09 45.10 45.11 45.12 45.13 45.14 45.15 45.16 45.17 45.18 45.19 45.20 45.21 45.22 45.23 45.24 45.25 Agent Carter: 1.05: The Iron Ceiling
↑ 46.0 46.1 46.2 46.3 46.4 46.5 46.6 In Valediction, it is shown to be the first anniversary of V-E Day, placing it on May 8, 1946. The events of A Sin to Err to Valediction revolve around this date. With The Iron Ceiling firmly on April 25-26, 1946, this places a necessary 10-day gap between The Iron Ceiling and A Sin to Err.
↑ 48.00 48.01 48.02 48.03 48.04 48.05 48.06 48.07 48.08 48.09 48.10 48.11 48.12 Agent Carter: 2.07: Monsters
↑ 49.00 49.01 49.02 49.03 49.04 49.05 49.06 49.07 49.08 49.09 49.10 49.11 49.12 49.13 49.14 49.15 49.16 49.17 49.18 49.19 49.20 49.21 49.22 49.23 49.24 49.25 49.26 49.27 49.28 49.29 49.30 49.31 49.32 49.33 49.34 49.35 49.36 49.37 49.38 In Better Angels, it is shown that a "July 16, 1947" newspaper has already been printed reporting on an event from the day before, on July 15th. However, Carter is shocked, as that paper has been written a day early, with July 15th being tomorrow. This places that on July 14, 1947. This also fits with the date shown in The Good Samaritan of a letter sent on the discovery of Zero Matter as July 13, 1947, and the fact that Jarvis' will, written before Monsters, was written on "July 9, 1947." The events of Agent Carter: Season 2 revolve around the July 14, 1947 date.
↑ 50.00 50.01 50.02 50.03 50.04 50.05 50.06 50.07 50.08 50.09 50.10 50.11 50.12 50.13 50.14 Agent Carter: 2.02: A View in the Dark
↑ 51.00 51.01 51.02 51.03 51.04 51.05 51.06 51.07 51.08 51.09 51.10 51.11 51.12 51.13 51.14 51.15 51.16 51.17 51.18 51.19 51.20 Agent Carter: 2.03: Better Angels
↑ 52.00 52.01 52.02 52.03 52.04 52.05 52.06 52.07 52.08 52.09 52.10 52.11 52.12 52.13 Agent Carter: 2.05: The Atomic Job
↑ 53.00 53.01 53.02 53.03 53.04 53.05 53.06 53.07 53.08 53.09 53.10 53.11 53.12 Agent Carter: 2.06: Life of the Party
↑ 54.00 54.01 54.02 54.03 54.04 54.05 54.06 54.07 54.08 54.09 54.10 54.11 54.12 54.13 54.14 54.15 54.16 Agent Carter: 2.08: The Edge of Mystery
↑ 55.00 55.01 55.02 55.03 55.04 55.05 55.06 55.07 55.08 55.09 55.10 55.11 55.12 55.13 Agent Carter: 2.09: A Little Song and Dance