"It's our policy not to comment on ongoing operations, but I can assure you that S.H.I.E.L.D. has the situation completely under control."
The specific order and/or accurate dates presented in this article has never been confirmed by Marvel Studios, and therefore it can be inaccurate, incomplete, or partial. Help us to make this article better.
"Now, the true history of Stark name will be written. What your father did to my family over forty years, I will do to you in forty minutes."
This is a timeline of events that occurred during the 1960s.
1961
March
12th
1962
August
10th
October
14th-28th
1963
March
13th
August
19th
November
22nd
1964
January
1st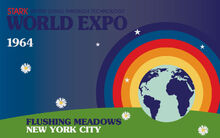 July
8th
October
12th
1965
January
24th
September
1967
October
17th
18th
1968
February
15th
July
17th
October
8th
1969
March
28th
September
1st
Muamar Gaddafi comes to power in Libya with the clandestine assistance of HYDRA.[17]
December
18th
References
Ad blocker interference detected!
Wikia is a free-to-use site that makes money from advertising. We have a modified experience for viewers using ad blockers

Wikia is not accessible if you've made further modifications. Remove the custom ad blocker rule(s) and the page will load as expected.