"It's our policy not to comment on ongoing operations, but I can assure you that S.H.I.E.L.D. has the situation completely under control."
The specific order and/or accurate dates presented in this article has never been confirmed by Marvel Studios, and therefore it can be inaccurate, incomplete, or partial.
"When I picked you up as a kid, these boys wanted to eat you. They ain't never tasted Terran before. I saved your life!"
This is a timeline of events that occurred during the 1980s.
1980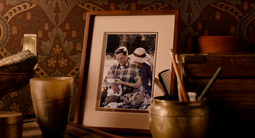 January
25th
March
31st
April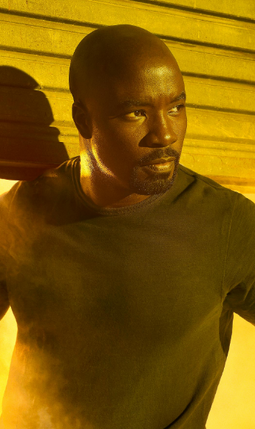 10th
Ego leaves Earth one final time, realizing he has to return to his planet, and has nearly been gone too long. He knows that if he were to return for a fourth time, he would choose never to leave, which he cannot allow of himself, and reluctantly plants a cancerous tumour in Meredith to kill her in approximately 8 years' time.[2][3]
May
21st
October
26th
December
24th
1981
January
20th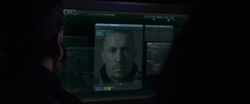 May
19th
22nd
31st
July
September
4th
28th
1982
March
April
4th
May
July/August
September
26th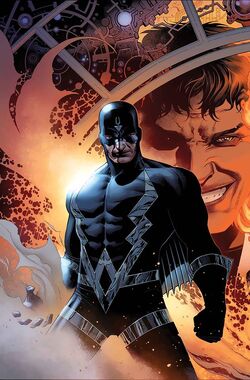 October
27th
November
The early 1980s recession, instigated by HYDRA, draws to a close.[10]
December
8th
1983
January
7th
February
9th
April
May
13th
Gordon undergoes Terrigenesis. The transformation deprives him of his eyes, but grants him teleportation and force field projecting abilities.[25]
25th
June
3rd
14th
December
9th
1984
February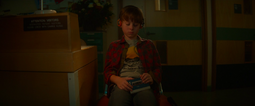 17th
April
7th
15th
October
26th
November
21st
22nd
December
30th
1985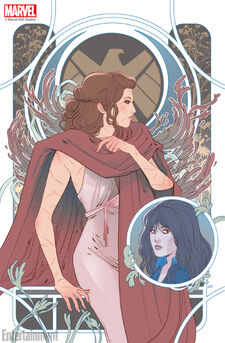 February
April
17th
May
June
29th
Since the moment he was born, Kevin Thompson quickly developed a serious brain malfunction which required a great deal of treatment. Thompson spent much of his young life going through seemingly never ending tests

alongside extremely painful treatments which included injections into the back of his neck by his parents Albert and Louise. On June 29, 1985, his parents filmed one of several videos of the results of their test on him.[41]
October
31st
1986
January
February
12th
April
26th
May
14th
June
11th
August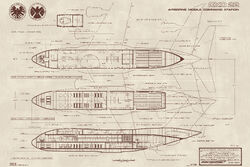 26th
September
19th
1987
January
April
2nd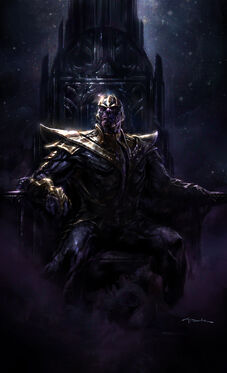 The dark overlord Thanos adopts, after killing their families, two alien girls as his daughters, a Zehoberei called Gamora and a Luphomoid who goes under the name Nebula. Under the tutelage of Thanos' ally, Ronan the Accuser, the adopted daughters become Galaxy-Class Killers and elite assassins under Thanos' employ.[54][55]
4th
5th
7th
Pym begins his mission in Berlin using his Ant-Man Suit. Having shrunken down to about the size of an ant, Pym is able to easily break into the facility. Unfortunately, a guard dog finds Pym.[56]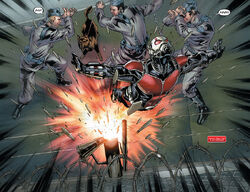 Infiltration into East Berlin: Pym comes up with an immediate plan that helps him escape the dog. He soon finds a flying ant and rides on it in order to find the radicals more easily. All he finds though are the blueprints for a HYDRA weapon. He soon hears screams and follows them to find HYDRA operatives testing on a man. In order to stop the tests, Hank jumps onto the shoulders of one of the soldiers and makes him think he is going insane by speaking into his ear. Pym then causes a small explosion in the lab, startling all who were present. He also frees the prisoner and defeats all the soldiers in the room.[57]
9th
24th
May
28th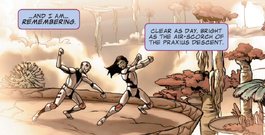 During a dangerous training scenario on Dervani, under the tutelage of Ronan the Accuser and Thanos, Nebula and Gamora engage each other in fierce combat in a competition to retrieve a data ingot for Ronan. The girls are evenly matched and their fight leads them to a cliff, where Gamora tosses Nebula over. Nebula is severely injured in the fall, and is forced to undergo cybernetic augmentations. As she is repaired, Thanos openly expresses his disappointment on her, lecturing her on the limits of weakness.[54]
June
5th
17th
July
Hank Pym, using his Ant-Man Suit and Janet van Dyne in her Wasp Suit, try to disarm a Soviet ICBM to save many lives. With there being no other way to disarm it, Janet turns her suit's regulator off to make herself small enough to enter the missile. She manages to turn the missile off, at the cost of shrinking indefinitely, supposedly leading to her death. Due to his loss, Pym stores his suit and sends his daughter Hope off to boarding school. This causes a strain in their relationship.[1]
30th
Meredith and Peter Quill spend some time together lying in a field, listening to music and enjoying each other's company.[2]
August
19th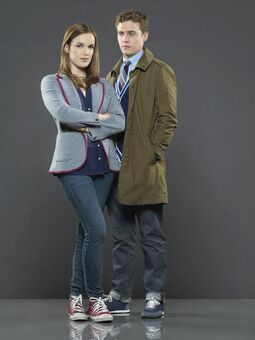 September
11th
1988
May
9th
After Kevin Thompson uses his powers to control his mother Louise and make her burn her own face with an iron, she and her husband Albert leave their home in England, forced to abandon their 10-year-old son for the safety of all three involved.[41]
July
2nd
October
3rd
November
10th
December
1st
1989
January
20th
March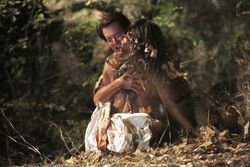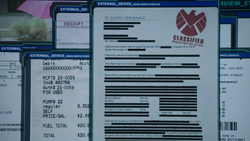 In an attempt to find his daughter, Calvin Johnson comes across a gifted individual, Wendell Levi. With Levi, Johnson was able to look at S.H.I.E.L.D.'s Index, but could not find Daisy on it. With all his attempts failed, Johnson returns to his wife.[66]
Jiaying divorces Calvin Johnson after the loss of their daughter. Johnson later changes his surname to Zabo.[33]
April
23rd
June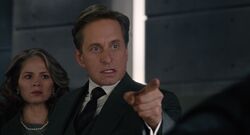 Hank Pym resigns from S.H.I.E.L.D., after discovering that the organization attempted to replicate his technology.[1]
September
27th
References
↑ 3.0 3.1 3.2 3.3 In Guardians of the Galaxy, it is shown that the Kidnapping of Peter Quill was "1988," and then the Battle of Morag was "26 years later." The Battle of Morag is dated as August 1, 2014, ideally putting the Kidnapping of Peter Quill around August 1, 1988. In Guardians of the Galaxy Vol. 2, it is shown that Ego and Meredith spent a day together in "1980," and then the Battle on Sovereign was "34 years later." The Battle on Sovereign is dated as October 17, 2014, ideally putting this scene around October 17, 1980. However, Quill is at least 8 years old at his kidnapping, plus realistically at least two weeks to keep his mother's death clear from his birthday. At a realistic maximum, Meredith Quill is 8 weeks pregnant in the 1980 scene, putting at least 30 weeks between that scene and Peter's birth. If the 1980 scene were October 17th, the earliest Peter could be born is May 15, 1981. If the 1988 scene were August 1st, the latest Peter could be born is July 18, 1980. The average of these two dates is December 15, 1980, putting the date of the 1980 scene as May 19th, and the 1988 scene as December 29th. Peter's clothing at his kidnapping indicates the 1988 scene should not be any earlier than early-to-mid-November. So with that at the latest date of November 10, 1988, this would put Peter's birthday around October 27, 1980, and the 1980 scene at March 31, 1980. This is all somewhat corroborated by James Gunn in a Twitter post.
↑ In You Know My Steez, a flashback is shown of Willis training Carl at boxing. In the background is a notice about an event coming up on "Friday November 15" (which would be 1996) and then "Monday 6-10 January" (1997), placing this around early November 1996. It is shown in Take It Personal that in May of whichever year (it refers to the car being a "1993" model, so at least 1994 or 1995 to refer to it as such), when Willis was 18 and Carl was 17, they stole a 1993 corvette. It can be assumed, considering the fact that the actors already look older than 16 and 18 in the November 1996 flashback and Mike Colter's age at the times of filming suggesting Luke would have turned 17 around the early 1990s, as well as the way the brothers' story is told, it can be assumed that they stole the car in the first May after the November 1996 flashback, May 1997. In Take It Personal, Luke says, "He was 2 years older than me," and in Now You're Mine, Willis says, "And everything was good until the preacher's wife, 2 years later, had a baby boy." With the paper saying they are 17 and 18 in May 1997, it can be assumed that they are about 1 year and 10 months apart in age, with Carl having just turned 17 and Willis about to turn 19, placing their dates of birth in April 1980 and June 1978 respectively.
↑ 7.00 7.01 7.02 7.03 7.04 7.05 7.06 7.07 7.08 7.09 7.10 7.11 7.12 7.13 Sometimes the Marvel Cinematic Universe alludes to events which happened in our world, and it is assumed they happened on the same dates in the universe, for timeline purposes.
↑ 9.0 9.1 9.2 9.3 Pac-Man release date, Masters of the Universe release date, Knight Rider first episode air date, Return of the Jedi release date
↑ 11.0 11.1 11.2 11.3 11.4 From the various references to past events, characters' ages in relation to events, rough dates, and timespans, as well as the actors' ages, past dates referred to in Luke Cage: Season 1 work out as explained here.
↑ 14.0 14.1 14.2 14.3 14.4 14.5 Sometimes the Marvel Cinematic Universe alludes to people who existed in our world, and it is assumed they were born on the same day in the universe, for timeline purposes.
↑ 21.0 21.1 21.2 21.3 Serinda Swan says that Black Bolt went through Terrigenesis at 14, and that Medusa "was the only one that was brave enough to walk into a room where, with one breath, he could kill her, and from 14 they build this language together, so there's this like, there's this bond between them." This means they met at age 14, both around the same age. Based on a weighted average working with this information, Anson Mount, Serinda Swan, Eme Ikwuakor, Iwan Rheon, and Isabelle Cornish's ages at the middle of filming for Inhumans: Season 1, working back from when it is set, as well as Lofton Show, Aidan Fiske, and Leila Bootsma's ages at the middle of filming for the show, the characters' dates of birth would be Black Bolt around October 1982, Medusa around April 1983, Gorgon around May 1985, Maximus around June 1985, and Crystal around September 1991, with Black Bolt and Medusa meeting when Medusa is nearly 14½ and Black Bolt is about to turn 15, in September 1997. To see the maths and calculations, check here.
↑ The Art of War, Big Pun, Blackalicious, Boogie Down Productions, Crazy in Love, iPod 1st Generation, Priesthood, So Fresh, So Clean, Summertime '06, Uptown Saturday Night, Malibu
↑ Matt starting college is dated to fall 2003 (see other references), which would imply he was around 18 at the time, suggesting he was born between September 1, 1984 and August 31, 1985. Matt says in Stick that he was "9" when he was blinded, which is dated to July 19, 1994 (see other references), which would mean he was born between July 20, 1984 and July 19, 1985. Overall, this would mean he was born between September 1, 1984 and July 19, 1985, the midpoint of which would be February 1985, with his 30th birthday being several days after the end of Season 1 on February 14, 2015.
↑ In AKA Take a Bloody Number, it is shown that the medical bills for Jessica following her family's car crash are from "04/13/00", meaning the crash was in April 2000, presumably leaving for an Easter holiday. In AKA You're a Winner!, it is shown that the least time the Jones family updated Jessica's height on the height chart was at "Jessica 14 yrs", and in AKA WWJD?, Kilgrave discusses how he returned everything to how the family left it on the day of the crash, and says, "Just imagine little 14-year-old you." With her being 14 in April 2000, this would mean she was born around October 1985.
↑ Brian 'Sene' Marc was born in February 1986, with the middle of filming for Luke Cage: Season 1 being December 2015. Chico's scenes are set in November 2015, so working back, he would have been born around January 1986. In Moment of Truth, Chico says, "[my father] walked out on me and moms when I was 9," placing this around July 1995.
↑ In The Mistress of All Agonies, Harold Meachum enters the passcode for a Rand Enterprises door, remembering it to be "Ward's birthday." He enters "091986", meaning Ward's birthday is 09/19/86 - September 19, 1986. In Snow Gives Way, Ward says, "I was 15 when [the Rands] died." This definitively places the air crash between September 19, 2001 and September 18, 2002.
↑ The Marvel Cinematic Universe follows a general real time policy in most of Phase Two - set when the media is released when suitable.
↑ 56.0 56.1 56.2 Ant-Man Prelude, Volume 1
↑ 57.0 57.1 Ant-Man Prelude, Volume 2
↑ 65.0 65.1 65.2 65.3 Agents of S.H.I.E.L.D.: 2.08: The Things We Bury: Over "25 Years Ago".