"It's our policy not to comment on ongoing operations, but I can assure you that S.H.I.E.L.D. has the situation completely under control."
The specific order and/or accurate dates presented in this article has never been confirmed by Marvel Studios, and therefore it can be inaccurate, incomplete, or partial.
"When I picked you up as a kid, these boys wanted to eat you. They ain't never tasted Terran before. I saved your life!"
This is a timeline of events that occurred during the 1980s.
1980
February
4th
May
21st
December
24th
1981
January
20th
February
May
19th
July
HYDRA causes the beginning of the early 1980s recession.[9]
September
4th
1982
April
4th
July/August
October
27th
November
The early 1980s recession, instigated by HYDRA, draws to a close.[16]
December
8th
1983
January
7th
February
9th
May
13th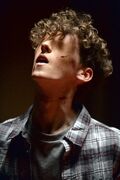 Gordon undergoes Terrigenesis. The transformation deprives him of his eyes, but grants him teleportation and force field projecting abilities.[17]
June
3rd
14th
December
9th
1984
February
17th
April
7th
To test his EMP Communication Device on bullet ants, Hank Pym uses his Ant-Man Suit to shrink to their size. The ants disobey his orders and chase him with the intention of causing him bodily harm. While Pym ran from the ants, they encounter a centipede that was more determined to attack. Pym manages to get the bullet ants to work with him to stop the centipede.[20]
June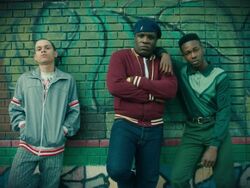 October
26th
November
22nd
December
30th
1985
April
17th
September
October
31st
Since the moment he was born, Kevin Thompson quickly developed a serious brain malfunction which required a great deal of treatment. Thompson spent much of his young life going through seemingly never ending tests alongside extremely painful treatments which included injections into the back of his neck by his parents Albert and Louise. Eventually he developed the power to control people's minds and make them do as he commanded with ease.[28]
Unspecified Date
1986
February
March
12th
May
14th
16th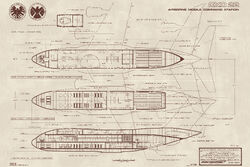 September
19th
October
26th
1987
January
April
2nd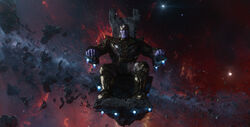 The dark overlord Thanos adopts, after killing their families, two alien girls as his daughters, a Zehoberei called Gamora and a Luphomoid who goes under the name Nebula. Under the tutelage of Thanos' ally, Ronan the Accuser, the adopted daughters become Galaxy-Class Killers and elite assassins under Thanos' employ.[36][37]
4th
5th
7th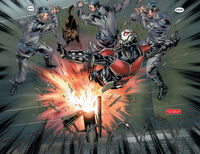 Pym begins his mission in Berlin using his Ant-Man Suit. Having shrunken down to about the size of an ant, Pym is able to easily break into the facility. Unfortunately, a guard dog finds Pym.[38]
Infiltration into East Berlin: Pym comes up with an immediate plan that helps him escape the dog. He soon finds a flying ant and rides on it in order to find the radicals more easily. All he finds though are the blueprints for a HYDRA weapon. He soon hears screams and follows them to find HYDRA operatives testing on a man. In order to stop the tests, Hank jumps onto the shoulders of one of the soldiers and makes him think he is going insane by speaking into his ear. Pym then causes a small explosion in the lab, startling all who were present. He also frees the prisoner and defeats all the soldiers in the room.[39]
9th
24th
May
28th
During a dangerous training scenario on Dervani, under the tutelage of Ronan the Accuser and Thanos, Nebula and Gamora engage each other in fierce combat in a competition to retrieve a data ingot for Ronan. The girls are evenly matched and their fight leads them to a cliff, where Gamora tosses Nebula over. Nebula is severely injured in the fall, and is forced to undergo cybernetic augmentations. As she is repaired, Thanos openly expresses his disappointment on her, lecturing her on the limits of weakness.[36][37]
June
17th
July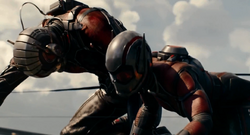 Hank Pym, using his Ant-Man Suit and Janet van Dyne in her Wasp Suit, try to disarm a Soviet ICBM to save many lives. With there being no other way to disarm it, Janet turns her suit's regulator off to make herself small enough to enter the missile. She manages to turn the missile off, at the cost of shrinking indefinitely, supposedly leading to her death. Due to his loss, Pym stores his suit and sends his daughter Hope off to boarding school. This causes a strain in their relationship.[1]
August
19th
September
11th
1988
July
2nd
9th
October
3rd
December
1st
1989
January
20th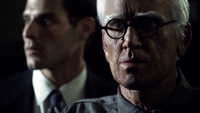 March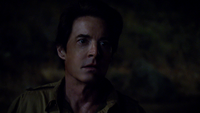 April
23rd
June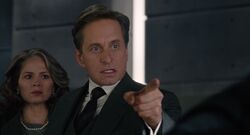 Hank Pym resigns from S.H.I.E.L.D., after discovering that the organization attempted to replicate his technology.[1]
References
Ad blocker interference detected!
Wikia is a free-to-use site that makes money from advertising. We have a modified experience for viewers using ad blockers

Wikia is not accessible if you've made further modifications. Remove the custom ad blocker rule(s) and the page will load as expected.