"It's our policy not to comment on ongoing operations, but I can assure you that S.H.I.E.L.D. has the situation completely under control."
The specific order and/or accurate dates presented in this article has never been confirmed by Marvel Studios, and therefore it can be inaccurate, incomplete, or partial.
"I am Iron Man."
―Tony Stark
This is a timeline of events that occurred in 2010.
2010
January
12th
24th
25th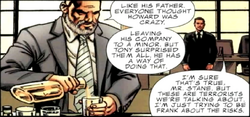 Nick Fury sends Phil Coulson to Stark's business partner Obadiah Stane to investigate the possibility of Stark selling his country to save his own skin. Coulson returns with the negative reply, and offers to go searching for Stark himself, but Fury refuses the offer.[3][6]
March
19th
Test subjects are chosen for Project T.A.H.I.T.I., and they undergo the trials. Their results are monitored over the following weeks.[7]
April
21st
The test subjects for Project T.A.H.I.T.I. begin to go insane. The decision is made to alter their memories so they do not have to live with their trauma, but in the process they have to be given false memories and new identities. Agent Rebecca Stevens is declared deceased from cancer, and given a new life as "Janice Robbins."[7]
26th
28th
July
16th
August
9th
12th
20th
September
24th
October
16th
Stark analyzes more data and decides to rebuild his suit using gold titanium from an old project to solve the icing problem. He also instructs J.A.R.V.I.S. to add "hot-rod red" paint trimming to the next suit, code-named "Mark III." He leaves to attend the third annual benefit dinner for the Fire-fighters Family Fund while the new suit is being assembled and painted. At the charity event, Phil Coulson approaches Stark and books an appointment for the 24th to discuss his escape from the Ten Rings. Stark dances with Pepper Potts, and they share a moment together in the moonlight.[2][3][6]
Christine Everhart, a reporter Stark slept with prior to leaving for Afghanistan, shows him photographs of his weapons being used by a terrorist group the previous day in the Afghan town of Gulmira, Ho Yinsen's home village.[2][3][6]
17th
24th
25th
At a press conference the day following his fight with Stane, Stark rejects S.H.I.E.L.D.'s constructed alibi and admits to the world that he is Iron Man.[2][6][3][5]
28th
November
17th
After eventually heading to South America, Bruce Banner starts to look for vascular plants that could inhibit radiation and therefore, find the key to cure his condition.[24]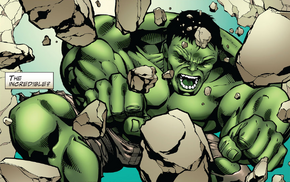 In South America, Banner is attacked by the criminal leader Espinoza and his men and transforms into the Hulk, destroying the terrorist hideout.[25]
Emil Blonsky and his team later arrives at the village discovering a path of destruction left by Hulk.[25]
18th
Banner travels to Rio de Janeiro and contacts Samuel Sterns for help in developing a cure. They communicate using code-names of "Mr. Blue" and "Mr. Green". Acting on a suggestion from Mr. Blue, Banner researches Amazonia Tracheophytes for a lead on the cure. He also studies calming techniques at a nearby temple, gets a job at a soda bottling factory and teaches himself Portuguese.[24]
December
16th
References
↑ According to Marvel Official Timeline, Stark is kidnapped 9 months before he revealed that he is Iron Man.
↑ 7.0 7.1 In The Writing on the Wall, it is said on the reasoned date of March 16, 2015 that Rebecca Stevens was said to have died "5 years ago." This would place her supposed death around April 21, 2010. It can be assumed that the trials began around a month before this, approximately March 19, 2010, and that the preparations on Project T.A.H.I.T.I. would have begun around 3 months prior to that, approximately December 18, 2009.
↑ The movie, Dead Before Arrival, is clearly to be based seemingly on Inception, which was released July 16, 2010. "From the director of Haxan 2," so released after Haxan 2, and released in "Summer". The movie poster states it is "From the directo of Haxan 2", so the movie is released after Haxan 2 in Summer.
↑ In Eye-Spy, it is stated that Amador "spent the next 4 years alone in a cage," following her imprisonment on the reasoned date of September 1, 2006.
↑ In 0-8-4, it is stated on the reasoned date of September 13, 2013 that Reyes was promoted "3 years ago."
↑ The comic The Avengers: Iron Man Mark VII indicates that the Mark II was built twenty-three days prior to October 17th, the day of the Battle of Gulmira.
↑ The comic, The Avengers: Iron Man Mark VII establishes that the Battle of Gulmira happens one week prior to the Duel of Los Angeles (October 24th).
↑ In Iron Man 2, Senator Stern says that Tony Stark built his armor 6 months ago. From Iron Man 2 to The Avengers it has passed one year. The events from The Avengers happened in 2012, this was confirmed in Agents of S.H.I.E.L.D. Season Two episode six, A Fractured House. Despite the fact that in Captain America: Civil War, Vision says that Stark revealed his identity 8 years ago (2008, the release year for the first Iron Man film), other sources and evidences, such as Marvel Official Timeline, point out that Iron Man happened in 2010.