Ad blocker interference detected!
Wikia is a free-to-use site that makes money from advertising. We have a modified experience for viewers using ad blockers

Wikia is not accessible if you've made further modifications. Remove the custom ad blocker rule(s) and the page will load as expected.
"We don't live in a world that's fair, we live in this one. And I'm doing everything I can to make it a better place."
This is a timeline of events that occurred in 2013.
2013
January
6th
June
30th
August
Having been working as interns at the law firm Landman and Zack, Matt Murdock and Foggy Nelson are offered permanent jobs at the firm. Nelson shows great enthusiasm about the offer, but Murdock believes that working for such a soulless company is not the right direction for them to go in. Murdock manages to convince the skeptical Nelson not to take the job offer and instead they come up with the idea to start up their own law firm where they can really help innocent people and make a difference to their city.[3]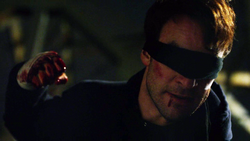 Matt Murdock has trouble sleeping due to one of his neighbor's daughter crying as her father is abusing her. Murdock contacts the police to have him arrested; however, the man is able to get away with the crime as his wife claims he never committed the crime and his daughter does not reveal the truth. The next night, seeing that the man would not face justice, Murdock dons a black eyeless mask and goes after the man. He manages to find him at the train yard where he works. Murdock severely beats him up and threatens that if he ever touches his daughter again, he would find him and possibly kill him. The man would spend the next month in the hospital, while Murdock would consider more acts of vigilantism.[3]
September
13th
Jessica Jones resigns her job in an office job.[4]
Later she meets Trish Walker in a bar. Walker is harassed by a man who remember her for her program. The man is challenged by Jones to see who is stronger for a large sum of money. Jones wins the bet.[4]
At Walker's apartment, Trish Walker who knows about the powers of Jones tells her that she has to use them for good, to become a superhero. Walker gives Jones a suit and tells it to use the alias "Jewel". Jones rejects the idea.[4]
24th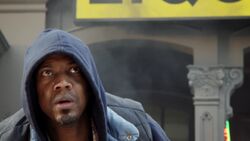 25th
26th
27th
Phil Coulson and Skye take Ace Peterson to his aunt Mindy's house. Afterwards, Coulson asks Skye to join his team, and Grant Ward informs them of the discovery of an 0-8-4 in Peru.[5]
Coulson and Skye arrive at a S.H.I.E.L.D. airport and board the Bus. Coulson informs the rest of the team of his decision to add Skye to their roster.[6]
Jones gets a new job, working at a cheap sandwich shop where she was forced to wear a large sandwich costume and hand out fliers. During his time working, Jones saves a girl from being hit by a car. Hearing the girl's gratitude and knowing she had made a difference has a big impact of Jones' mentality towards becoming a hero.[4]
28th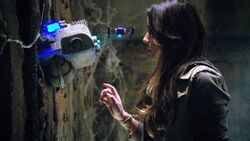 29th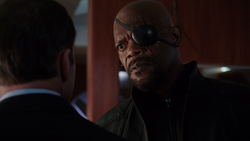 Nick Fury reprimands Coulson for the damage caused to the Bus, but Coulson defends his team's actions.[6]
Kidnapping of Jessica Jones: Kilgrave is walking with two beautiful women under his control, Kilgrave witness Jessica Jones display incredible strength while saving Malcolm Ducasse from muggers. Fascinated by Jones' powers, Kilgrave orders the two women to leave and focuses his attention on Jones, asking her about her powers. He comments on what a beautiful woman Jones is, although he was not fond of her clothing and orders her to smile before taking her under his control. Over the next few months Kilgrave kept Jones as his prisoner.[4]
30th
October
1st
2nd
Phil Coulson and Grant Ward interrogate Todd Chesterfield, who sold construction equipment to Franklin Hall's kidnappers. Tracing back the gold bricks he was paid with, the team discovers they came from a mine owned by Ian Quinn.[7]
In Malta, Quinn reunites with his former colleague Hall, informing him of his discovery of a large cluster of Gravitonium (a substance formerly believed to be theoretical) and asking him to help complete a giant Gravity Field Generator. Hall tries to convince him the generator is too dangerous to use, but Quinn is undeterred.[7]
On the way to Malta, Leo Fitz discusses theories about the nature of Gravitonium with the rest of the team. They plan to infiltrate Quinn's mansion and Skye volunteers to go in, forging a party invitation.[7]
3rd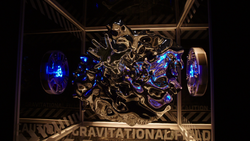 4th
On the Bus, Melinda May asks Phil Coulson to promote her back to a field operative, both by commission to the team and her desire to watch over him.[7]
The Gravitonium cluster is transferred to the Fridge, and stored with no recorded entry and no access granted. Unknown to anyone, Franklin Hall is still alive and trapped inside the Gravitonium.[7]
7th
Phil Coulson investigates the series of thefts, believing Amador could be responsible.[8]
8th
9th
12th
In Hong Kong, street magician Chan Ho Yin is seduced by a mysterious woman named Raina. He reveals his pyrokinetic powers to her, but she kidnaps him.[9]
13th
S.H.I.E.L.D. Agent Quan Chen (Chan Ho Yin's Index case agent) informs Coulson's Team of Chan's disappearance, and the Rising Tide's role in his profile leaking.[9]
Chan wakes up in a strange place, with Raina offering him both the chance to increase his powers and an opportunity to be recognized for his gift, giving him the codename "Scorch".[9]
Skye tracks the Rising Tide hacker back to Austin, Texas, and identifies him as Miles Lydon. The team arrives in Austin and tries to catch Lydon, but, unbeknownst the rest of the team, Skye is Lydon's girlfriend, and warns him in advance that S.H.I.E.L.D. are tracking him.[9]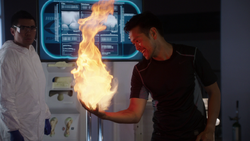 14th
15th
21st
26th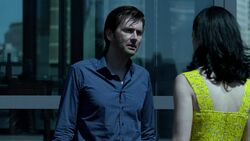 Kilgrave's powers only last 12 hours after he speaks, and one day no order is given so Jessica Jones became free of Kilgrave for a few seconds. She considers jumping off the balcony and escaping, but before she can, Kilgrave orders her to step down, putting her under his control again. When he questions why she initially had not listened to him he decided to punish her by ordering her to cut off her ear. However, when she begin to obey Kilgrave again, he changes his mind and chooses to hug her close instead as his anger subsides.[12]
In Wrigley, Pennsylvania, Adam Cross dies from a strange electrical phenomenon while camping with a group of boy scouts.[13]
27th
28th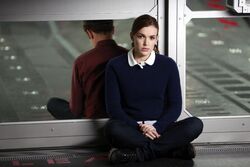 30th
31st
November
1st
2nd
Sacking of Asgard: Algrim is arrested by the Asgardians. Once inside the dungeons, he uses his newly-gained strength to free the other prisoners, including Lorelei, who has been imprisoned for over 600 years. While Loki stays in his cell, he informs Algrim of the easiest route out of the dungeons. Malekith and the rest of the Dark Elves arrive in Asgard, and reuniting with Algrim they search for Jane Foster. Frigga hides Foster and makes a temporary duplicate of her. Malekith and Algrim confront Frigga in her chambers, but when they discover the duplicate of Foster is not real, they kill Frigga. Witnessing his mother's death, Thor strikes Malekith with a lightning bolt from Mjølnir, leaving a permanent scar on the right side of his face. The Dark Elves retreat, finding no trace of Foster.[14]
The Asgardians have a funeral for all their fallen warriors. Thor asks Odin if he can get revenge on the Dark Elves for their attack. In deep sorrow for the loss of his wife, Odin refuses. Thor makes a plot against Odin's wishes with Heimdall, Sif, Volstagg, and Fandral to free Loki, who has knowledge of portals other than the Bifrost Bridge.[14]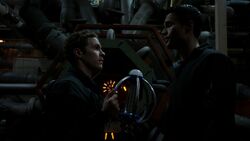 Grant Ward and Leo Fitz locate the Overkill Device, and realize there will not be an extraction. Both decide to stay and finish the mission together, escaping with the help of a modified version of the Device. While S.H.I.E.L.D. teams start raiding the compound, Coulson's Team arrive in the Bus to extract Ward and Fitz.[15]
Phil Coulson tells Skye about her parent's file, redacted by the agent that dropped her at the orphanage. Nevertheless, he keeps certain secrets about the file, and asks Melinda May to help him uncover the truth. Later, he tries to obtain the file about his death and recovery in Tahiti, but is denied access.[15]
3rd
4th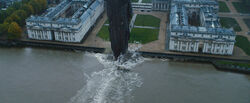 Battle of Greenwich: Thor, Jane Foster, Darcy Lewis, Ian Boothby, and Erik Selvig put four sensors around Greenwich. Malekith and his army arrive in the city and begin their assault. Thor and Malekith fight, but constantly fall through portals to other realms. The Royal Air Force retaliate against the Dark Elves; two of their jets fly through a portal to Vanaheim, but eventually find their way back to Greenwich. During their battle, Thor and Malekith are briefly transported to Jotunheim, where a Beast follows them and becomes stranded on Earth. Malekith and his ship are involuntarily teleported back to Svartalfheim, and the wreckage of the ship crushes him. With the battle won, Thor says his goodbyes and returns to Asgard with the Aether.[14]
5th
Phil Coulson and his team are assigned as part of the S.H.I.E.L.D. clean-up crew after the Battle of Greenwich. Every element with anomalous spectrographic signatures is contained, classified as hazardous material, and marked for transport.[16]
At Trillemarka National Park, Norway, Jakob Nystrom and Petra Larsen find the first piece of the Berserker Staff.[16]
A StatiCorp research and development facility in Batesville, Utah, attempts to use a particle accelerator to create an inter-dimension portal. Technician Tobias Ford deliberately loosens bolts on one of the accelerator's couplings, as an excuse to file a safety complaint and see safety inspector Hannah Hutchins, because he has a crush on her. The loose bolts cause the accelerator to malfunction and explode, killing Frank Delacourt, Jack Benson and Arlene Willoughby. Ford is drawn through a portal and becomes stuck in between his own world and another dimension he believes is Hell. He is able to observe what happens in his own world and can partially manifest and manipulate items. [17]
6th
Loki, disguised as Odin, tells Thor he did the right thing by disobeying him and offers him the throne of Asgard. Thor declines, preferring instead to stay on Earth with Jane Foster. The disguised Loki allows him go to Earth, leaving him with full control of Asgard.[14]
After receiving a message from S.H.I.E.L.D., Coulson's team travel to Norway to investigate the incident at Trillemarka, finding spectrographic signatures of an object of Asgardian origin.[16]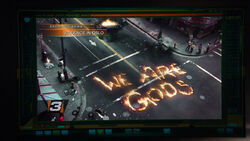 7th
Sif and Volstagg go to the museum of the Collector and request he keep the Aether safe, explaining the Tesseract is already being stored on Asgard and it may be dangerous to keep two Infinity Stones together in one realm. He accepts, but unbeknownst to them he is secretly collecting the six Infinity Stones.[14] When the Asgardians leave, the Collector contacts Gamora, tasking her with finding the Orb.[18]
8th
Surviving his injuries, Elliot Randolph considers starting a new life somewhere else. Coulson recommends he move to Portland.[16]
Skye tries to get Grant Ward to open up about his past, but he refuses. That evening, he joins Melinda May in her hotel room and spends the night with her.[16]
9th
The next morning, Melinda May receives a message about the team's next mission: An Index asset evaluation for a woman in Batesville named Hannah Hutchins, who supposedly has telekinetic powers. [17]
At the time the team arrives in Batesville, an angry mob has gathered in front of Hutchins' house. After someone throws an egg at Hutchins, an empty police car almost ran over a member of the mob. To get her out of scene without any further incidents, Hutchins is sedated by Melinda May.[17]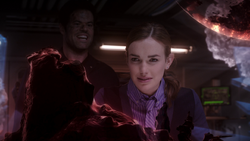 28th
References