"It's our policy not to comment on ongoing operations, but I can assure you that S.H.I.E.L.D. has the situation completely under control."
The specific order and/or accurate dates presented in this article has never been confirmed by Marvel Studios, and therefore it can be inaccurate, incomplete, or partial.
This is a timeline of events that occurred in 2014.
2014
January
20th
23rd
Having almost been killed in the accident, Kilgrave searches the help of Doctor David Kurata and forces Jack Denton to donate both of his kidneys to him. Kurata is forced to perform the surgery on Kilgrave without any anesthesia to numb the pain, because the anesthesia nullifies Kilgrave's powers. Denton has a stroke from the shock of losing his kidneys. Kilgrave then ensures that his death has been faked and disappears, while Jessica Jones continues to believe that he died in the accident.[2]
February
3rd
4th
5th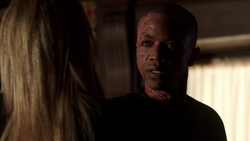 6th
12th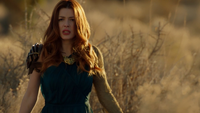 13th
19th
Sif and Coulson track Lorelei to Vegas, but find that she and Ward have already escaped.[10]
In order to rid themselves of Sif and S.H.I.E.L.D., Lorelei and Ward infiltrate the Bus by enthralling Leo Fitz, who detains Skye, Jemma Simmons, and Sif, even attempting to eject Sif from the plane. Coulson, pretending to be under Lorelei's thrall, releases Skye and Simmons and incapacitates Fitz. May fights with the enthralled Ward, while Sif manages to get back onto the Bus and duels Lorelei. Sif manages to overpower Lorelei and places the Asgardian Collar around her, silencing her. The enthralled are released from Lorelei's control almost instantly.[10]
Phil Coulson reveals to Skye that the GH.325 came from a Kree corpse, and promises that they will find the answers they need about Project T.A.H.I.T.I. After eavesdropping on the conversation, Melinda May calls Nick Fury from the Bus on a secret phone, telling him that Coulson knows about the alien.[10][4]
March
18th
27th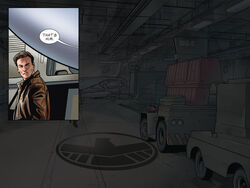 Agent Mark Smith goes to the gym so he can take his anger out on a punching bag. When he finishes and goes to the locker room for his duffel bag, he discovers a paper inside simply saying "Hangar SFC-5".[14]
Smith arrives in the hangar and is greeted by Baron Wolfgang von Strucker, who recruits him into HYDRA.[14]
28th
29th
In Sokovia, a massive riot for justice breaks out, putting civilians against the police. During this riot, the Scepter is finally delivered to Wolfgang von Strucker, who immediately puts Doctor List to work.[14]
Doctor List manages to reactivate Chitauri Guns with the power of the Scepter for HYDRA. After the guns are tested, List informs Strucker that they need living human test subjects. Strucker tells him that he can use any of the people from the continuing riot.[14]

List tells the rioters that he can give them the abilities to stand up to their oppressors if they volunteer to go with him. Twins Pietro and Wanda Maximoff are among the many to go with him.[14]
30th
31st
April
1st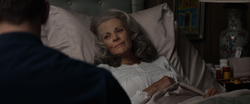 Steve Rogers returns to his apartment, where he finds Fury sitting in his living room. Fury manages to tell Rogers that S.H.I.E.L.D. has been compromised and gives him the USB containing the data from the Lemurian Star. From the adjacent building, the Winter Soldier shoots and appears to fatally wound Fury. While his neighbor (who reveals herself to be an undercover S.H.I.E.L.D. agent codenamed "Agent 13") gets Fury to safety, Rogers pursues the Winter Soldier, but fails to catch him.[18][16]
Nick Fury is taken to a hospital in a critical condition. His heart stops during surgery, and the doctors are unable to revive him. After he is pronounced dead, Maria Hill collects his body. Rogers hides the USB Fury gave him in a vending machine.[18][16]
2nd
3rd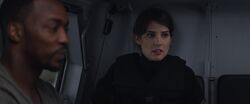 4th
Battle at the Triskelion: Alexander Pierce invites the World Security Council to the Triskelion to show them a demonstration of Project Insight. Captain America infiltrates the headquarters and reveals the nature of Project Insight and the HYDRA infiltration to everyone present. Pierce takes the Council hostage, but Black Widow, disguised as Councilwoman Hawley, defends them and holds Pierce at gunpoint. She and Fury then upload all data regarding S.H.I.E.L.D. and HYDRA to the public, and Fury executes Pierce after he kills the Council in an attempt to escape. Captain America and Sam Wilson, going by the codename Falcon, board the Helicarriers as they take off and manage to install two of the chips. On the last Helicarrier, Captain America is confronted by the Winter Soldier, and after a brutal altercation, Captain America manages to install the chip. The Helicarriers target each other and blow each other out of the sky; the Helicarrier holding Rogers and the Winter Soldier crashes into the Triskelion, reducing it to rubble. The Winter Soldier, slowly remembering his past life as Bucky Barnes, saves Captain America from drowning in the Potomac River.[18][16][21]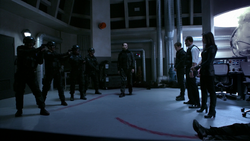 5th
Grant Ward releases Raina from S.H.I.E.L.D custody.[25]
Skye and Coulson watch the news as they assess the secured bases of S.H.I.E.L.D..[25]
Grant Ward and Raina arrive at the Barbershop Headquarters in Havana, Cuba. Here Raina meets the Clairvoyant for the first time and discovers he has no powers.[25]
In the Hub, Coulson's Team repair the Bus. While doing this, Phil Coulson receives a message from Glenn Talbot.[25]
S.H.I.E.L.D is declared a terrorist organization by the United States government.[25]
After receiving the message from Glenn Talbot, Coulson decides to leave the Hub. On the Bus, Skye deletes the identity of every member on their team, including Ward.[25]
Skye informs Ward that his identity has been deleted and Garrett instructs Raina to recreate the drug GH.325.[25]
Phil Coulson discovers Nick Fury's coordinates to Providence.[25]
Agent Kaminsky and others arrive in Cuba after being defeated at another S.H.I.E.L.D. facility. Garrett decides to hit the Fridge.
May tells Coulson that Fury was not behind Project T.A.H.I.T.I..[25]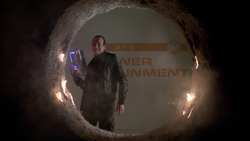 Ian Quinn arrives in Cuba and is presented with the Gravitonium by Garrett.[25]
200 miles out of Portland, Marcus Daniels kills a fisherman so he can use his car to travel to Portland.[26]
After seeing Marcus Daniels on the list, Coulson decides to take a splinter team to capture him. Before they are allowed to leave the facility they have to go through an orientation on a Lie Detector.[26]
6th
7th
8th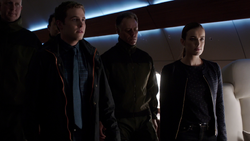 9th
Battle at Cybertek: Garrett kills one of the generals in attendance at Ian Quinn's presentation of the Deathlok soldiers. Raina and Quinn abandon the Cybertek facility, taking the Gravitonium with them, while Coulson's Team invade Cybertek with a group of U.S. Marines. Grant Ward tries to capture Skye, but Melinda May defeats him in a fight and he is taken into custody. Phil Coulson battles Garrett, but is outmatched. Fury arrives to aid Coulson, while Deathlok steps in to defend Garrett. Skye releases Ace Peterson, prompting Deathlok to turn on Garrett and fire a missile at him. The remaining Centipede agents are arrested, and Deathlok flees the scene. Garrett tries to upgrade himself with Deathlok parts, but Coulson vaporizes him with the 0-8-4 Weapon.[30]
Fury appoints Coulson as the new director of S.H.I.E.L.D. and gives him a small device called "the Toolbox", which shows him coordinates to their new base, the Playground.[30]
10th
11th
18th
20th
Phil Coulson assigns Jemma Simmons the duty to infiltrate in HYDRA so she can give him multiple information about the terrorist organization. Secretly, Coulson assigns agent Bobbi Morse to protect Simmons as she also infiltrates in HYDRA.[33]
24th
May
16th
28th
June
5th
6th
19th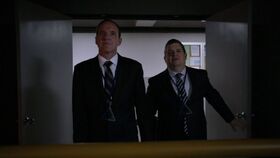 20th
21st
Creel uses his powers to become transparent and escape from his detainment.[35]
Infiltration into the Government Storage Warehouse: Coulson sends a team on a two-pronged mission: to obtain a Quinjet and retrieve the Obelisk. When Hartley finds the Obelisk, the Absorbing Man attacks. She grabs the object in order to defend herself, but instead it begins to kill her. Hartley, Hunter and Idaho attempt to escape to get Hartley medical attention, but Creel flips their S.H.I.E.L.D. SUV, killing both Idaho and Hartley. Hunter fakes being dead as Creel takes the alien artifact.[35]
Later, Sunil Bakshi approaches Daniel Whitehall to tell him that Creel was successful.[35]
Melinda May finds Idaho, Isabelle Hartley, and Lance Hunter's flipped SUV. Only Hunter has survived. Hunter tells May to pursue the Absorbing Man. While May chases Creel, Hunter is surrounded and taken by the United States Armed Forces.[38]
May tracks Creel to a restaurant. In the restaurant, Creel is accidentally touched by a waitress, and she turns to stone. Creel escapes the scene.[38]
At the Playground, Skye and Antoine Triplett arrive back in the newly acquired Quinjet as they learn of the deaths of Hartley and Idaho. Alphonso Mackenzie looks over the jet's cloaking technology so it can be duplicated for the Bus.[38]
22nd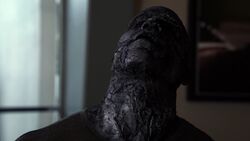 Chase of Carl Creel: Coulson's men track Creel and travel to his location to catch him. Hunter, however, takes things into his own hands and incapacitates May, Triplett and Skye with an I.C.E.R.. When Creel goes to meet Sunil Bakshi in a public park to deliver the Obelisk, Hunter tries to shoot Creel. During the commotion caused by the gunshot, Raina takes the briefcase containing the artifact. As Hunter and Creel battle, Coulson uses the Overkill Device to destabilize and neutralize the Absorbing Man.[38]
23rd
At Hartley's funeral, Hunter decides to join S.H.I.E.L.D.[38]
Later, Skye and May discuss Coulson's attitude. May confronts Coulson and convinces him to release his urge to carve Words of Creation he has resisted for 18 days since his last episode. He carves the symbols in a blackened room as May documents the incident.[38]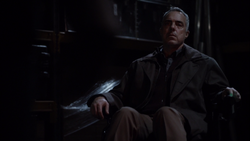 Felix Blake is released from hospital. Having found out about HYDRA, he disappears, angered that the S.H.I.E.L.D. he signed up for was not what he thought it to be. Bitter, he looks to find other people to align himself with who want to protect the world from aliens.[42]
Raina delivers the Obelisk to Skye's father, who shows her that she can touch it without dying.[38]
24th
July
2nd
Rocket Raccoon chases Baldo through the hub space port on Paramatar. Baldo escapes into a forest but is ambushed by Groot. The duo apprehend him.[6][44]
They take Baldo downtown and hand him over to D'Xtar. Rocket is outraged when D'Xtar only pays them 400 credits despite the fact that the bounty on Baldo was 900. Sick of being cheated, the pair think their luck is changing when a woman leads them into a bar promising them free drinks. Unfortunately, they discover that it is a trap and that a bounty has been placed on Rocket when they are ambushed by bounty hunters. Rocket produces his Laser Cannon, causing huge damage to the bar and confusion among the bounty hunters.[44]
Six months after the supposed death of Kilgrave, Trish Walker finally finds out that her adopted sister, Jessica Jones, has become a private investigator.[45]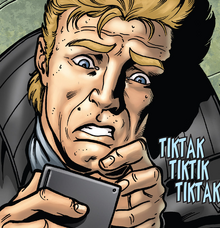 Suddenly, Groot grabs Rocket. Rocket is shocked and hurt by his friend's betrayal. When some bounty hunters surround them, Rocket shoots off the end of Groot's finger to escape from his grip. Rocket is chased through the streets by both Groot and the bounty hunters. He escapes into a building by tapping the wires of a lock. He runs into a bounty hunter who is sick of Rocket collecting bounties he feels he deserves, and prepares to kill him.[44]
Groot then crashes through the wall. Rocket informs him that the bounty hunter put the bounty on him to thin out the competition. Groot threatens the bounty hunter, who cancels the bounty on Rocket. Groot then reveals that betraying Rocket was an act so that Rocket would attack him and make him angry, as he is a better fighter in that state. Rocket is thankful and the two leave.[44]
31st
August
1st
2nd
Gamora is nearly killed by vengeful inmates led by Drax the Destroyer, whose wife and daughter were murdered by Ronan, but is saved by Quill. Upon learning that the Collector is willing to pay a substantial amount for the Orb, Quill, Rocket, and Groot agree to help Gamora escape the Kyln in exchange for splitting the payment between the four of them.[46][47]
3rd
4th
Battle of Xandar: The Dark Aster arrives at Xandar, and the entire Nova Corps fleet is sent in to intercept it. A Ravager fleet led by Yondu Udonta arrives, distracting the Dark Aster. The Milano, carrying Star-Lord, Gamora, Groot, and Drax the Destroyer, slips through the chaos and infiltrates the Aster. Rocket Raccoon, piloting the Warbird, aids the Nova Corps and Ravagers in dealing with the Sakaarans. The Nova Corps fleet sets up a force shield to keep the Aster from landing. All Sakaaran ground and air forces are subdued, but Ronan, using the Infinity Stone inside the Orb, decimates the entire Nova Corps fleet, including Denarian Garthan Saal. Onboard the Dark Aster, Gamora duels Nebula, who escapes on a hijacked M-ship. Drax kills Korath the Pursuer and Groot slays the rest of the Sakaaran soldiers, and the group then converge on Ronan, who defeats them with ease. Rocket pilots the Warbird through the Aster and into Ronan, incapacitating him and damaging the vessel and causing it to crash into Xandar. Groot shields his comrades in a cocoon of branches to protect them from the crash, and is pulverized in the impact.[46][47]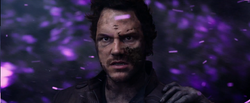 Ronan emerges from the wreckage unscathed and prepares to destroy Xandar with the Infinity Stone, but Star-Lord distracts him, allowing Rocket and Drax to destroy his hammer with the Hadron Enforcer, freeing the stone. Star-Lord catches the stone and, with Gamora, Rocket, and Drax sharing its burden, uses it to destroy Ronan. Gamora then seals the stone in a new makeshift container, and instead of giving it to the Ravagers, Star-Lord gives them a decoy. The stone is then taken by the Nova Corps and contained.[46][47]
8th
Star-Lord's group, now calling themselves the Guardians of the Galaxy, are exalted for their heroics and their criminal records are expunged. Departing in a repaired Milano, the group depart Xandar in search of adventure. They bring a sapling cut of Groot with them, which begins to regenerate.[46][47]
20th
September
10th
11th
Phil Coulson, Melinda May and Skye record a birthday message video for Jemma Simmons for her 27th birthday, as she is not at the base with them, instead on an assignment for Coulson at HYDRA. They tell her to make a wish and then blow out the candle for her. Leo Fitz, still believing that Simmons left to see her parents, records a more personal message, asking her to say "hi" to her parents for him, and promising her that they will see each other soon.[50]
18th
19th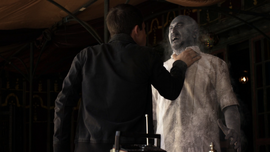 Simmons discovers that HYDRA is looking for Donnie Gill, whom she knows from their previous encounter, and that they are studying his abilities.[23]
In Marrakech, Gill is found by two HYDRA agents. He freezes one of them and takes his cell phone.[23]
Brock Rumlow awakes from his coma. He watches a report on the fall of S.H.I.E.L.D. from his hospital bed. Disillusioned and furious at HYDRA's defeat and Alexander Pierce's death, he assaults his nurse and escapes.[24]
Skye tries to get information from Grant Ward. Ward tells her that he was never loyal to HYDRA, only to Garrett. He also tells her about HYDRA's protocol when it concerns the "gifted", which is to either recruit or kill them.[23]
20th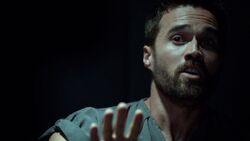 Fitz is shocked when he enters Grant Ward's cell. Ward tries to explain himself to Fitz, to no avail. Furious, Fitz explains what Ward has done to him, and starts draining the oxygen from his cell. Ward tells him that Coulson and the others do not understand that Gill was brainwashed and was used by HYDRA to take the Sandbox in one of the battles during the HYDRA Uprising. Fitz tells Mack about Gill and that they have to alert Coulson.[23]
Battle on the Maribel del Mar: At the freighter, Mack calls Coulson and tells him about Gill being brainwashed by HYDRA. Coulson orders his team to stop HYDRA from talking to Gill to prevent the brainwashing from being triggered again. When May notices Simmons, she takes out Hunter so as to prevent him from killing her, as he does not know who she is. Alerted by the noise, Gill runs. Coulson orders his team to maintain Simmons' cover.[23]
Gill runs into Bakshi, who speaks the brainwashing code to him and Gill falls under his sway. Bakshi orders Gill to freeze the ship, but he is shot by Skye. Gill falls into the ocean.[23]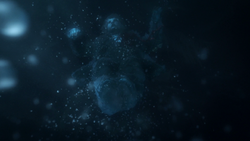 22nd
Recovering some items from S.H.I.E.L.D.'s Research and Development labs, Brock Rumlow sets up an arms sale to draw out HYDRA agents, on whom he opens fire to send the message that he no longer works for them, while getting some satisfaction by subjecting them to the pain that he suffered himself.[24]
October
17th
They intend to leave Sovereign peacefully, however, Rocket Raccoon has decided to take some Anulax Batteries for himself. When this is discovered, it angers Ayesha and the Sovereign people.[49]
Skirmish with the Sovereign: The Sovereign send their fleet to chase and attack the Guardians of the Galaxy, heavily damaging the Milano. The group is forced to crash-land on a nearby planet, but before the Sovereign fleet can kill them, it is single-handedly destroyed by Ego. On landing on the planet, Berhert, the Guardians argue, when Ego suddenly lands and reveals himself to be Quill's father.[49]
On Contraxia, Yondu Udonta has a run-in with Stakar Ogord, nearly 20 years after Ogord banished him for child trafficking. Ogord reiterates Yondu's exile from the greater Ravager community, despite his protests. Ayesha then arrives and hires Yondu to recapture the Guardians.[49]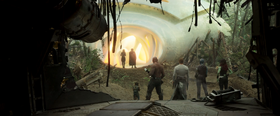 18th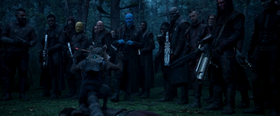 Attack on Berhert: Rocket enjoys setting off several traps for them, taking down numerous Ravagers, but he is forced to give in when Yondu Udonta arrives and threatens him with his Yaka Arrow. However, when Yondu shows reluctance to turn Quill over to the Sovereign, some of the group question whether he is being too soft, and Ravager Taserface uses the opportunity to lead a mutiny against him. Nebula tricks Groot into releasing her, claiming that she will help, but instead she shoots Yondu's fin, knocking him out and helping the Ravagers. Groot, Udonta, and Rocket are incarcerated on the Ravagers' ship, the Eclector.[49]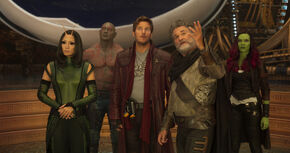 19th
Escape from the Eclector:

Soon before the morning, Groot goes one final time to find the fin, but yet again retrieves the wrong item. Kraglin Obfonteri sees this, however, and assists Groot in taking the fin and freeing Yondu, who forgives Kraglin and tells him to prepare the Quadrant for their escape.[49][53]
Together, Rocket, Groot, and Yondu walk through the Eclector to make their escape. The Ravagers are alerted and woken, but as they rush to stop the escape, Yondu uses the Yaka Arrow, controlled by his new fin, to kill all of them. Taserface alerts the Sovereign of the escape, and gives them the coordinates of Ego's planet so they can go after Yondu and the Guardians,

before Yondu kills him as well in an explosion ignited by the Yaka Arrow.[49][53]

Rocket, Groot, Yondu, and Kraglin escape in a detachable section, and engage in a risky space maneuver of 700 consecutive jumps to reach Ego's planet in time to help Quill.[49]
Quill, happy to have found his father and his new powers, attempts to get Gamora to dance with him, and she eventually obliges. However, they quickly fall out, as Gamora is upset that Quill is valuing his biological father over the second family he found in their Guardians team. Gamora storms off to sit peacefully on her own in a field.[49]
Nebula arrives at Ego's planet in the ship from the Ravagers and tries to kill Gamora. Gamora fights back, and the two of them end up fighting in the caverns beneath the planet's surface. Gamora gets the upper hand, but lets her sister live. Nebula takes the opportunity to pin down Gamora, but changes her mind about killing her, satisfied with just having beaten her for once.[49]
The two sisters reach an uneasy truce, and together they explore the caverns beneath Ego's planet's surface.[49]
Ego and Peter Quill bond over the song Brandy (You're a Fine Girl) by Looking Glass. Ego then tells Quill that he wants to show him something.[49]
25th
November
20th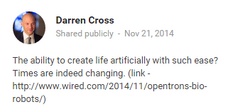 December
6th
9th
Pangborn has x-rays taken of his serious injuries and the operations performed.[56]
11th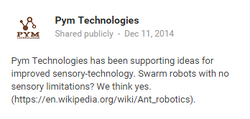 14th
17th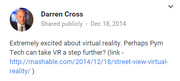 22nd
WHiH World News posts late at night on Google+ saying "S.H.I.E.L.D. heavily connected to government conspiracies? More at 10."[60]
23rd
28th
31st
References
↑ 4.0 4.1 4.2 4.3 Seeds has to occur in 2013 ("24 years" following 1989, see other references), and is placed finishing on December 17, 2013. Yes Men has to occur in 2014 ("last year" in 2015, see other references). Agents of S.H.I.E.L.D.: The Chase picks up following the events of Seeds, and leads into the events of T.R.A.C.K.S.. T.A.H.I.T.I. follows immediately after, and Yes Men only a few days later (Skye is still recovering, Simmons has spent a few days taking her blood). However, with Captain America: The Winter Soldier in March-April, these episodes also have to somewhat fill the gap between December 2013 and March 2014. Therefore, Agents of S.H.I.E.L.D.: The Chase, T.R.A.C.K.S., and T.A.H.I.T.I. occur in early February 2014 (3rd-6th), with Yes Men picking up with Simmons and Skye a week later on February 13th. This also fits with them having dealt with the Overkill Device "a while back," 3 months from early November to early February.
↑ 6.0 6.1 6.2 The Marvel Cinematic Universe follows a general real time policy in most of Phase Two - set when the media is released when suitable.
↑ In T.A.H.I.T.I., Simmons says that she has known Skye for "a few months." The reasoned date for them meeting is September 9, 2013, and the reasoned date for her saying this is February 5, 2014, which is 5 months.
↑ In T.A.H.I.T.I., it is depicted and said that Skye was shot "yesterday."
↑ In Who You Really Are, Coulson refers to his last encounter with Sif as being "last year." The events of Who You Really Are have to occur in March 2015 (see other references to the timespan of A Fractured House to Avengers: Age of Ultron), therefore placing Yes Men (the last encounter with Sif) in 2014.
↑ Sometimes the Marvel Cinematic Universe alludes to events which happened in our world, and it is assumed they happened on the same dates in the universe, for timeline purposes.
↑ 14.0 14.1 14.2 14.3 14.4 14.5 14.6 14.7 14.8 Avengers: Age of Ultron Prelude - This Scepter'd Isle
↑ 16.00 16.01 16.02 16.03 16.04 16.05 16.06 16.07 16.08 16.09 16.10 16.11 16.12 16.13 16.14 16.15 16.16 16.17 16.18 16.19 16.20 16.21 Captain America: Civil War Prelude
↑ 17.0 17.1 In Captain America: Civil War, Sam Wilson says that they "looked for [the Winter Soldier] for 2 years." The date of him saying this is definitively June 2016 (Lagos was "last month," with that date given by WHiH, see other references). The reasoned date for the search beginning is April 7, 2014, which fits as 2 years. Placing Captain America: The Winter Soldier in 2014 also still fits as "2 years" after The Avengers (May 2012), as stated by Scarlett Johansson.
↑ 18.00 18.01 18.02 18.03 18.04 18.05 18.06 18.07 18.08 18.09 18.10 18.11 18.12 18.13 18.14 18.15 18.16 18.17 18.18 18.19 18.20 18.21 18.22 18.23 18.24 18.25 Captain America: The Winter Soldier
↑

Rogers tells Romanoff that he is "95," definitively placing this between July 4, 2013 and July 3, 2014.

↑ 21.0 21.1 21.2 The events of End of the Beginning are set before and concurrently with Captain America: The Winter Soldier, while Turn, Turn, Turn is set concurrently and shortly after. The timeline of the last section of Agents of S.H.I.E.L.D.: Season 1 has been modeled around Captain America: The Winter Soldier.
↑ 23.00 23.01 23.02 23.03 23.04 23.05 23.06 23.07 23.08 23.09 23.10 23.11 23.12 23.13 23.14 23.15 23.16 23.17 23.18 Agents of S.H.I.E.L.D.: 2.03: Making Friends and Influencing People
↑ 25.00 25.01 25.02 25.03 25.04 25.05 25.06 25.07 25.08 25.09 25.10 25.11 25.12 25.13 Agents of S.H.I.E.L.D.: 1.18: Providence
↑ 26.00 26.01 26.02 26.03 26.04 26.05 26.06 26.07 26.08 26.09 26.10 Agents of S.H.I.E.L.D.: 1.19: The Only Light in the Darkness
↑ In The Things We Bury, Ward states that he "lived with [Coulson's team] for months." The reasoned date for them coming together is September 9, 2013, and the reasoned date for him leaving is April 6, 2014, which is 7 months.
↑ In Hot Potato Soup, which is firmly in April 2017 (Wake Up must occur on April 16, 2017, see other references), Johnson says to Koenig, "We've known each other for 3 years." This fits as 3 years prior to April 2017.
↑ 35.00 35.01 35.02 35.03 35.04 35.05 35.06 35.07 35.08 35.09 35.10 35.11 Agents of S.H.I.E.L.D.: 2.01: Shadows
↑ In Shadows, Skye tells Antoine Triplett, on the reasoned date of June 20th, that "Coulson put [her] on [looking up the alien symbols] a month ago."
↑ Guardians of the Galaxy Prelude: "Many Years Later"
↑ 38.00 38.01 38.02 38.03 38.04 38.05 38.06 38.07 38.08 38.09 38.10 38.11 38.12 Agents of S.H.I.E.L.D.: 2.02: Heavy is the Head
↑ In Heavy is the Head, May says to Coulson on the reasoned date of June 23rd, "It's been 18 days since your last episode."
↑ In Shadows, on returning to the Playground on the reasoned date of June 20th, May says to Coulson, "It's been 2 weeks."
↑ In Scars, the onscreen text shows a scene set immediately preceding Shadows as being "one year ago." The events of Scars have to occur in May 2015 (see other references to the placement of Avengers: Age of Ultron), with the reasoned date being May 7, 2015. A year prior to this places the scene in approximately late May 2014. Late May fits as best as possible with Captain America: The Winter Soldier being in April, with Talbot's statement that Coulson and S.H.I.E.L.D. "managed to evade [Talbot and the military] for an entire winter." It has to then be assumed that Talbot is referring to the it now being spring moving into summer, winter has come to a resolute, "entire" close. In Shadows, Coulson states, "Our plane's been gathering dust for months." With The Winter Soldier in April, this pushes the placement of these episodes to June, compressing the "year" to 11 months, but allowing "months" to span since Beginning of the End. The last time the Bus was used was April 10, 2014, which is 2 months earlier. He also states that "in the months since [Simmons left], [Fitz has] grown isolated." Simmons leaving is April 20, 2014, which is also 2 months earlier. With Talbot going for a walk with his son around midday in Shadows, it makes sense for this to be a Sunday, thereby dating that as June 21st, and thus the flashback on June 19, 2014.
↑ 43.0 43.1 43.2 43.3 With Captain America: The Winter Soldier in April, Shadows occurs in June 2014 ("one year ago" from May 2015, "months" preceding it since Beginning of the End, see other references), but A Fractured House has to take place no earlier than March 2015 (see other references to the timespan between A Fractured House and Avengers: Age of Ultron). There are undetermined spans of time between Heavy is the Head and Making Friends and Influencing People, Making Friends and Influencing People and Face My Enemy, and a mostly undetermined span between A Hen in the Wolf House and A Fractured House, other than when A Fractured House picks up, it does not seem that Morse and Hunter have been reunited for long. A 2½-month span is placed between Heavy is the Head and Making Friends and Influencing People, 3½ months between Making Friends and Influencing People and Face My Enemy, then a span of under 2 months between A Hen in the Wolf House and A Fractured House, to stretch the first set of episodes to fill out the span of time reasonably.
↑ 46.00 46.01 46.02 46.03 46.04 46.05 46.06 46.07 46.08 46.09 46.10 46.11 46.12 46.13 46.14 46.15 46.16 46.17 46.18 46.19 46.20 46.21 46.22 46.23 Guardians of the Galaxy
↑ 47.00 47.01 47.02 47.03 47.04 47.05 47.06 47.07 47.08 47.09 47.10 47.11 47.12 47.13 47.14 47.15 47.16 47.17 47.18 47.19 47.20 Guardians of the Galaxy Vol. 2 Prelude
↑ 48.0 48.1 At least a few days must have passed between the Battle of Xandar and the conversation between Star-Lord and Irani Rael, because the Guardians' wounds are completely healed, and the Milano has been rebuilt.
↑ 49.00 49.01 49.02 49.03 49.04 49.05 49.06 49.07 49.08 49.09 49.10 49.11 49.12 49.13 49.14 49.15 49.16 49.17 49.18 49.19 49.20 49.21 49.22 49.23 49.24 49.25 49.26 49.27 49.28 49.29 49.30 49.31 49.32 49.33 49.34 49.35 49.36 49.37 49.38 49.39 49.40 49.41 49.42 49.43 49.44 49.45 49.46 Guardians of the Galaxy Vol. 2
↑ In S.O.S. Part One, Ward says that Palamas endured "months of torture and mind control." She is freed when Whitehall dies on the reasoned date of March 31, 2015, and the reasoned date for her torture beginning is September 18, 2014, which fits as 6½ months.
↑ 53.0 53.1 53.2 53.3 53.4 53.5 53.6 53.7 In several instances, such as here and here, James Gunn is quoted as saying that Guardians of the Galaxy Vol. 2 is set 2 months after the end of Guardians of the Galaxy (with the latter also confirming it is set in "2014," which is corroborated in the film by the "1980" on-screen date, followed by "34 years later"). Here it is quoted as "a couple months" after, which implies about 2⅓ months. Here it is quoted as "3 months." Collecting all of these, the average is around 2⅓ months later. The end scene of Guardians of the Galaxy is dated as August 8, 2014, so 2⅓ months later is October 18, 2014. As for when the film is "set" - this could either reference when it picks up at the beginning, or when the middle of the film is set. The beginning of the film is the afternoon of the film's 1st day, and the middle of the film is the morning of the film's 3rd day, so the best day to assign the October 18, 2014 date to is the 2nd day, therefore meaning the film starts on October 17, 2014.
↑ In this live-stream, around the 46-minute mark, Gunn reveals that Yondu's funeral is only hours after his death.
↑ In Face My Enemy, the paper states that the fire was "last month." The reasoned date for this paper is January 9, 2015, putting the fire in December 2014.