"It's our policy not to comment on ongoing operations, but I can assure you that S.H.I.E.L.D. has the situation completely under control."
The specific order and/or accurate dates presented in this article has never been confirmed by Marvel Studios, and therefore it can be inaccurate, incomplete, or partial. Help us to make this article better.
"Attention all S.H.I.E.L.D. agents, this is Steve Rogers. You've heard a lot about me over the last few days. Some of you were even ordered to hunt me down. But I think it's time to know the truth. S.H.I.E.L.D. is not what we thought it was. It's been taken over by HYDRA. Alexander Pierce is their leader. The STRIKE and Insight crew are HYDRA as well. I don't know how many more, but I know they're in the building. They could be standing right next to you. They almost have what they want: absolute control. They shot Nick Fury, and it won't end there. If you launch those Helicarriers today HYDRA will be able to kill anyone that stands in their way... unless we stop them. And I know I'm asking a lot. The price of freedom is high, it always has been. And it's a price I'm willing to pay. And if I'm the only one, then so be it. But I'm willing to bet I'm not."
This is a timeline of events that occurred in 2014.
2014
January
20th
23rd
Having almost been killed in the accident, Kilgrave searches the help of Doctor David Kurata and forces Jack Denton to donate both of his kidneys to him. Kurata is forced to perform the surgery on Kilgrave without any anesthesia to numb the pain, because the anesthesia nullifies Kilgrave's powers. Denton has a stroke from the shock of losing his kidneys. Kilgrave then ensures that his death has been faked and disappears, while Jessica Jones continues to believe that he died in the accident.[2]
February
4th
Ambush on Oakland Centipede Base: Coulson, Peterson, Melinda May and Grant Ward lead an attack on the facility, not knowing that three Centipede soldiers were in cargo bins waiting to strike. They were deployed to attack the S.H.I.E.L.D. agents. Peterson gets stabbed by a stick causing him severe damage, but despite the injury, he manages to subdue Hayward. May also takes another Centipede soldier down, but he manages to escape with another soldier. Before being interrogated, Hayward is killed using his Backscatter X-Ray Eye Implant.[3][4]
Kidnapping of Phil Coulson: Michael Peterson is persuaded by Coulson to call his son and Raina answers the telephone, wanting Peterson to trade Coulson for Ace's safety.[3][4]
7th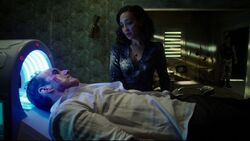 9th
17th
25th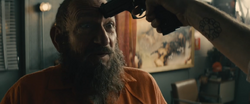 27th
28th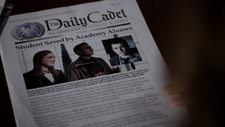 March
2nd
15th
16th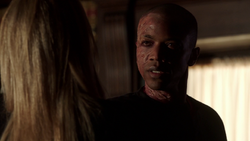 17th
20th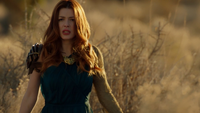 21st
26th
Sif and Coulson track Lorelei to Vegas, but find that she and Ward have already escaped.[16]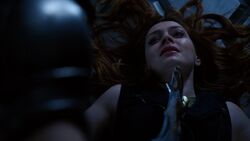 In order to rid themselves of Sif and S.H.I.E.L.D., Lorelei and Ward infiltrate the Bus by enthralling Leo Fitz, who detains Skye, Jemma Simmons, and Sif, even attempting to eject Sif from the plane. Coulson, pretending to be under Lorelei's thrall, releases Skye and Simmons and incapacitates Fitz. May fights with the enthralled Ward, while Sif manages to get back onto the Bus and duels Lorelei. Sif manages to overpower Lorelei and places the Asgardian Collar around her, silencing her. The enthralled are released from Lorelei's control almost instantly.[16]
Phil Coulson reveals to Skye that the GH.325 came from a Kree corpse, and promises that they will find the answers they need about Project T.A.H.I.T.I. After eavesdropping on the conversation, Melinda May calls Nick Fury from the Bus on a secret phone, telling him that Coulson knows about the alien.[16]
27th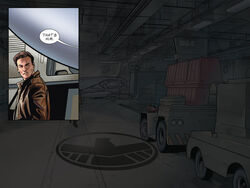 Agent Mark Smith goes to the gym so he can take his anger out on a punching bag. When he finishes and goes to the locker room for his duffel bag, he discovers a paper inside simply saying "Hangar SFC-5".[18]
Smith arrives in the hangar and is greeted by Baron Wolfgang von Strucker, who recruits him into HYDRA.[18]
28th
29th
In Sokovia, a massive riot for justice breaks out, putting civilians against the police. During this riot, the Scepter is finally delivered to Wolfgang von Strucker, who immediately puts Doctor List to work.[18]
Doctor List manages to reactivate Chitauri Guns with the power of the Scepter for HYDRA. After the guns are tested, List informs Strucker that they need living human test subjects. Strucker tells him that he can use any of the people from the continuing riot.[18]

List tells the rioters that he can give them the abilities to stand up to their oppressors if they volunteer to go with him. Twins Pietro and Wanda Maximoff are among the many to go with him.[18]
30th
31st
April
1st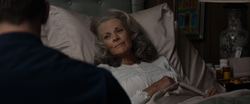 Steve Rogers returns to his apartment, where he finds Fury sitting in his living room. Fury manages to tell Rogers that S.H.I.E.L.D. has been compromised and gives him the USB containing the data from the Lemurian Star. From the adjacent building, the Winter Soldier shoots and appears to fatally wound Fury. While his neighbor (who reveals herself to be an undercover S.H.I.E.L.D. agent codenamed "Agent 13") gets Fury to safety, Rogers pursues the Winter Soldier, but fails to catch him.[21][20]
Nick Fury is taken to a hospital in a critical condition. His heart stops during surgery, and the doctors are unable to revive him. After he is pronounced dead, Maria Hill collects his body. Rogers hides the USB Fury gave him in a vending machine.[21][20]
2nd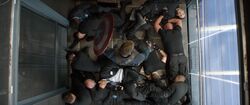 3rd
4th
Battle at the Triskelion: Alexander Pierce invites the World Security Council to the Triskelion to show them a demonstration of Project Insight. Captain America infiltrates the headquarters and reveals the nature of Project Insight and the HYDRA infiltration to everyone present. Pierce takes the Council hostage, but Black Widow, disguised as Councilwoman Hawley, defends them and holds Pierce at gunpoint. She and Fury then upload all data regarding S.H.I.E.L.D. and HYDRA to the public, and Fury executes Pierce after he kills the Council in an attempt to escape. Captain America and Sam Wilson, going by the codename Falcon, board the Helicarriers as they take off and manage to install two of the chips. On the last Helicarrier, Captain America is confronted by the Winter Soldier, and after a brutal altercation, Captain America manages to install the chip. The Helicarriers target each other and blow each other out of the sky; the Helicarrier holding Rogers and the Winter Soldier crashes into the Triskelion, reducing it to rubble. The Winter Soldier, slowly remembering his past life as Bucky Barnes, saves Captain America from drowning in the Potomac River.[21][20]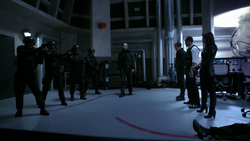 5th
Grant Ward releases Raina from S.H.I.E.L.D custody.[25]
Skye and Coulson watch the news as they assess the secured bases of S.H.I.E.L.D..[25]
Grant Ward and Raina arrive at the Barbershop Headquarters in Havana, Cuba. Here Raina meets the Clairvoyant for the first time and discovers he has no powers.[25]
In the Hub, Coulson's Team repair the Bus. While doing this, Phil Coulson receives a message from Glenn Talbot.[25]
S.H.I.E.L.D is declared a terrorist organization by the United States government.[25]
After receiving the message from Glenn Talbot, Coulson decides to leave the Hub. On the Bus, Skye deletes the identity of every member on their team, including Ward.[25]
Skye informs Ward that his identity has been deleted and Garrett instructs Raina to recreate the drug GH.325.[25]
Phil Coulson discovers Nick Fury's coordinates to Providence.[25]
Agent Kaminsky and others arrive in Cuba after being defeated at another S.H.I.E.L.D. facility. Garrett decides to hit the Fridge.
May tells Coulson that Fury wasn't behind Project T.A.H.I.T.I..[25]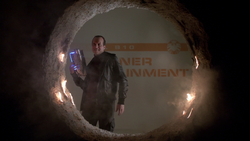 6th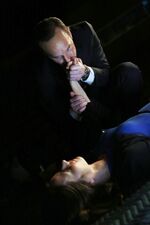 7th
8th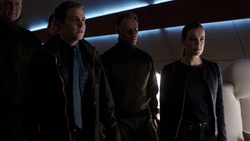 9th
Battle at Cybertek: Garrett kills one of the generals in attendance at Ian Quinn's presentation of the Deathlok soldiers. Raina and Quinn abandon the Cybertek facility, taking the Gravitonium with them, while Coulson's Team invade Cybertek with a group of U.S. Marines. Grant Ward tries to capture Skye, but Melinda May defeats him in a fight and he is taken into custody. Phil Coulson battles Garrett, but is outmatched. Fury arrives to aid Coulson, while Deathlok steps in to defend Garrett. Skye releases Ace Peterson, prompting Deathlok to turn on Garrett and fire a missile at him. The remaining Centipede agents are arrested, and Deathlok flees the scene. Garrett tries to upgrade himself with Deathlok parts, but Coulson vaporizes him with the 0-8-4 Weapon.[29]
Fury appoints Coulson as the new director of S.H.I.E.L.D. and gives him a small device called "the Toolbox", which shows him coordinates to their new base, the Playground.[29]
10th
11th
18th
24th
June
2nd
Felix Blake is released from hospital. Having found out about HYDRA, he disappears, angered that the S.H.I.E.L.D. he signed up for was not what he thought it to be. Bitter, he looks to find other people to align himself with who want to protect the world from aliens.[32]
July
2nd
31st
August
1st
2nd
Gamora is nearly killed by vengeful inmates led by Drax the Destroyer, whose wife and daughter were murdered by Ronan, but is saved by Quill. Upon learning that the Collector is willing to pay a substantial amount for the Orb, Quill, Rocket, and Groot agree to help Gamora escape the Kyln in exchange for splitting the payment between the four of them.[34]
3rd
4th
Battle of Xandar: The Dark Aster arrives at Xandar, and the entire Nova Corps fleet is sent in to intercept it. A Ravager fleet led by Yondu Udonta arrives, distracting the Aster. The Milano, carrying Star-Lord, Gamora, Groot, and Drax the Destroyer, slips through the chaos and infiltrates the Aster. Rocket Raccoon, piloting the Warbird, aids the Nova Corps and Ravagers in dealing with the Sakaarans. The Nova Corps fleet sets up a force shield to keep the Aster from landing. All Sakaaran ground and air forces are subdued, but Ronan, using the Infinity Stone inside the Orb, decimates the entire Nova Corps fleet, including Denarian Garthan Saal. Onboard the Dark Aster, Gamora duels Nebula, who escapes on a hijacked M-ship. Drax kills Korath the Pursuer and Groot slays the rest of the Sakaaran soldiers, and the group then converge on Ronan, who defeats them with ease. Rocket pilots the Warbird through the Aster and into Ronan, incapacitating him and damaging the vessel and causing it to crash into Xandar. Groot shields his comrades in a cocoon of branches to protect them from the crash, and is pulverized in the impact.[34]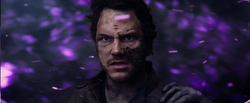 Ronan emerges from the wreckage unscathed and prepares to destroy Xandar with the Infinity Stone, but Star-Lord distracts him, allowing Rocket and Drax to destroy his hammer with the Hadron Enforcer, freeing the stone. Star-Lord catches the stone and, with Gamora, Rocket, and Drax sharing its burden, uses it to destroy Ronan. Gamora then seals the stone in a new makeshift container, and instead of giving it to the Ravagers, Star-Lord gives them a decoy. The stone is then taken by the Nova Corps and contained.[34]
Star-Lord's group receive medical attention.[34]
On Knowhere, a downtrodden Collector is licked by the dog Cosmo and mocked by one of his old collections, Howard the Duck.[34]
7th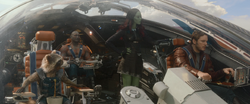 15th
Phil Coulson assigns Jemma Simmons the duty to infiltrate in HYDRA so she can give him multiple information about the terrorist organization. Secretly, Coulson assigns agent Bobbi Morse to protect Simmons as she also infiltrates in HYDRA.[36]
18th
September
5th
11th
Phil Coulson, Melinda May and Skye record a birthday message video for Jemma Simmons for her 27th birthday, as she is not at the base with them, instead on an assignment for Coulson at HYDRA. They tell her to make a wish and then blow out the candle for her. Leo Fitz, still believing that Simmons left to see her parents, records a more personal message, asking her to say "hi" to her parents for him, and promising her that they will see each other soon.[39]
19th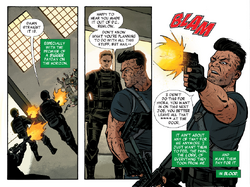 Brock Rumlow awakes from his coma. He watches a report on the fall of S.H.I.E.L.D. from his hospital bed. Disillusioned and furious at HYDRA's defeat and Alexander Pierce's death, he assaults his nurse and escapes.[24]
22nd
Recovering some items from S.H.I.E.L.D.'s Research and Development labs, Brock Rumlow sets up an arms sale to draw out HYDRA agents, on whom he opens fire to send the message that he no longer works for them, while getting some satisfaction by subjecting them to the pain that he suffered himself.[24]
26th
27th
October
10th
11th
12th
Creel attacks Glenn Talbot, but he is saved by Skye and Melinda May. As Creel is detained by the United States Armed Forces, May and Skye take Talbot to the Playground.[37]
Coulson tries to force Talbot to reveal information. He refuses and Coulson resorts to his back-up plan and knocks him out with an I.C.E.R..[37]
Creel uses his powers to become transparent and escape from his detainment.[37]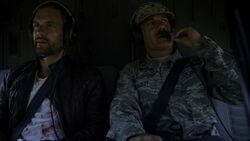 13th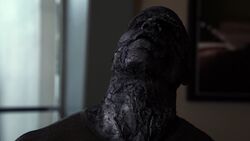 Chase of Carl Creel: Coulson's men track Creel and travel to his location to catch him. Hunter, however, takes things into his own hands and incapacitates May, Triplett and Skye with an I.C.E.R.. When Creel goes to meet Sunil Bakshi in a public park to deliver the Obelisk, Hunter tries to shoot Creel. During the commotion caused by the gunshot, Raina takes the briefcase containing the artifact. As Hunter and Creel battle, Coulson uses the Overkill Device to destabilize and neutralize the Absorbing Man.[40]
14th
At Hartley's funeral, Hunter decides to join S.H.I.E.L.D.[40]
Later, Skye and May discuss Coulson's attitude. May confronts Coulson and convinces him to release his urge to carve Words of Creation he has resisted for 18 days since his last episode. He carves the symbols in a blackened room as May documents the incident.[40]
Raina delivers the Obelisk to Skye's father, who shows her that she can touch it without dying.[40]
15th
Coulson delivers Creel to Talbot.[40]
December
6th
9th
Pangborn has x-rays taken of his serious injuries and the operations performed.[41]
14th
15th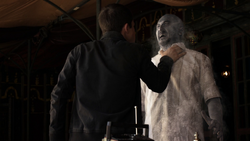 16th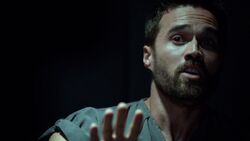 Fitz is shocked when he enters Grant Ward's cell. Ward tries to explain himself to Fitz, to no avail. Furious, Fitz explains what Ward has done to him, and starts draining the oxygen from his cell. Ward tells him that Coulson and the others do not understand that Gill was brainwashed and was used by HYDRA to take the Sandbox in one of the battles during the HYDRA Uprising. Fitz tells Mack about Gill and that they have to alert Coulson.[11][42]
Battle on the Maribel del Mar: At the freighter, Mack calls Coulson and tells him about Gill being brainwashed by HYDRA. Coulson orders his team to stop HYDRA from talking to Gill to prevent the brainwashing from being triggered again. When May notices Simmons, she takes out Hunter so as to prevent him from killing her, as he does not know who she is. Alerted by the noise, Gill runs. Coulson orders his team to maintain Simmons' cover.[11][42]
Gill runs into Bakshi, who speaks the brainwashing code to him and Gill falls under his sway.

Bakshi orders Gill to freeze the ship, but he is shot by Skye. Gill falls into the ocean.[11][42]
Skye monitors channels, trying to learn if someone has found Gill's body. Skye tells May that she does not understand why Coulson did not tell anyone about Simmons, but May simply states that she will handle it.[11][42]
Coulson goes to talk to Fitz, reminding him that he is still an important part of the team, but that he saw what he did to Ward. Fitz says that he is not a killer. Coulson explains that he hates Ward as much as him, but they need to find out more about HYDRA from him. Coulson reveals to him that Simmons is on assignment, and that is why she has made no contact. He also tells Fitz that is a lot more he is hiding.[11][42]
Whitehall tells Bakshi that S.H.I.E.L.D. is becoming a problem and he wants to know who is in charge. Agent 33 then reveals herself, now brainwashed and loyal to Whitehall.[11][42]
23rd
28th
References
↑ 4.0 4.1 4.2 4.3 4.4 4.5 At least, a few months has passed between the beginning of the season and this episode. This decision has been made in order to make the show fit with Thor: The Dark World and Captain America: The Winter Soldier events.
↑ 10.0 10.1 10.2 A few time has passed between the episode The Magical Place and this episode, Seeds. This decision was made in order to fit the events of the show with the film Captain America: The Winter Soldier.
↑ 11.00 11.01 11.02 11.03 11.04 11.05 11.06 11.07 11.08 11.09 11.10 11.11 11.12 11.13 11.14 11.15 11.16 11.17 11.18 11.19 Agents of S.H.I.E.L.D.: 2.03: Making Friends and Influecing People
↑ In the episode T.A.H.I.T.I., Jemma Simmons says that she has known Skye for a few months, from September 28, 2013 to March 16, 2014 has happened at least 6 months. While in the episode eight of Season Two, Grant Ward says that he lived with the team for months, following the other sources this would indicate almost 7 months.
↑ Phil Coulson says that he has not been able to contact Nick Fury for weeks since he gave him the details of his resurrection, this happened in late February 2014.
↑ 18.0 18.1 18.2 18.3 18.4 18.5 18.6 18.7 18.8 Avengers: Age of Ultron Prelude - This Scepter'd Isle
↑ 20.00 20.01 20.02 20.03 20.04 20.05 20.06 20.07 20.08 20.09 20.10 20.11 20.12 20.13 20.14 20.15 20.16 20.17 20.18 20.19 20.20 20.21 Captain America: Civil War Prelude
↑ 21.00 21.01 21.02 21.03 21.04 21.05 21.06 21.07 21.08 21.09 21.10 21.11 21.12 21.13 21.14 21.15 21.16 21.17 21.18 21.19 21.20 21.21 21.22 21.23 21.24 21.25 Captain America: The Winter Soldier
↑ 25.00 25.01 25.02 25.03 25.04 25.05 25.06 25.07 25.08 25.09 25.10 25.11 25.12 25.13 Agents of S.H.I.E.L.D.: 1.18: Providence
↑ 26.00 26.01 26.02 26.03 26.04 26.05 26.06 26.07 26.08 26.09 26.10 Agents of S.H.I.E.L.D.: 1.19: The Only Light in the Darkness
↑ 34.00 34.01 34.02 34.03 34.04 34.05 34.06 34.07 34.08 34.09 34.10 34.11 34.12 34.13 34.14 34.15 34.16 34.17 34.18 34.19 34.20 34.21 34.22 34.23 Guardians of the Galaxy
↑ At least, a few days must have happen between the Battle of Xandar and the conversation between Star-Lord and Irani Rael because the group's wounds are completely healed.
↑ 36.0 36.1 Agents of S.H.I.E.L.D.: 2.20: Scars: "One Year Ago".
↑ 37.00 37.01 37.02 37.03 37.04 37.05 37.06 37.07 37.08 37.09 37.10 37.11 Agents of S.H.I.E.L.D.: 2.01: Shadows
↑ Skye says that Phil Coulson gave her the assignment of translating the Words of Creation since the last month. But it is unknown when exactly Coulson decided to trust Skye the knowledge of the existence of the Words of Creation, so using Avengers: Age of Ultron as backward we can assume that was before the beginning of the Second Season, which according the actress Ming-Na Wen starts 6 months after the end of the first one, indicating that the season might start in October 2014, 6 months after the HYDRA Uprising, which happened in April.
↑ 40.00 40.01 40.02 40.03 40.04 40.05 40.06 40.07 40.08 40.09 40.10 40.11 Agents of S.H.I.E.L.D.: 2.02: Heavy is the Head
↑ 42.00 42.01 42.02 42.03 42.04 42.05 42.06 42.07 42.08 42.09 42.10 42.11 42.12 42.13 42.14 42.15 42.16 42.17 Using Avengers: Age of Ultron as backwards for the Second Season of Agents of S.H.I.E.L.D. and knowing that at least one part happens in 2014, the episode three (Making Friends and Influencing People) must tak place in very late 2014 ready to continue with the other episodes in early 2015 in order to fit with the tie-in with Avengers: Age of Ultron.
Ad blocker interference detected!
Wikia is a free-to-use site that makes money from advertising. We have a modified experience for viewers using ad blockers

Wikia is not accessible if you've made further modifications. Remove the custom ad blocker rule(s) and the page will load as expected.