"It's our policy not to comment on ongoing operations, but I can assure you that S.H.I.E.L.D. has the situation completely under control."
The specific order and/or accurate dates presented in this article has never been confirmed by Marvel Studios, and therefore it can be inaccurate, incomplete, or partial. Help us to make this article better.
"An empire toppled by its enemies can rise again. But one which crumbles from within? That's dead...forever."
This is a timeline of events that occurred in 2016.
2016
January
22nd
Kaecilius is tough in his training of students at Kamar-Taj. Karl Mordo tells him that he has done enough training for one day.[1]
Kaecilius starts to feel that the Ancient One has failed in her promise to help him find meaning to his wife and son's tragic deaths, or found a way to bring them back to be together again. He becomes angry and frustrated.[1]
He confronts the Ancient One, accusing her for failing him. She encourages him to remain steadfast, but he becomes disillusioned with her.[1]
23rd
Tired of waiting, Kaecilius searches for his own answers in the Kamar-Taj Library. All the books lead him back to the name "Cagliostro".[1]
27th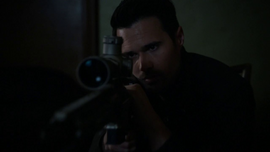 28th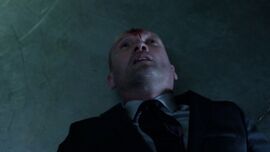 29th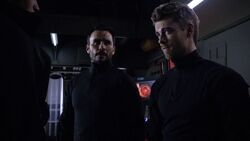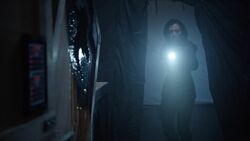 Coulson's Team reunite and break into the portal room. May finds the bodies of both HYDRA agents and the captive Inhumans. She returns and informs the team of Lash's massacre. Mackenzie orders the team to leave, but Johnson remains with him to help. The others prepare on Zephyr One to collect any of their team who make it out, and Mackenzie and Johnson ready themselves for the portal to open.[4]
The Zephyr One hovers above, ready to bomb the HYDRA Castle as soon as the portal closes. Johnson collapses.[4]
Battle on Maveth: A fight ensues between Fitz and It (who is using Daniels' body) once he reveals Fitz his truth nature by telling him the story of what happened to the ancient civilizations on Maveth. When Coulson notices he shoots It to help Fitz escape, but Ward takes the opportunity to attack Coulson. Fitz shoots It repeatedly again and brings him down before he can reach the portal. Coulson manages to beat Ward. Fitz grabs a flare gun and shoots It, burning Daniels' body. Coulson uses his bionic hand to crush Ward's chest, killing him and finally enacting his revenge.[4][5]
Coulson and Fitz make it through the portal and onto a Containment Module with Mackenzie and Johnson, and Mackenzie orders May to bomb the castle. They fly up to the Zephyr as the castle is destroyed around them. The team is reunited and Simmons finds out that Daniels is dead.[4]
Driving to the airport, Gideon Malick's car is stopped in the road by the reanimated corpse of Grant Ward holding Coulson's hand. He realizes that It has returned, inhabiting Ward's body.[4]
31st
A physical rehabilitation instructor from Metro-General Hospital, who had worked with Jonathan Pangborn a couple of years prior, encounters Pangborn walking on the streets. The instructor is shocked impressed to see him walk, due to his previous seemingly incurable paralysis.[6]
February
8th
28th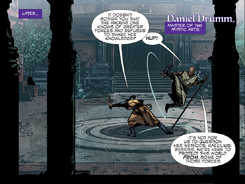 March
21st
April
1st
2nd
Attack on the Police Station: Rodriguez helps the team successfully enter the Police Station and fight the corrupt Colombian police. The team defeat the police force and rescue their friends as Johnson and Gutierrez use their powers to capture Lucio. However, when they start to leave the station a HYDRA QuadCopter arrives from overhead and uses an Extraction Claw to capture him and take him away.[10]
Meanwhile, Coulson uses his information from von Strucker and goes to Malick's warehouse. He uses the phone he uses to call Malick, but when he picks up, Coulson only delivers a warning to him that he is tracking all of his phones, and it will cost him millions to shut down all the offices it has tracked to.[10]
3rd
Coulson watches the news about how Malick has shut down several offices in the night. The team say goodbye to Rodriguez who decides to stay in Colombia, but they give her a device to keep in contact.[10]
4th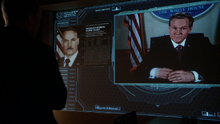 Matthew Ellis calls Coulson and tells him that he has made Glenn Talbot the new leader of the ATCU.[10]
When he finds out Talbot is the new head of the organization, Malick sends agents to kidnap his son George Talbot and put him in Suspension Gel, so as to blackmail Talbot to give Malick influence over the ATCU and betray Coulson.[12]
Malick makes a deal with Felix Blake, the head of the alien hate group the Watchdogs. The organization has until now been only posting hate online, but HYDRA offers them the resources to become active in attacking the Inhumans and the agencies protecting them, claiming to have common interest. The Watchdogs become more militarized and radicalized, and begin planning attacks with Malick fuelling their actions.[13]
5th
Having now recovered, Lucio is brought before "It" as Malick assures him he has been making moves this week to help him gain strength. "It" proceeds to infect Lucio the same way he infected Giyera.[12]
Coulson meets with Glenn Talbot to discuss their new working partnership. His wife Carla is disapproving after the kidnap of her son. Lincoln Campbell watches on as he continues to learn to be an agent, and he notices a sinister man trailing Talbot.[12]
As the man closes in, Melinda May recognizes him as Carl Creel and she and Campbell close in to protect Talbot and Coulson.[12]
Just as Coulson wishes Talbot goodnight, Creel arrives and a fight ensues and Campbell and May bring him down, only to be surprised when Talbot says that Creel was not attacking, but protecting him.[12]
Talbot explains that they broke Creel's conditioning and have trained him to be a good and loyal bodyguard. Jemma Simmons asks Creel in his Containment Module about how he managed to survive the effects of the Diviner. They wonder whether his DNA could hold the answer to a cure for Terrigenesis.[12]
6th
Coulson's Team with Talbot and Creel set off in the morning to fly to Taipei, Taiwan for the symposium of various world ambassadors. They believe that Malick has an inside man or woman working for him and plan how to infiltrate the officials' rooms to find out who.[12]
Talbot and Coulson arrive at the symposium. They begin to talk to attendees Anton Petrov, Xiao Chen and Ellen King in an attempt to work out who is secretly working for Malick.[12]
At the Playground, Daisy Johnson gives Lincoln Campbell fight training for his upcoming test. The two end up intimate, but are interrupted by Simmons, asking for Campbell's help looking at Creel's blood.[12]
Daisy Johnson visits Lincoln Campbell in his room to apologize. The two make up and sleep together for the first time.[12]
Hunter lets Coulson know that he and Morse are hiding in the hold of Malick's private plane as Malick is flying with Anton Petrov, the real man inside, to Russia. Petrov expresses his gratefulness for Malick's offer to help Russia deal with Inhumans.[12]
Disagreeing with the plan for an Inhuman reservation, the Russian Prime Minister Dimitri Olshenko sends his attaché Yuri Krupin to shut down the operation. However, Krupin is killed by an Inhuman working for Petrov, Androvich, the Minister of Defense and a former KGB assassin.[14]
7th
Malick's plane lands in Moscow and he starts moving trucks to a Russian facility in Siberia. Morse and Hunter exit the hold and hide, watching the trucks and reporting back to Coulson's Team, flying over on the Zephyr One. They follow the trucks and soon they get to the Russian Facility.[14][14]
Hunter and Morse spy on the Russian Facility from the nearby woods. They notice a tied up Inhuman being taken into the compound.[14]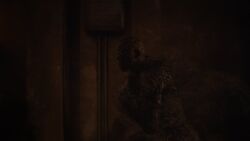 Attack on the Russian Facility: Prime Minister Olshenko arrives and finds out about Yuri Krupin's death. He declares the soldiers traitors and a fight ensues, where Hunter manages to guide Olshenko to safety and Morse taking the general the other way, with Johnson and Mackenzie following behind. Androvich uses his abilities of Darkforce manifestation to manipulate his shadow's density and turn on the trio to attack. They cannot retaliate, as he is intangible. Meanwhile, Anton Petrov is killed by Lance Hunter when he attempts to kill Olshenko. Simmons realizes the team have to kill Androvich himself to prevent any more manifestations. The general's shadow takes out Agent Johnson, then goes after the Prime Minister, but Morse runs ahead and shoots the general among his guards first. She and Hunter are taken in by the general's guard for the murder, and the deaths of Petrov and Krupin.[14]
Phil Coulson contacts President Ellis to get involved and save the lives of Morse and Hunter.[14]
8th
At Moscow's Interpol Black Site, interrogation begins on Morse and Hunter over the recent incident and accusations that they are former agents of S.H.I.E.L.D.. Both of them persistently ignore the questions.[14]
Morse and Hunter are put through polygraph lie detector tests, but avoid answering the questions. However, when Morse denies that she was the one to kill Petrov, Duval the interrogator plays this is as a confession, and Hunter is dragged away from his interrogation. Bobbi Morse is informed by Duval that she must reveal she is from S.H.I.E.L.D. to save Hunter from being executed by the firing squad.[14]
Hunter is taken from the firing squad when President Matthew Ellis arrives and intervenes. Morse and Hunter reunite and discuss how to act next.[14]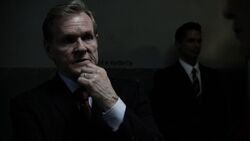 9th
In a pub in the United States of America, Lance Hunter and Bobbi Morse discuss what they can do next. They notice a conspicuous man nearby, who they realize is spying on them. Unbeknownst to them, their friends are also in the pub, ordering shots for them in order to pay their last respects from afar: a Spy's Goodbye. The team begin to slowly exit the pub, but Mackenzie stays a little longer, tearing up as he has to leave his close friends. Morse and Hunter become very emotional, and hold hands, knowing they at least have each other for support.[14]
10th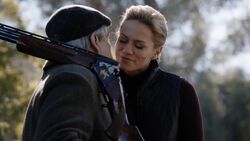 Gideon Malick returns home and reunites with his daughter Stephanie Malick. The two of them shoot birds together and discuss Hive, and how he seems to be waiting to take action. Stephanie says she knows he will change the world.[14]
14th
After a few weeks of preparation, Lincoln Campbell has his S.H.I.E.L.D. assessment. While he believes it went alright, the results show that there are issues over his commitment to the cause and his reckless and unruly behavior.[13]
One of the L.A. dodger Brady Kelly is closing in on the MLB record for most hits.[13]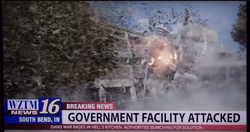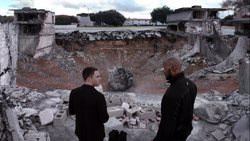 15th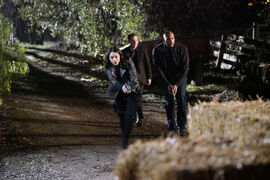 Oscar reveals to Johnson that Blake promised them they could actually kill an Inhuman, but they had assumed it was Mackenzie, not her, and laughs that several of their men are going after Mackenzie now.[13]
Ambush on Mackenzie Residence: While the brothers discuss, a group of Watchdogs arrive at the Mackenzie Residence, they break into the home to kill the Mackenzies. A fight ensues between the Mackenzies and the Watchdgos. Using a homemade Shotgun-Axe the brothers succesfully defeat their assailants but Alphonso recieves a bullet on the shoulder so he passes out due to the loss of blood.[13]
S.H.I.E.L.D. arrive to take Mackenzie to a nearby facility for medical treatment. Daisy Johnson tells Ruben Mackenzie that Damage Control will clean up, and assures him that Alphonso will be fine. She tells him they might call one day if they need help with mechanics, and drives him to the facility where his brother is being treated.[13]
Analyzing footage from the Attack on the ATCU Headquarters, Johnson realizes that the bombing was a cover up and distraction from HYDRA as they stole something from the facility. They realize Malick is funding the Watchdogs and feeding them intel.[13]
Giyera meets with Felix Blake, who tells him that he kept his part of the deal, and wants weapons in return to hunt down the Inhumans.

Giyera assures him that if the plan continues to go well, their common enemies will die and Blake will have armed soldiers.[13]
21st
22nd
23rd
24th
The Inhuman Charles Hinton causes an incident by making the citizen Edwin Abbott to have a frightening vision of his own death in the near future.[18]
While monitoring emergency dispatch, Coulson's Team hear Abbott calling in for Johnson, who has never heard of him. They fly to Dyker Heights to find him.[18][19]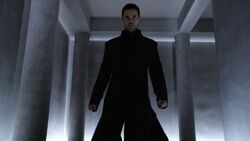 25th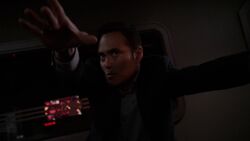 26th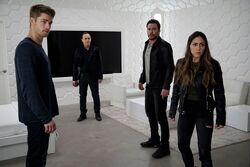 27th
28th
29th
30th
May
1st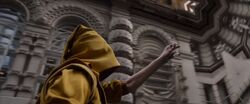 2nd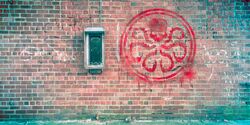 3rd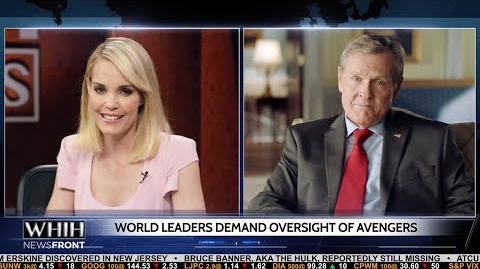 4th
Tony Stark gives a speech at MIT, using a virtual reality creation of his to show the students how he wished his last moments spent with his parents in 1991 had gone. He then funds all of their projects, but cuts the speech a little early when the teleprompter tells him to introduce Pepper Potts, causing Stark to get upset about the recent break-up he went through with Potts.[28]
Backstage after the speech, Tony Stark is confronted by a grieving mother whose son was killed in the Avengers' battle with Ultron in Sokovia. She places the photo of her son on his chest, and tells him that she blames him for her son's death.[28]
5th
Greatly affected by his encounter with Spencer's mother, Miriam Sharpe, Stark signs the Sokovia Accords, believing that the Avengers need control and restriction to stop such disasters and tragic deaths from happening again.[16][28]
6th
7th
After eleven hours on the operating table, Strange is laid in bed, still unconscious, to rest. They have put stainless steel pins in his hands, stitches all over his body and face, and several casts; his arms held in place to heal.[6][31]
Strange finally wakes up and is greeted by Christine Palmer. He learns from Palmer that both of his hands, which were crushed by the dashboard of his car, have been subjected to severe nerve damage and rendered inoperable. He becomes upset and deeply concerned over what has happened to his hands, and the repercussions that may have on his life, career, and talent. Seeing this, Palmer reassures him that no one could have done better. He simply replies, "I could have done better."[6][31]
14th
26th
June
13th
14th
18th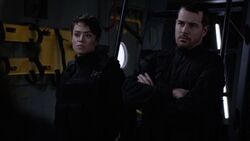 19th
Thaddeus Ross speaks to the Avengers, while he shows them footage from New York, Washington, D.C., Sokovia and Lagos. He tells them that the United Nations has decided that the Avengers can no longer be allowed to operate privately so they have created the Sokovia Accords, believing it to be the best balance between the Avengers' desire to secure world peace and the world governments' concerns over the destructive repercussions of their interference. Ross tells them that they have three days to make up their minds before the signing of the Accords in Vienna. Before leaving the facility, Ross says that refusing to sign will be seen as an act of resignation.[28][34][35]
Meanwhile in Cleveland, Helmut Zemo ambushes retired HYDRA General Vasily Karpov. Zemo hangs him upside down over a sink, slowly filling it up to torture him into giving him the information he needs about the mission of December 16th, 1991 as he finds the Winter Soldier Book, which contains the words used to trigger the Winter Soldier's conditioning. When Karpov persistently refuses to give him information, Zemo leaves him to drown.[28][34]
The Avengers team is divided over the act; Stark supports government oversight because he feels that they need to be held responsible, whereas Rogers worries that the Avengers may be compromised if they come under the control of the United Nations. Vision realizes that there must be a causality between the increase in heroes and the increase in disasters, and so supports the Accords, along with Natasha Romanoff and James Rhodes. However, Sam Wilson and Wanda Maximoff disagree. During their debate about the Accords, Rogers receives a message informing him of the death of Peggy Carter.[28][34]
22nd
Rogers then calls Romanoff, she tells him not to get involved, or he will be arrested for ignoring the Accords.[28]
Secretly trying to help Rogers and Wilson, Carter hands them a file she has found from her work about the potential location of the Winter Soldier in Bucharest. Rogers and Wilson go after Barnes, hoping to bring him in before the government do.[28][35]
23rd
In Bucharest, Barnes discovers that the news are blaming him for the bombing on United Nations in Vienna. But he knows that someone has framed him.[28]
Capture of Winter Soldier: Captain America locates Barnes in his hideout apartment in Bucharest. As they talk, Falcon informs Rogers that the police are entering the building. Barnes prepares to make his escape but the police arrive so Rogers and he are forced to fight their way down the stairwell of the building. Barnes escapes from the building but he is suddenly attacked by a mysterious man in a black panther-like suit. The two fight on the roof before Barnes manages to make his way out to the streets. The chase continues now with Rogers trying to catch up with Black Panther as he pursues Barnes.[28]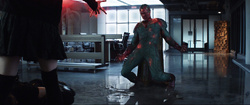 Rescue of Wanda Maximoff: Barton causes an explosion outside the New Avengers Facility forcing Vision to briefly leave the compound so he can get away with Scarlet Witch. However, Maximoff initially refuses to leave giving Vision time to arrive in and fight Barton. Because of his far superior abilities, Vision defeats Barton. Maximoff then decides to use her own powers to restrain the synthetic being and throw him down through many floors and deep underground, allowing them plenty of time to escape. Barton then informs her that they have one more stop to make first.[28]
Hawkeye then picks up Scott Lang, as Rogers and Wilson wanted, and him, Lang and Maximoff fly to Germany to meet with Rogers, Wilson and Barnes.[28]
24th
Sharon Carter drives Steve Rogers, Sam Wilson and Bucky Barnes to the Flughafen Leipzig-Halle, giving them Roger's shield and Wilson's suit. Rogers thanks Carter for all her help, and the two share a kiss. Carter leaves. Barton then arrives with Maximoff and Lang, Lang agrees to help them. Suddenly the group hear that Stark and his team have arrived and shut down the airport, so Rogers tells his team to prepare for a fight.[28]
Stark and his team now with Spider-Man using a new suit that Stark built for him confront Captain America and his team at the airport.[28]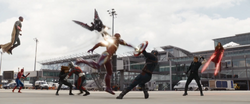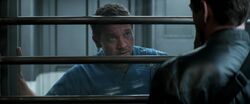 Battle of the HYDRA Siberian Facility: Shocked by the discovery, Stark questions Rogers if he knew that Barnes was the responsible, when Rogers syas the he knew Stark attacks the duo trying to kill Barnes. A chase ensues through the compound, suddenly the three end up falling into a part of the facility. Rogers attempts to tell Iron Man that Barnes was not responsible for his actions, but Stark refuses to listen so Rogers and Barnes are forced to fight Iron Man to save themselves and take him down. During the battle, the Winter Soldier loses his metal arm as Iron Man blasts Captain America in the stomach. Meanwhile, Zemo is confronted by T'Challa, Zemo explains that he understands that he could not kill the Avengers himself, but realized that if he could make them kill each other, he could bring them down to human level and break them apart in front of the world. Zemo apologize for T'Chaka's death. T'Challa decides that he will no longer let his desire for revenge consume him and prevents Zemo from committing suicide in order to send him to prison. Inside the compound, Stark analyzes Captain America's fight pattern and defeats him. But suddenly Rogers picks himself up to continue the fight and despite analyzing his fight pattern Iron Man cannot keep up with his flurry of attacks. Rogers finally knocks him to the ground and uses his shield to break Stark's arc reactor and disable his armor, leaving him injured on the floor. Rogers helps up Barnes and begins to depart, but as he leaves, Stark reminds him that his father was the one who made his shield and tha he does not deserve it. Realizing that he does not deserve it after the actions he just committed and needing time to reconsider, as well as to show respect to Stark, Rogers decides to leave the shield behind, dropping it on the floor and not looking back.[28]
T'Challa takes Rogers and Barnes on his jet with Zemo held captive as they fly to Berlin to hand over Zemo to the Joint Counter Terrorist Centre. Then the trio fly on to Wakanda.[28]
T'Challa delivers Helmut Zemo to Everett Ross. Zemo is locked away and Ross teases him in his incarceration, but Zemo hints that while he may be imprisoned, that does not mean his plans have failed.[28]
25th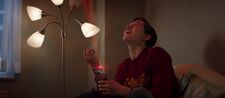 Back home in Queens, Peter Parker tells his Aunt May Parker of how he got into another fight, covering up for his secret identity as Spider-Man, and his aunt goes along with his story, despite suspecting he is not telling the truth. Parker discovers a portable holographic computer that Stark had programmed into his new Web-Shooters.[28]
26th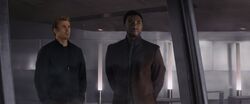 Rogers and T'Challa discuss how the authorities will attack Wakanda if the world finds out about Barnes, but T'Challa states that he does not mind, he wants to help Barnes as he is another victim of Zemo's schemes, just like his father was. He and Rogers gaze at a giant statue of a black panther.[28]
Attack on Hive: The S.H.I.E.L.D.'s plan works with Lash arriving instead of Campbell. Lash attempts to kill Hive but is stopped by a group of primitives, Lash kills two of them. He then uses his abilities to free Johnson from Hive's sway, unfortunately, Lash is surprised and killed by Hellfire. Johnson escapes back to S.H.I.E.L.D.[39]
Reunited with her friends, Johnson is send into the Containment Module for recovery.[40]
30th
Tony Stark arrives back at the New Avengers Facility.[28]
As Rhodes begins physical therapy and learns to use an exo-suit that will help him walk again after he broke his back, Stark receives a package containing a phone and a letter from Rogers. In the letter, Rogers apologizes for everything that happened between them, expressing regret for not telling him the truth about his parents, as well as noting regret for the fact that he simply could not accept the Accords. He tells him that he knows the day will come when the team will need to come together and act as one, and when that day arrives, Rogers and his friends will be just a phone call away.[28]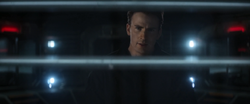 July
1st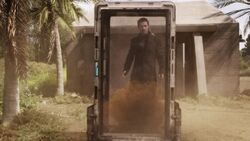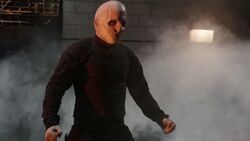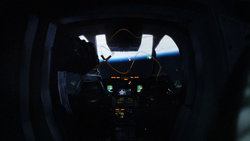 As the team defeat the Primitives on the Zephyr, Johnson goes to put the warhead into the Quinjet attracting Hive's attention. Hive enters the Quinjet so Johnson manages to fly away but she is pushed away by Campbell who takes Hive with him on the plane. The team reunite with a sad Johnson to see how the Quinjet explodes killing both Hive and Campbell in the process.[41]
4th
7th
14th
Believing that it is the best course of action to protect those she loves, Daisy Johnson leaves S.H.I.E.L.D. to become the rogue vigilante known as "Quake".[41]
17th
19th
23rd
26th
August
2nd
6th
8th
11th
15th
Strange does finger strength exercises with an expert instructor on physical rehabilitation from Metro-General Hospital. Strange gets angry at his lack of improvement, however, to his surprise, the instructor says that he knew a paraplegic man who miraculously regained the ability to walk. Impressed by this impossible event, Strange asks for the man's files. The instructor tells him that he will find them from the archive.[6][31]
16th
24th
September
1st
4th
6th
8th
9th
The instructor from Metro-General Hospital sends Strange the files on the paraplegic who started walking again: Jonathan Pangborn.[6][31]
Christine Palmer visits Strange in his apartment and tries to convince him to stop wasting money trying to fix his hands. She tells him that there are other things that can give meaning to his life. Strange does not want to move on, but instead focus on finding other ways of healing his hands. Palmer turns to leave Strange, deciding she cannot watch him suffer anymore, when Strange starts shouting at Palmer, saying that she is only pitying him because she loves a sob story. Hurt by his words, Palmer leaves for good, deciding to stay out of his life.[6][31]
10th
Stephen Strange visits Jonathan Pangborn while he plays basketball, inquiring how he managed to walk again. Pangborn initially refuses to help, but when Strange reveals his damaged hands, he agrees. Pangborn reveals to Strange that he discovered a place known as Kamar-Taj, and this is where Strange should go to seek different treatment and understanding. He warns Strange that once he is there, he will have to open his mind.[6][31]
11th
12th
13th
Strange pleads at the door of Kamar-Taj over the next five hours until the Ancient One agrees to allow him back in, convinced by Karl Mordo.[6][31]
Meeting with the Ancient One in the morning, Strange is told that he will need to study, and gives him his first four books.[6][31]
19th
Stephen Strange goes to the Kamar-Taj Library in order to return the books. Strange meets with Wong, who gives him a short tour of the library. Strange notices the Book of Cagliostro in the Ancient One's personal collection, and Wong gives him another book to read.[6][31]
29th
October
9th
Stephen Strange begins training alongside other students who prove to have control of the energy that surrounds them. Strange tries hard, but manages nothing.[6][45]
12th
21st
Stephen Strange starts to train with the Sling Ring along with other students, but again he is unable to achieve their level of competency. The Ancient One explains to him that the fact he cannot master the Sling Ring is not due to the damage to his hands. To prove this she calls Master Hamir, who is missing an arm, but can perfectly master the Sling Ring.[6][45]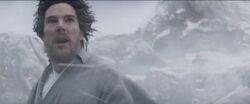 In order to force him to learn, the Ancient One takes Strange through a portal to Mount Everest and abandons him, forcing him to use all his efforts to master the Sling Ring and get back to Kamar-Taj. After a few minutes, Strange manages to create a portal back to the courtyard, impressing Mordo and the Ancient One.[6][45]
26th
November
10th
19th
22nd
28th
December
18th
References
↑ Andrew Garner's beard seems to indicate that he has been like a month under HYDRA custody.
↑ 4.00 4.01 4.02 4.03 4.04 4.05 4.06 4.07 4.08 4.09 4.10 4.11 4.12 4.13 4.14 4.15 Agents of S.H.I.E.L.D.: 3.10: Maveth
↑ In the episode, BOOM, (which happens on 2017), Phil Coulson says that he killed Grant Ward last year.
↑ 6.00 6.01 6.02 6.03 6.04 6.05 6.06 6.07 6.08 6.09 6.10 6.11 6.12 6.13 6.14 6.15 6.16 6.17 6.18 6.19 6.20 6.21 6.22 6.23 6.24 6.25 6.26 6.27 6.28 6.29 6.30 6.31 6.32 6.33 6.34 6.35 6.36 6.37 Doctor Strange
↑ 9.00 9.01 9.02 9.03 9.04 9.05 9.06 9.07 9.08 9.09 9.10 9.11 9.12 Agents of S.H.I.E.L.D.: 3.18: The Singularity
↑ 10.00 10.01 10.02 10.03 10.04 10.05 10.06 10.07 10.08 10.09 10.10 10.11 10.12 10.13 10.14 10.15 10.16 10.17 Agents of S.H.I.E.L.D.: 3.11: Bouncing Back
↑ In order to match the events of Season 3 with Agents of S.H.I.E.L.D. Season Four, the events of Bouncing Back must take place like 3 months after the events of Maveth, the same time that has passed between the release date of the episodes.
↑ 12.00 12.01 12.02 12.03 12.04 12.05 12.06 12.07 12.08 12.09 12.10 12.11 12.12 12.13 12.14 Agents of S.H.I.E.L.D.: 3.12: The Inside Man
↑ 13.00 13.01 13.02 13.03 13.04 13.05 13.06 13.07 13.08 13.09 13.10 13.11 13.12 13.13 13.14 13.15 13.16 13.17 13.18 13.19 13.20 13.21 13.22 13.23 13.24 13.25 Agents of S.H.I.E.L.D.: 3.14: Watchdogs
↑ 14.00 14.01 14.02 14.03 14.04 14.05 14.06 14.07 14.08 14.09 14.10 14.11 14.12 14.13 14.14 14.15 14.16 14.17 14.18 14.19 14.20 14.21 Agents of S.H.I.E.L.D.: 3.13: Parting Shot
↑ 16.00 16.01 16.02 16.03 16.04 16.05 16.06 16.07 16.08 16.09 16.10 16.11 16.12 16.13 16.14 16.15 16.16 16.17 16.18 16.19 16.20 16.21 16.22 16.23 16.24 16.25 16.26 16.27 16.28 16.29 16.30 16.31 16.32 16.33 16.34 16.35 16.36 16.37 16.38 WHiH Newsfront Twitter Profile
↑ 18.00 18.01 18.02 18.03 18.04 18.05 18.06 18.07 18.08 18.09 18.10 18.11 18.12 18.13 18.14 18.15 18.16 Agents of S.H.I.E.L.D.: 3.15: Spacetime
↑ 19.0 19.1 19.2 19.3 19.4 19.5 19.6 19.7 From episode 15, Spacetime, to episode 18, The Singularity, every event shown in these episodes have been consecutive.
↑ WHiH Newsfront April 28, 2016 video announces that Transia Corporation has finally found a new-CEO after the previous death of the former CEO.
↑ 21.00 21.01 21.02 21.03 21.04 21.05 21.06 21.07 21.08 21.09 21.10 21.11 Agents of S.H.I.E.L.D.: 3.16: Paradise Lost
↑ 22.00 22.01 22.02 22.03 22.04 22.05 22.06 22.07 22.08 22.09 22.10 22.11 22.12 22.13 22.14 22.15 22.16 22.17 22.18 22.19 22.20 Agents of S.H.I.E.L.D.: 3.17: The Team
↑ The events of episode The Singularity were teased in a new WHiH Newsfront video, which was published on April 28, 2016. This mention seems to indicate that the Destruction of HYDRA happened the day before the president Matthew Ellis's Administration announced that HYDRA was finally eradicated.
↑ 27.00 27.01 27.02 27.03 27.04 27.05 27.06 27.07 27.08 27.09 27.10 27.11 WHiH Newsfront May 3, 2016
↑ 28.00 28.01 28.02 28.03 28.04 28.05 28.06 28.07 28.08 28.09 28.10 28.11 28.12 28.13 28.14 28.15 28.16 28.17 28.18 28.19 28.20 28.21 28.22 28.23 28.24 28.25 28.26 28.27 28.28 28.29 28.30 28.31 28.32 28.33 28.34 28.35 28.36 28.37 28.38 28.39 28.40 28.41 28.42 28.43 28.44 28.45 28.46 28.47 28.48 28.49 28.50 28.51 28.52 28.53 Captain America: Civil War
↑ The mention to Stephen Strange on WHiH Newsfront video from May 3, 2016 video seems to indicate that Strange has not had his car accident yet. However, it has a connection with the Doctor Strange film itself. The May 3rd mention stated that Strage was going to give an interview about new life-saving techniques, and in the beggining of the film he accepts an invitation to an American Neurological Association where he was set to give a speech for his new achievements. However, the May 3rd mention indicates that Strange should have had the car accident a few days later.
↑ 31.00 31.01 31.02 31.03 31.04 31.05 31.06 31.07 31.08 31.09 31.10 31.11 31.12 31.13 31.14 31.15 31.16 31.17 31.18 31.19 31.20 31.21 31.22 31.23 31.24 31.25 31.26 31.27 31.28 Derrickson says that Stephen Strange Had Only a Few Months of Recovery
↑ 32.00 32.01 32.02 32.03 32.04 32.05 32.06 32.07 32.08 32.09 32.10 32.11 Agents of S.H.I.E.L.D.: 3.19: Failed Experiments
↑ In order to match with the events of Captain America: Civil War, which has an one month time jump, the following events in Agents of S.H.I.E.L.D. Season 4 and the "6 Months Later" statement, the episode Failed Experiments is dated to happen a couple of months after the end of the episode The Singularity.
↑ 35.0 35.1 35.2 35.3 35.4 35.5 35.6 Thaddeus Ross said that the signing of the Accords in Vienna was set to happen three days from then (the day of his meeting with the Avengers).
↑ 41.00 41.01 41.02 41.03 41.04 41.05 41.06 41.07 41.08 41.09 41.10 41.11 41.12 41.13 41.14 41.15 41.16 41.17 41.18 Agents of S.H.I.E.L.D.: 3.22: Ascension
Ad blocker interference detected!
Wikia is a free-to-use site that makes money from advertising. We have a modified experience for viewers using ad blockers

Wikia is not accessible if you've made further modifications. Remove the custom ad blocker rule(s) and the page will load as expected.