"It's our policy not to comment on ongoing operations, but I can assure you that S.H.I.E.L.D. has the situation completely under control."
The specific order and/or accurate dates presented in this article has never been confirmed by Marvel Studios, and therefore it can be inaccurate, incomplete, or partial.
"An empire toppled by its enemies can rise again. But one which crumbles from within? That's dead... forever."
This is a timeline of events that occurred in 2016.
2016
January
9th
19th
20th
22nd
Kaecilius is tough in his training of students at Kamar-Taj. Karl Mordo tells him that he has done enough training for one day.[4]

Kaecilius starts to feel that the Ancient One has failed in her promise to help him find meaning in his wife and son's tragic deaths, or found a way to bring them back to be together again. He becomes angry and frustrated.[4]
He confronts the Ancient One, accusing her of failing him. She encourages him to remain steadfast, but he becomes disillusioned with her.[4]
23rd
Tired of waiting, Kaecilius searches for his own answers in the Kamar-Taj library. All the books lead him back to the name "Cagliostro".[4]
25th
29th
Assassination of Rosalind Price:

On returning to the Playground, Coulson immediately begins to make moves with new urgency in his vendetta against Ward.[7]
Coulson interrogates each of the members of his original team on their personal connections with Ward,

so as to learn anything he can about Ward's personality, motives, and weaknesses. The team, however, begin to worry that Coulson's fury and drive for vengeance is blinding him and making him reckless.[7]
Ward returns to the HYDRA Castle to report back to Gideon Malick about successfully killing Rosalind Price.[7]
30th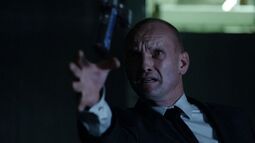 31st
Melinda May and Alphonso Mackenzie decide together to help Coulson take on HYDRA with the help of Daisy Johnson's team of Inhumans with Joey Gutierrez and Lincoln Campbell.[7]

Gideon Malick convinces Ward to lead the soldiers on the planet, as Leo Fitz agrees to help HYDRA, to prevent them from killing Jemma Simmons. Malick then uses his collected fragments of the Monolith to reopen the portal. Ward, Fitz, and several HYDRA agents proceed to go through. As Coulson flies in above, he realizes that he has run out of time, so he dives from the Quinjet into the castle, falling through the portal from above just before it closes. He crashes onto the ground of Maveth and is knocked out on impact.[7]
A physical rehabilitation instructor from Metro-General Hospital, who had worked with Jonathan Pangborn a couple of years prior, encounters Pangborn walking on the streets. The instructor is shocked impressed to see him walk, due to his previous seemingly incurable paralysis.[9]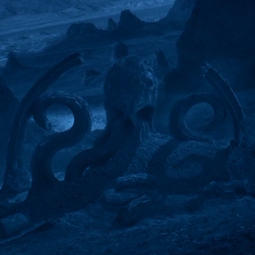 February
7th
8th
9th
10th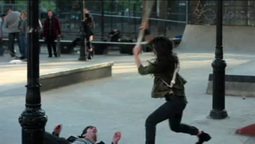 Simon is ordered to be Danny Rand's tour guide. During the tour, Simons tells him about the hospital's purpose and its residents. Rand defends Simon when he is threatened by another patient called Dink, but the confrontation causes Rand to be taken and tied up again. However, Simon later visits and unties him.[13][21][22]
Rand calls Wing and asks her for help, explaining that the Meachums are the main reason for why he is at the hospital. However, as she wants to stay out of trouble, Wing refuses to help him.[13][24][21][22]
Ward Meachum visits Harold Meachum, who reveals, to Ward's surprise, that he has cameras hooked up in the mental hospital. Harold then orders him to talk to Wing and force her to corroborate Rand's alleged mental condition.[13][21][22]
11th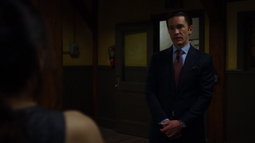 12th
13th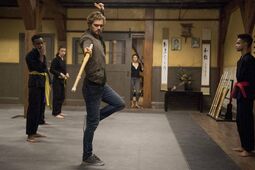 Danny Rand goes to Chikara Dojo and tries to give a lesson to Colleen Wing's students demanding respect from them. However, he attacks a student he deems impolite, provoking Wing to expel Rand from the building. Rand then goes on to an apartment owned by Jeri Hogarth.[13][29]
Meanwhile, Joy Meachum successfully closes the deal with Patel by telling him that she managed to deliver comatose hospital patient Kevin Kennedy's kidney to Patel's nephew, Terrence, so he can get better. In return, Patel agrees to sell the pier.[13][29]
14th
15th
Danny Rand and Jeri Hogarth meet with the Meachums and the Rand Enterprises board.

The pair manage to prove their case by presenting the clay bowl that Rand once made, with a fingerprint on the bowl that has an exact same match. Now with undeniable proof of Rand's identity, there is nothing else to discuss. Ward Meachum then threatens to bury them with lots of demands in order to delay his activity in the business for ten years, but Hogarth simply replies that they will see the company in court if they do, and the meeting disbands.[13][33][29]
Curious, Danny Rand follows Ward Meachum to Harold Meachum's Penthouse, without knowing Harold is still alive and living there. Rand goes out of a window and starts climbing the wall to the next floor. As he is about to enter through another window, he is pushed out by Ward.[29] He falls down and loses conscious when he hit his head.[13][1]
16th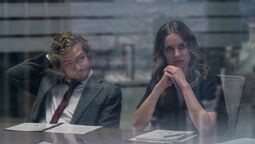 Danny Rand attends a meeting about leishmaniasis, where he discovers the company is selling the medicinal drugs at a very high price. He makes sure to get the company to distribute the drug at cost to reach more people in need of it, despite the disapproval of the board, including Joy and Ward Meachum.[13][35][1]
Colleen Wing trains in her dojo.[1] She films herself to use the footage for her promotional video for her classes.[13][18]
The New York Bulletin publishes an article on its website titled "Danny Rand Gives a Press Conference at Rand Enterprises This Morning".[13][1]
Ward Meachum orders Megan to contact the journalist Jennifer Many and tell her to come to see him that night because he has decided to any questions she wishes.[13][1]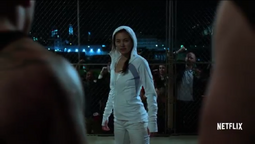 17th
18th
The New York Bulletin publishes the article "Rand Rises" about Danny Rand's publicly well-received decision to distribute a leishmaniasis cure at cost.[13][47]

Madame Gao prepares to assemble the Da Jue Zhan of Danny Rand, an event hosted by the Hand, setting their best warriors against a single opponent. The Hand then allows the opponent to pose demands if they win the tournament.[13][48]
In order to please his sister, Ward Meachum throws away all of his drugs. He informs Joy that Wayne Olsen is coming for a meeting later that day.[13][49][48]
Ward tells Danny Rand he has to attend the meeting with Olsen. However, he tells him that he needs to check up to six warehouses in order to track down Radovan Bernivig's daughter, Sabina.[13][48]
Claire Temple continues to tend to Radovan Bernivig, who does not want to be taken to hospital.[13][48]
At the fourth warehouse, Rand finds King's severed head, realizing it is an invitation to a da jue zhan, challenging Rand to combat. He tells Ward Meachum that he cannot attend the meeting, despite his demands.[13][48]
Rand tells Temple and Wing about the challenge, and how he has practiced for this sort of thing.

He reveals to Temple that he is the Iron Fist, but she replies asking what that means.[13][48]
The meeting with Wayne Olsen goes ahead without Rand.[13][48]
Da Jue Zhan: Danny Rand arrives for the challenge, demanding the Hand free Sabina Bernivig and leave his company if he wins, which Gao accepts in exchange for Rand leaving the Hand alone if he loses, which he accepts in return. The first round has Rand facing Andrei and Grigori Veznikov, which Rand wins. He enters the second round, having to face Bride of Nine Spiders, who attempts to seduce him, managing to inject him with Singing Spider venom. However, he manages to defeat her.[13][48]
Meanwhile, Ward Meachum shows withdrawal symptoms in the meeting with Olsen, forcing him to leave to search for more drugs.[13][48]
19th
Joy Meachum gives Rand an apologetic statement to use regarding the Staten Island plant in a meeting later that day.[13][52]
Madame Gao arrives, visiting Rand, and mentions that she has met other Iron Fists.[13][54][52]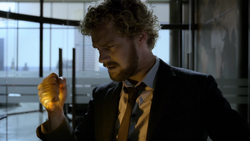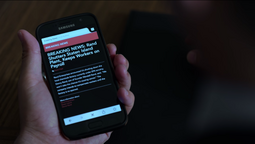 When Ward Meachum attempts to make a transaction, he is informed that his card has been declined. He becomes angry, realizing Harold has taken his money from his account.[13][52]
Dinah Madani prints a map for her investigation into the Assassination of Ahmad Zubair.[6]
Danny Rand goes back to the Golden Sands restaurant to visit the Yangsi Gonshi and warn them of Madame Gao's plans.[13][59][52]
Karen Page writes a full article for the New York Bulletin about Danny Rand's decision with the Staten Island plant, titled "Rand Chooses Right".[13][60]

Elsewhere, Davos sees this article and uses it to track down his missing friend to New York.[13][60]
Lawrence Wilkins visits Joy Meachum and informs her that the board held an emergency meeting and have decided that she, her brother Ward, and her friend Danny Rand should be ousted from Rand Enterprises.[13][52]
Attack on the Hand's Brooklyn Warehouse: The Yangsi Gonshi help Rand attack the members of the Hand who are holding Radovan Bernivig captive. Despite being successful in the fight, their rescue attempt fails as Bernivig dies before they can free him. As he dies, he is comforted by the information that his daughter, Sabina, is safe, and he mentions Anzhou, which Rand remembers is the place in China to which his plane was flying when it crashed.[13][52]
Assassination of Harold Meachum:

Ward Meachum confronts his father about his bank account. Harold tells him he knew about Ward making embezzlements, and continues to anger his son to the point where Ward ends up taking a knife to Harold. When Harold does not relent, Ward finally cracks under the pressures he has felt from his father and stabs him repeatedly, killing him again.[13][52]
Ward Meachum dumps Harold's body alongside the bodies of the Hand men in Pelham Bay Park.[13][52]

Claire Temple reads a letter, sent from Luke Cage in prison.[13][61]
Rand visits Harold Meachum's Penthouse, and finds signs left behind suggesting that he has likely been killed.[13][61]

Rand goes to warn Claire Temple of the danger they are in, telling her to leave so as to keep her safe. Colleen Wing arrives and helps her get away.[13][61]
When Rand arrives, Ward Meachum pretends to only just be discovering his father's death. Meachum tells him that it is all Rand's fault for returning and ruining the Meachums' lives. Meachum then prepares cleaning products to clean up the evidence of his murder.[13][61]
Rand, Wing, and Temple reunite. Rand deduces that his father was going to Anzhou to shut down Gao's operations in 2001, but was targeted by her during the flight, causing the crash. The trio decide to go to Anzhou themselves.[13][61]
20th
21st
Wing briefly opens up to Rand about her mother dying, and tells him she is glad to have met him.[13][62][61]

The trio then intercept a nearby beggar and question him about the nearby facility which belongs to Gao. They acquire the necessary information about the patrols that evening and prepare to infiltrate the facility later.[13][62][61]
Joy and Ward Meachum meet to talk by the river. Joy reveals that she has a plan to take back Rand, and that months ago she hired a private investigator to investigate members of the board and find incriminating evidence, so as to prevent them from taking over.[13][64][62][61]
Infiltration into the Anzhou Laboratory:

Danny Rand and Colleen Wing break into the heroin lab as Gao arrives, with Claire Temple watching on.[13][62][61]

Rand engages Zhou Cheng, a drunken fighter, who is well-trained in martial arts disciplines. Iron Fist eventually overpowers him and loses control, continuing to beat Cheng until Temple and Wing arrive and stop him. Wing fights a member of the Hand, who uses a poisoned sword to cut her. However, Wing defeats her opponent, with Temple's help, unaware that she has just been poisoned.[13][62][61]

Meanwhile, in New York City, Ward Meachum intends to finally show Joy Meachum the truth about Harold, taking her to the Art Deco building where he was kept. On arrival, he hallucinates his father's blood dripping from the elevator and begins to get manic.

Changing his mind, he lies to Joy again and leaves in a hurry.[13][62][61]
Madame Gao arrives and her men engage the trio, who manage to defeat them. After seeing the effects of their poisoned weapons, identical to the symptoms on the dead pilots from his family's journey to China 15 years ago, Rand realises that Gao must be directly responsible, having set up the poisoning. He prepares to attack Gao, but chooses to spare her life, taking her captive.[13][65][62][61]
The New York Bulletin publishes the article "Star Siblings Surrender Rand" about Joy and Ward Meachum being removed from Rand Enterprises.[47]
Late at night, the trio arrive back in New York City.[13][62][66]
22nd
Harold Meachum wakes from death, realizing that the resurrection elixir from the Hand has allowed him to return to life again.[13][66]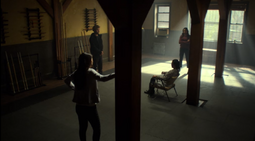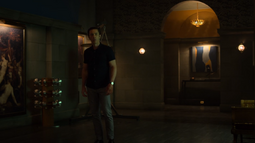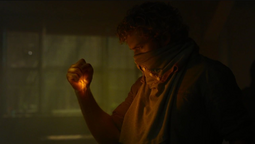 23rd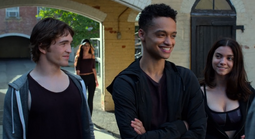 24th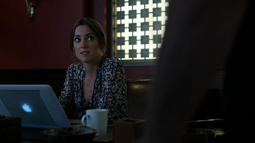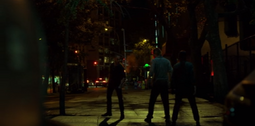 Danny Rand and Colleen Wing go to the Chikara Dojo, but are stopped by Davos, who claims that Wing cannot be trusted because she is a member of the Hand. Wing says she is not with the Hand anymore, but she will not help them to kill everyone in their compound, as she has students there who are innocent, simply not knowing any better, and the discussion ends as Wing punches Davos in the face. Rand calms them both down so they can work together.[13][72]
Very late into the night, at Harold Meachum's Penthouse, Joy and Harold Meachum analyze the Hand's file on drug transport as they proceed to close off the accounts fuelling the Hand.

They talk about how Joy used to stay with him during his chemotherapy treatments, and plan to go on a trip together after everything is over. They are interrupted by Ward, who claims to want to talk with Joy alone. He tries to leave with her, but she refuses, saying that her father needs them. Ward warns Joy that since their father was resurrected, he seems like he lost part of his soul, and may even hurt her.[13][72]
25th
Duel at Bethesda Terrace:

On the reception floor, Rand manages to summon the Iron Fist again, using it to get rid of his cuffs just in time for Wing and Davos to arrive and help fight Bakuto and his men. After a short skirmish, Bakuto runs away, but is chased and stopped by Colleen Wing. In Bethesda Terrace, Wing and Bakuto duel each other with their swords.[13][72]

Rand confronts Davos and tells him that killing Bakuto was the wrong thing to do, but Davos tells him that he did it himself only because Rand could not. When Davos tells him that K'un-Lun would have been better if Chodak and Tashi had never found him, Rand attacks him. A fight ensues between the old friends, ending with Rand's victory. Davos decides to return to K'un-Lun, but not without first claiming that there will be consequences to Rand's actions. During the argument,

while they are not watching, the Hand takes away Bakuto's body for resurrection. Wing and Rand are surprised when they turn and find him gone.[13][72]
As the sun rises, Harold and Ward Meachum take Joy to Metro-General Hospital. Harold reveals to Ward that he has no intentions to share the company with Danny Rand.[13][72]
Rand calls Harold Meachum and informs him that Bakuto is dead, and Meachum thanks him and tells him to rest. He then asks Rand where he will be staying, and Rand lets him know he will be in the Chikara Dojo.[13][72]
Rand confesses to Wing that she is the one person who has made him feel part of a family again recently. They kiss and enter the dojo together.[13][72]

Harold Meachum frames Rand for the Hand's illegal activities in drug transportation, and sends the information to the DEA so they can go to arrest him, therefore removing him from the picture.[13][72]
Chase of Danny Rand: After a short rest, Wing wakes and trains with Rand. Ward Meachum sends Rand a message warning him of a trap set by Harold, as DEA agents enter the building to capture Rand. He and Wing fight them and escape from the dojo, running to flee from the scene.[13][72]
The New York Bulletin publishes a last-minute article named "Wanted", describing the recent reports about Rand being involved on drug's transport.[13][74][47]
Thembi Wallace gives a report on WJBP-TV about Danny Rand allegedly using Rand Enterprises to transport drugs around South America.[13][74]
Harold Meachum prepares to reveal himself to be alive and take control of Rand Enterprises.[13][74]

Jeri Hogarth decides to stand for Danny Rand, and prepares to build a defense. She asks Ward Meachum if he thinks that Rand is guilty, and he answers no. Before Ward can confess who set the trap for Rand, they are interrupted by Harold, to Hogarth's shock, having believed him to be dead. She claims that faking his death for all those years is fraud on the highest level, but Harold ignores her and asks her to leave so he can talk to Ward alone. Hogarth leaves, and Ward confronts Harold, reminding him that he is in Rand's debt, because he freed Harold from the Hand. Ward realizes that Harold has been using Rand ever since he returned, but Harold grins, saying he has been messing with him for far longer than that.[13][74]
Rand and Colleen Wing, who have been on the run all day, discover the reason for the DEA's chase from a New York Bulletin newspaper,

and decide to contact Jeri Hogarth. Temple is contacted by Rand and Wing, and is sent to look for Hogarth. She approaches Hogarth with a $5 bill, on which "J-Money", Rand's nickname for her, has been written, so that Hogarth realizes it is Rand who is trying to contact her. This convinces her to follow Temple to where Rand and Wing are hiding.[13][74]
Hogarth tells the fugitives that she needs proof of their innocence. She shows them the files that the DEA received, and Rand realizes that they are the Hand's drug transport records, tampered by Harold Meachum. He tells Hogarth that there is a tablet with all of the Hand's data, and she says that it would serve to prove his innocence.[13][74]

Rand remembers that he gave it to Harold Meachum, so he decides to visit Madame Gao and ask her if there are any backups of the files. On arriving at the Hand Compound, they ask Gao for the files, but she confirms that the data was deleted, and there is no copy of it. Gao tells Rand that she knows his true motive for returning to New York was to avenge his parents' deaths, but he denies this. Gao then reveals that Harold Meachum was the one who caused the airplane crash so as to take control of Rand Enterprises. Rand refuses to believe her, so she tells him the story of how Meachum was diagnosed with cancer and looked for her help, and that they made a deal to bring him back from the dead once he started to transport her drug in China. However, when Wendell Rand almost discovered,

Meachum was afraid of him ruining everything, so he had Gao poison the pilots of the plane while they were travelling to Anzhou to investigate. Gao tells Rand that he will gain complete control of the Iron Fist only once he kills Meachum.[13][74]
Back in the city, Rand confesses to Temple and Wing that he wants to kill Harold Meachum, but they tell him that if he crosses through that door, he may never come back. Wing worries that if he kills Meachum, his Chi may also be corrupted and he will never become the person he is meant to be, and he eventually decides not to kill him, but take him to justice.[13][74]
Ward Meachum visits Joy at the hospital and tries to convince her that Harold is not the father they used to love, and that he has done terrible things, and forced Ward to do the same. She still refuses to believe him, so he gives her the newspaper about the drug transportation allegations against Rand, before leaving the room.[13][75][74]
Danny Rand calls Ward Meachum and agrees to meet with him. Meachum reveals that the tablet is locked in a safe, but he does not know the combination. Rand reveals to him that Harold was the one who killed his parents, to Ward's surprise.[13][75][74]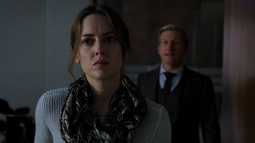 Joy Meachum arrives at the Rand Enterprises Building and confronts her father about putting Rand in a trap. Harold insists that he did not show her all the drug transport data previously, but that Rand was definitely involved with the Hand. Joy does not believe him and asks for proof, and Harold lies, telling her that he does not have the data anymore because he gave it to the DEA. Not buying this, Joy becomes upset, deciding to leave the building. Ward sees her leaving the building, crying.[13][74]
Battle at the Rand Enterprises Building:

Ward Meachum enters the building and calls Rand, Wing, and Temple to inform them that Harold has a lot of armed bodyguards at the entry and in his office, before he is knocked out from behind by his father. Worried about Ward,

and with no intention to let Harold get away, Rand and Wing enter the building, as Temple starts a fire nearby as a distraction. A battle ensues as Harold's men fight Wing and Rand.[13][74]
When Harold Meachum attempts to kill Wing, Rand uses the Iron Fist, full of Chi, to hit the floor as hard as possible. This causes a massive shockwave that knocks out all of the men, but not Meachum himself, who makes his way to the rooftop. Rand follows him and a further battle ensues between both of them. Meachum shoots Rand in his hand, injuring him severely, believing it will prevent his Iron Fist ability. Rand keeps attacking him, but Meachum manages to knock him out momentarily.

Rand then focuses his energy on one thing: to defeat Meachum. He attacks him again, causing Meachum to be impaled on a metal rod.[13][74]
As Harold Meachum tries to free himself from the metal rod, Rand remembers how he defeated Shou-Lao. He tells Meachum, like he once told the immortal dragon, that the battle is won. Meachum manages to free himself from the piece of metal and shoots at Rand, but Rand is alerted by Colleen Wing, who, along with Ward Meachum, has come to the rooftop to help defeat Harold. Directing his Chi into his hand, Rand uses it to heal his injury, then defend himself from Harold's final attack. Finally, Ward shoots Harold, making him fall from the rooftop to his final death.[13][74]
26th
Ward Meachum and Danny Rand go to the morgue to see Harold's corpse be cremated, and Ward thanks Rand for being there for him. Jeri Hogarth arrives and tells them that all the charges against Rand have been withdrawn. Meachum offers Rand the option to return to Rand Enterprises and run the company with him, like their parents should have, but Rand claims that he is not a good business man.[13][74]
In rural Alabama, the Punisher chases down two members of the Dogs of Hell, forcing them off their motorcycles and then running them over.[5][6]
27th
Rand goes to the Chikara Dojo, where Colleen Wing and Claire Temple have resumed training. Temple leaves, giving them advice on her way out, telling them they need time to sort themselves out. Rand tells Wing that he has finally decided to return to K'un-Lun, just before the entrance closes. He says that he wants to use the Iron Fist to do some good outside of K'un-Lun, but that to achieve that, he must first finish his training. He offers for her to come with him, and Wing happily accepts.[13][74]
Davos meets with Joy Meachum, and they discuss how Danny Rand's return has only caused their lives to fall apart.[13][74]

He tells her that the only way to stop Rand from ruining their lives further is killing him, and that he believes he can help Meachum with that. She is curious, and tells him she is listening to whatever he is planning. As they talk, Madame Gao listens in at the table next to them.[13][74]
28th
While training with Daniel Drumm, Kaecilius questions whether he is bothered by how closed off the Ancient One is in sharing her knowledge.[4]
As Kaecilius sleeps, he dreams of his wife and son. The dream turns into a horrible nightmare of their disfigured skeletons, driving him to further action against the Ancient One.

On waking, Kaecilius visits the Kamar-Taj library and looks in the Book of Cagliostro from the Ancient One's private collection. He comes to realize that he needs others to help him perform the rituals found inside. Claiming that the Ancient One hides knowledge from them, Kaecilius gathers his students to form the Zealots and rebel against the other masters, aiming to find their own meaning.[4]
29th
A group of Hand ninjas, led by Elektra[76], arrive at the entrance of K'un-Lun, unprotected with the Iron Fist missing. A battle ensues, ending with many of the K'un-Lun monks, as well as all of the Hand ninjas being killed. The entrance to K'un-Lun is closed prematurely to escape to safety, meaning that nobody can enter for the foreseeable future.[13][74]
March
1st
15th
16th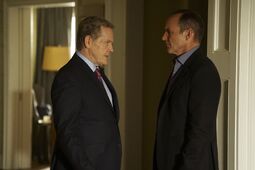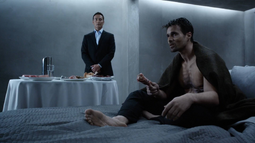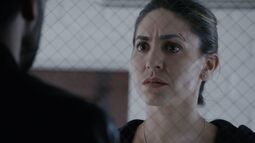 Rescue in the Colombian Police Station: Rodriguez helps the team successfully enter the Police Station and fight the corrupt Colombian police. The team defeat the police force and rescue their friends as Johnson and Gutierrez use their powers to capture Lucio. However, when they start to leave the station, a HYDRA QuadCopter arrives from overhead and uses an Extraction Claw to capture him and take him away.[77][79]
Meanwhile, Coulson uses his information from von Strucker and goes to Malick's warehouse. He uses the phone von Strucker used there to call Malick, but when he picks up, Coulson only delivers a warning to him that he is tracking all of his phones, and it will cost him millions to shut down all the offices it has tracked to.[77]
17th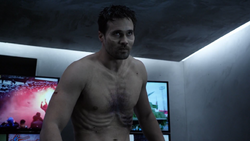 Coulson watches the news about how Malick has shut down several offices in the night. The team say goodbye to Rodriguez, who decides to stay in Colombia, but they give her a device to keep in contact.[77]
18th
Matthew Ellis calls Coulson and tells him that he has made Glenn Talbot the new leader of the ATCU.[77]
When he finds out Talbot is the new head of the organization, Malick sends agents to kidnap his son George Talbot

and put him in Suspension Gel, so as to blackmail Talbot to give Malick influence over the ATCU and betray Coulson.[80][79]
Malick makes a deal with Felix Blake, the head of the alien hate group the Watchdogs. The organization has until now been only posting hate online, but HYDRA offers them the resources to become active in attacking the Inhumans and the agencies protecting them, claiming to have common interest. The Watchdogs become more militarized and radicalized, and begin planning attacks with Malick fueling their actions.[81][79]
19th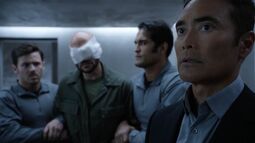 20th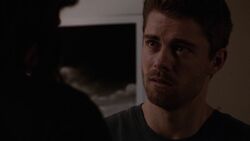 Daisy Johnson visits Lincoln Campbell in his room to apologize. The two make up and sleep together for the first time.[80]
Hunter lets Coulson know that he and Morse are hiding in the hold of Malick's private plane, as Malick is flying with Anton Petrov to Russia. Petrov expresses his gratefulness for Malick's offer to help Russia deal with Inhumans.[80]
Disagreeing with the plan for an Inhuman reservation, the Russian prime minister Dimitri Olshenko sends his attaché Yuri Krupin to shut down the operation. However, Krupin is killed by an Inhuman working for Petrov, Androvich, the Minister of Defense and a former KGB assassin.[82]
21st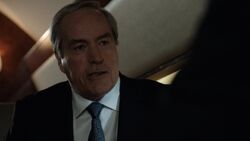 Malick's plane lands in Moscow and he starts moving trucks to a Russian facility in Siberia. Morse and Hunter exit the hold and hide, watching the trucks and reporting back to Coulson's Team, flying over on the Zephyr One. They follow the trucks and soon they get to the Russian Inhuman Sanctuary.[82]
Hunter and Morse spy on the Russian Inhuman Sanctuary from the nearby woods. They notice a tied up Inhuman being taken into the compound. They are caught by four soldiers, who they resort to taking out in combat.[82][83]
Hunter and Morse rendezvous with the rest of the team on the Zephyr, having now landed nearby, and discuss plans to infiltrate the Russian Inhuman Sanctuary.[82]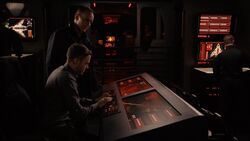 22nd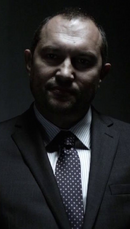 23rd
In a pub in the United States of America, Lance Hunter and Bobbi Morse discuss what they can do next. They notice a conspicuous man nearby, who they realize is spying on them. Unbeknownst to them, their friends are also in the pub, ordering shots for them in order to pay their last respects from afar: a "Spy's Goodbye". The team begin to slowly exit the pub, but Mackenzie stays a little longer, tearing up because of having to leave his close friends. Morse and Hunter become very emotional, and hold hands, knowing they at least have each other for support.[82]
24th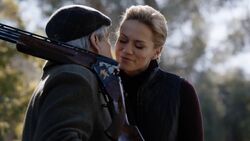 Gideon Malick returns home and reunites with his daughter Stephanie Malick. The two of them shoot birds together and discuss It, and how he seems to be biding his time before taking any action. Stephanie says she knows he will change the world.[82]
29th
In Juárez, the last member of the Mexican Cartel arrives home to a hero's welcome. Across the border in El Paso, Texas, the Punisher trains his sniper rifle on the man, waiting for a moment when he knows he has a clear shot. As soon as he does, Castle shoots, killing him with a head-shot from far away.[5][6]
April
2nd
4th
After a few weeks of preparation, Lincoln Campbell has his S.H.I.E.L.D. assessment. While he believes it went alright, the results show that there are issues over his commitment to the cause, and with his reckless and unruly behavior.[81]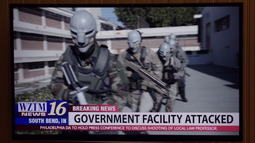 Alphonso Mackenzie begins a week off at home to take a break after losing Hunter and Morse, and spend some time with his brother Ruben. The two plan a relaxing time together.[81]
Attack on the ATCU Headquarters: Malick's men raid the ATCU facility in Indiana and steal a nuclear warhead, as a squad of Watchdogs led by Watchdog Alpha then move in to attack the facility and cover up the raid. The group film themselves as they declare that the government is keeping secrets on the aliens, and demanding the information to be released. Alpha fires several rounds of Nitramene onto the building, and the facility is destroyed in a giant implosion.[81]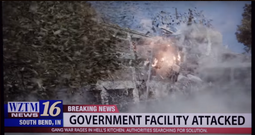 The ticker of the channel informs "L.A. Dodger Brady Kelly closing in on MLB record for most hits. Current record is held by Pete Rose", "Philadelphia DA to hold press conference to discuss shooting of local law professor", and "Gang war rages in Hell's Kitchen. Authorities searching for solution".[81]
Phil Coulson calls and assigns Mackenzie to investigate the destruction of the facility before the police pick it clean. Mackenzie reluctantly tells his brother that he has to go.[81]
At the Playground, Daisy Johnson tells Coulson that the Watchdogs' active behavior is unusual. Lincoln Campbell arrives back from his agent assessment reasonably positive, but Coulson hints that the results of the evaluation report were not completely satisfactory. He sends Johnson and Leo Fitz to the site of the destroyed facility to join Mackenzie.[81]

Fitz discovers Nitramene in the residue from the bombs that the Watchdogs used, and Johnson reports this back to Coulson. He tells her that Felix Blake used to be fixated on improving the Nitramene formula created by Howard Stark in the 1940s, and deduces that the renegade ex-S.H.I.E.L.D. agent is the head of the hate organization.[81][87]
Johnson reveals to Fitz and Mackenzie that she has been tracking some of the Watchdogs, and decides to use her powers to stop and threaten one to find out information. Mackenzie disapproves, saying that it is sidestepping civil liberties, and despite how badly the organization acts,

S.H.I.E.L.D. should respond better. However, Johnson goes ahead.[81]
Coulson and Campbell begin the mission to find Blake.[81]
Returning home, Alphonso Mackenzie has a discussion with Ruben about the fact that he is never around to help him and their family.[81]
5th
Using liquid nitrogen from the outside of the module, the Nitramene is disarmed, saving Fitz's life.[81]
Oscar reveals to Johnson that Blake promised them they could actually kill an Inhuman, but they had assumed it was Mackenzie, not her, and laughs that several of their men are going after Mackenzie now.[81]
Attack on Alphonso Mackenzie:

While the brothers discuss, a group of Watchdogs arrive at the Mackenzie Residence, breaking into the home to kill the Mackenzies. A fight ensues between the Mackenzies and the Watchdogs.[81]
Using a homemade shotgun-axe, the brothers successfully defeat their assailants,

but Alphonso receives a bullet to the shoulder; he passes out due to the loss of blood.[81]

S.H.I.E.L.D. arrive to take Mackenzie to a nearby facility for medical treatment. Daisy Johnson tells Ruben Mackenzie that Damage Control will clean up, and assures him that Alphonso will be fine. She tells him they might call one day if they need help with mechanics, and drives him to the facility where his brother is being treated.[81]
Analyzing footage from the Attack on the ATCU Headquarters, Johnson realizes that the bombing was a cover-up and distraction from HYDRA as they stole something from the facility. They realize Malick is funding the Watchdogs and feeding them intel.[81]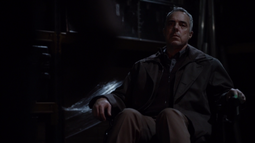 Giyera meets with Felix Blake, who tells him that he kept his part of the deal, and wants weapons in return to hunt down the Inhumans. Giyera assures him that if the plan continues to go well, their common enemies will die, and Blake will have armed soldiers.[81]
21st
22nd
23rd
24th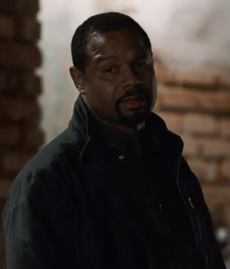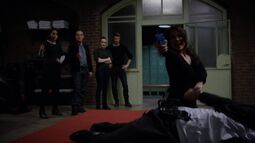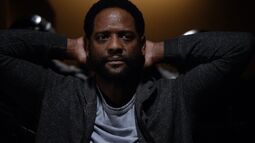 25th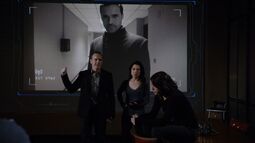 26th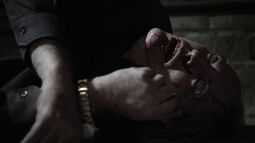 Under Hive's influence, Johnson steals a grenade from the weapons room and causes a power cut, using the distraction to walk into Malick's empty interrogation room and kill him before he can reveal any more information on Hive to S.H.I.E.L.D. She brutally murders him by quaking him from both sides, as his head is crushed and bleeds, like he saw in his vision, having assumed his killer to have been Hive. She leaves the grenade next to Malick's body to explode and thus cover up the murder.[95]
Mackenzie finds that there is a grenade missing as Fitz and Simmons, on their way to Coulson to discuss their findings, notice the light of the grenade from inside Malick's room. They look around and see his dead body, just before the blast goes off.[95]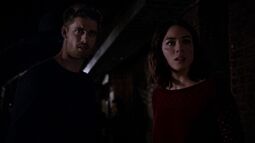 Knowing a swayed Secret Warrior must have been behind the murder, Coulson leads his agents to gather the Inhumans, to explain the situation and incapacitate them until they can determine who it is. However, the Inhumans escape together.[95]
After discussing who could be the traitor, Johnson promises the team that she will help them to escape, but secretly agrees with Coulson to lead all four of them out of the base to safety by a secret passage, sending a message to him to meet them at the Containment Module bay to hand over to S.H.I.E.L.D.[95]
WHiH World News posts on Twitter asking "WHiH Newsfront opinion poll: Who should pay for the damage when superheroes are involved?" The results eventually turned out as 76% "The government", 24% "The heroes".[89][90]
Johnson tricks the team as she leads them into the quarantine bay where they find Coulson, who confronts Campbell, ousting him as the infected one. Angered that they are falsely accusing him and will not listen, Campbell attacks Coulson, but Johnson knocks him out.[95]
Coulson tells Johnson that he has to disband the Secret Warriors, and they cannot be allowed to encounter Hive in the meantime. However, Rodriguez and Gutierrez leave the base in anger.[95]

Escape from the Playground:

Johnson reveals to an angered Campbell that she is in fact the swayed Inhuman, and offers him to come with her, but he refuses.[95]
Johnson steals several Terrigen Crystals and the Kree Orb, proceeding to break into the Playground's hangar. She unleashes her abilities and shakes the whole base in an earthquake, wreaking havoc and destruction. Johnson then escapes through the broken roof of the hangar, while trapping the rest of the team in the base with the falling debris.[95]
27th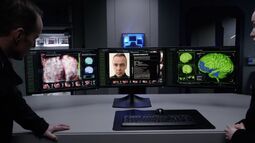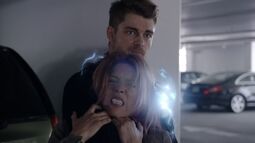 Coulson deduces that Hive is building an army, and Alisha Whitley would be an asset for him. Lincoln Campbell is sent to apprehend her before Hive can reach her. However, the agents soon realize that Whitley has already been visited by Hive, when she tries to use a clone to kill Campbell. Coulson saves Campbell by killing Whitley's clone.[85]
In Bucharest, Fitz and Simmons go to a bar and meet a woman called Anon, who says she will take them to Radcliffe.[85]
Thaddeus Ross meets with Matthew Ellis in the Oval Office to privately discuss potentially appointing Ross as the new Secretary of State.[89]
WHiH posts on Twitter saying "We asked you: "Who should bear the financial burden caused by superhero altercations?" See the full report here: https://youtu.be/o4iFusVgqBM"[89][90]
JT James is visited by Hive and Daisy Johnson. James refuses to reveal the location of the companion piece to the Kree Orb, so Hive smashes a crystal to put James through Terrigenesis, so that he can sway him to take them to it. Hive reveals that the orb pieces are the only thing that can destroy him.[85]
WHiH posts on Twitter saying "Group of college students decide to spend their spring break volunteering in Sokovia. All this & more on Newsfront"[89][90]
WHiH World News posts on Twitter asking "Who should cover the costs when superheroes are involved?"[89][90]

Meanwhile, Anon tells Fitz and Simmons that to earn her trust and prove the worth of the eye technology they offer to Radcliffe, they must perform an optic surgery on a living human, giving him the cybernetic eyes. Simmons calls them out, realizing that it is a ruse, and they earn an audience with the scientist.[85]
In order to prevent Hive from controlling James, May and Coulson go to his residence in South Dakota, but it explodes when they arrive. Coulson uses a force field shield in his prosthetic hand to protect them from the blast.[85]
Kidnapping of Holden Radcliffe:

Hive and Johnson go to Bucharest and confront Fitz and Simmons, wanting to take Radcliffe for their own purposes. Hive uses the memories of Will Daniels to try to entice Simmons as he talks to her. Johnson uses her powers on Fitz, and tells him that she has no desire to be saved by S.H.I.E.L.D.; that if she sees one of them again, she will kill them. Simmons manages to escape from Hive, shooting him, but he simply heals himself. Johnson and Hive capture Radcliffe.[85]
Destruction of HYDRA:
28th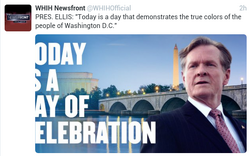 Transia Corporation announces a new interim-CEO after the death of their last one.[96][93]
President Ellis releases a statement congratulating the citizens of Washington, D.C. on the clean-up effort.[89]
WHiH World News posts on Twitter quoting "Pres. Ellis: "Today is a day that demonstrates the true colors of the people of Washington, D.C.""[89][90]
Thaddeus Ross follows up Ellis' statement with his own, recognizing the people of D.C.'s endeavors.[89]
WHiH posts on Twitter reporting "Thaddeus Ross gives statement commending the people of Washington, D.C. on efforts to rebuild the nation's capital."[89][90]

WHIH Newsfront The Avengers and The White House

WHiH Newsfront posts another video. Christine Everhart and Will Adams mention that the financial cost of clean-up efforts from Avengers incidents have crossed $1 trillion, and Everhart says politicians are wondering if there is a more strategic plan for better managing potential future events. Adams states that the White House has no official viewpoint, but that Ellis has commended Avengers' heroic past deeds. The video shows that the Ellis Administration have also announced that HYDRA is eradicated, as Adams goes on to express his view that he believes the Avengers are heroes who should be commended.[96][89][93][90]
Everhart then states that there are reports of the president meeting with Thaddeus Ross about a potential appointment.

Adams says the Avengers are effective, but Everhart replies that she thinks Ellis is feeling pressured, then insists agencies worldwide should step up and figure out a means to work with the heroes. WHiH post on Twitter announcing "'Watch: Newsfront debates the role of the White House & the Avengers + rumors of Thaddeus Ross moving to politics."[96]
The ticker of the video informs "Myth or new discovery? Reports of "massive ant-like insect" sightings continue to pour in from San Francisco suburbs", "Transia Corporation announces interim-CEO", "Local New York business owner commissions famously incognito street artist to create Avengers mural on the wall of his booming shawarma restaurant",

"Schools in Minnesota introduce elective classes focusing on the recent history in the making: the age of superheroes", "Airline adds themed flights for cult classic TV shows and films", and "Reality show star releases new fashion line designed primarily from burlap".[96][93][90]
WHiH posts on Twitter reporting "Sources: Thaddeus Ross has privately met with President Ellis at the Oval Office. For more: https://youtu.be/0OguhAYbjrs"[89][90]
The national lottery is drawn, but there are no winners.[89]
29th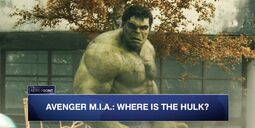 WHiH World News posts on Twitter saying "'In the wake of the Battle of Sokovia, many international governments are asking "Where is the Hulk?""[89][90]
Pym Technologies reopens business after its headquarters imploded a year before, albeit with huge lay-offs.[89]
WHiH World News posts on Twitter reporting "No winners in last night's national lottery draw! The next drawing takes place Monday night for record amount."[89][90]
WHiH posts on Twitter asking "WHiH wants to know! What would you do if you won tonight's grand national lottery?"

The results eventually turned out as 21% "Purchase an island", 58% "Build an Iron Man suit", 12% "Start your own charity", 9% "Buy a sports team".[89][90]
WHiH posts on Twitter questioning "The Vision. Human? Alien? Something else? Does it matter? WHiH investigates."[89][90]
WHiH posts on Twitter reporting "Pym Technologies announces massive lay-offs as business begins again."[89][90]
The Roxxon Oil Corporation is revealed to be illegally drilling in the Arctic.[89]
30th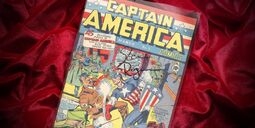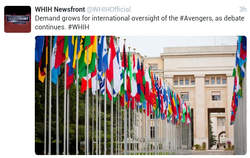 May
1st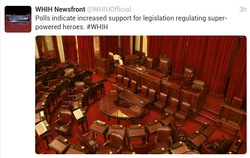 2nd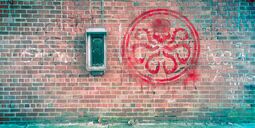 3rd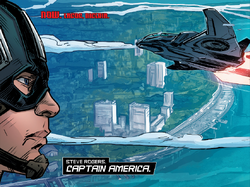 The ticker of the video informs "Multiple sources confirm that Steve Rogers, AKA Captain America, was spotted at the scene", "Sources state Avengers were tracking wanted fugitive Brock Rumlow to Lagos", "Reports of Sam Wilson, Wanda Maximoff and former S.H.I.E.L.D. operative Natasha Romanoff in Lagos are confirmed", "Brock Rumlow rumored to be behind the Attack at the Military Compound", "BREAKING: Chaos strikes military compound in Lagos", "Eyewitness from Lekki Market in downtown Lagos, Nigeria spot Avengers at the scene", "Extent of damage unknown at this time", and "BREAKING: President Ellis to issue statement from the White House".[107][104][108][90]
After deliberating urgently following the incident in Lagos, the United Nations decide to release the Sokovia Accords for heroes and powered individuals to register themselves under government control.[104][89]
4th
5th
6th
7th
After eleven hours on the operating table, Strange is laid in bed, still unconscious, to rest. They have put stainless steel pins in his hands, stitches all over his body and face, and several casts; his arms held in place to heal.[9][112]
Strange finally wakes up and is greeted by Christine Palmer. He learns from Palmer that both of his hands, which were crushed by the dashboard of his car, have been subjected to severe nerve damage and rendered inoperable. He becomes upset and deeply concerned over what has happened to his hands, and the repercussions that may have on his life, career, and talent.

Seeing this, Palmer reassures him that no one could have done better. He simply replies, "I could have done better."[9][112]
8th
Matt Murdock goes to confession with Father Lantom after having left behind the role of Daredevil for several months now, causing him to feel guilty and conflicted.[113][110]
10th
11th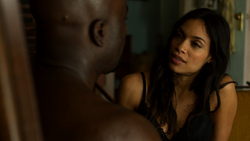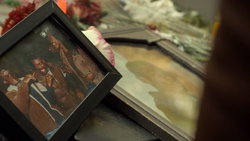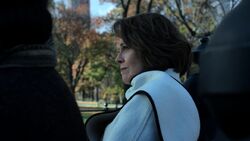 Reid tells her that the plan needs to move faster and be complete soon, aware that it may cause the project to have more exposure, but determined nonetheless.[114][110]
Luke Cage visits Cole Miller by the request of Misty Knight, to help put him on a good path, and save Dolores Miller's last remaining child. Despite his attempts, Miller rejects his help and tells him to leave.[114][110]
Jessica Jones visits John Raymond's home, but quickly finds he is not in home. She is concerned when, instead, she discovers C-4 explosives in the room.[114][110]
Gao informs Alexandra Reid that the necessary arrangements have been made. She attempts to convince Reid to wait, but Reid gives the order to go ahead.[114][110]

New York City Earthquake: As the Hand proceed with their plan, attacking the Wall of the Chaste, the impact and resistance of the magic wall triggers an earthquake that rumbles through New York City. Matt Murdock, Jessica Jones, and Luke Cage all feel it in their respective locations, as well as Danny Rand and Colleen Wing just as they land back in the city. Reid is visited by Elektra, her Black Sky, and tells her not to worry - that it is nothing more than a city, and that over time, she will see many more fall. Murdock uses his enhanced senses and hears the panic throughout his neighborhood, tempted more than ever to return to his vigilante ways and help.[114][110]
Taking to the rooftops, Matt Murdock surveys the immediate area. In one direction, he hears young looters raid a nearby business, its employees armed and ready with shotguns cocked.[114][110]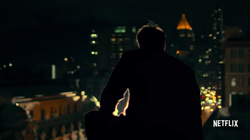 12th
14th
Palmer helps Strange shave in bed and tries to make him feel better, but her efforts are unsuccessful.[9]
24th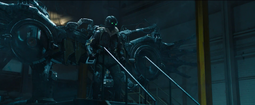 26th
June
13th
The pins are removed from Strange's hands, but he is highly disappointed to find his hand is still not working well. He snaps bitterly at the doctor.[9]
14th
Strange has a third procedure for his injuries.[9]
18th
19th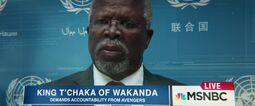 20th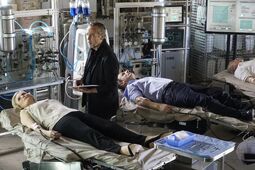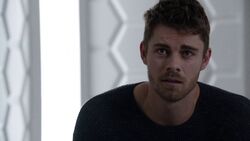 Campbell is informed that the experimental antidote is a failed experiment.[120]
21st
In the morning, Hive reprimands Johnson for allowing her former friends to stop his progress. However, Johnson reveals that she has Kree blood inside her, and she is willing to let him have it by draining her.[120]
22nd
Peggy Carter's funeral takes place in London. During the funeral, to Rogers' surprise, Sharon Carter delivers a eulogy, in which she reveals that Peggy Carter was her aunt.[104]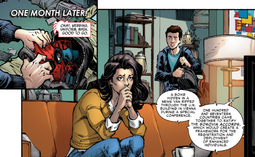 Meanwhile at the Parker Residence, Peter Parker prepares to leave as May Parker sees the news about the bombing of Vienna, very worried to see that it was the Winter Soldier, and that King T'Chaka of Wakanda has died. Peter sees his Aunt May worried, and tells her to relax.[103]
Rogers then calls Romanoff; she tells him not to get involved, or he will be arrested for ignoring the Accords.[104]
Secretly trying to help Rogers and Wilson, Carter hands them a file she has found from her work about the potential location of the Winter Soldier in Bucharest. Rogers and Wilson go after Barnes, hoping to bring him in before the government do.[104]
23rd
In Bucharest, Barnes discovers that the news are blaming him for the bombing of the United Nations in Vienna, but knows that someone has framed him.[104]
Capture of Winter Soldier:

Captain America locates Barnes in his hideout apartment in Bucharest. As they talk, Falcon informs Rogers that the police are entering the building. Barnes prepares to make his escape, but the police arrive, so he and Rogers are forced to fight their way down the stairwell of the building.[104]
Barnes escapes from the building, but is suddenly attacked by a mysterious man in a black panther-like suit. The two fight on the roof, before Barnes manages to make his way out to the streets.[104]

The chase continues, now with Rogers trying to catch up with Black Panther as he pursues Barnes. The pursuit is interrupted by War Machine, who has arrived to arrest the three of them. The Black Panther unmasks himself, revealing himself to be T'Challa, to Rogers and Rhodes' surprise. They are then flown to Berlin in custody.[104][103]

At the New Avengers Facility, Vision cooks paprikash to try to lift Wanda Maximoff's spirits. When Maximoff tries to leave for ingredients, Vision moves to block her, revealing that Tony Stark has told him to stop her from leaving the compound.[104]
Steve Rogers, Sam Wilson, Bucky Barnes, and T'Challa arrive at the Joint Counter Terrorist Centre.[104][103]
At the center, Barnes is taken to be seen by interrogator Theo Broussard,

as Stark sits down to speak with Rogers. During the conversation, Stark explains about what went wrong with his relationship with Pepper Potts, and Rogers sympathizes. Stark explains that he wants Rogers to sign, and he reluctantly accepts, but when Stark reveals that he is keeping Maximoff at the New Avengers Facility, the conversation gets heated briefly, and Rogers leaves.[104]
Escape from the Joint Counter Terrorist Centre:

Barnes' interrogation begins, but instead of being seen by Broussard, Helmut Zemo has got into the center pretending to the psychiatrist, who he killed. Using the EMP that he has built, Zemo cuts off the electricity supply in the center, leaving him able to speak to Barnes in private. Zemo brings out the Winter Soldier Book. He uses the key words to trigger Barnes' Winter Soldier conditioning again.[104][103]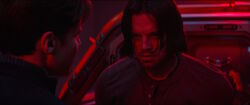 Zemo forces Barnes to reveal the mission report of December 16, 1991 and details of the HYDRA Siberian Facility, before ordering Barnes to rip himself out of his bindings and break out of his cage, going on a rampage throughout the center. When Wilson and Rogers arrive, they manage to confront Zemo, but Barnes attacks them. Barnes throws Rogers down an elevator shaft as Wilson pursues Zemo.[104][103]
Rogers attempts to climb back up while Stark leads the fight against Barnes, but is defeated. Barnes also defeats Sharon Carter and Natasha Romanoff, then is forced to fight T'Challa.

He gets away, and leaves to the helipad on top of the building.[104]

Steve Rogers traps Bucky Barnes' metal arm in a vice in a local abandoned garage, so as to stop him from escaping if he is still conditioned when he wakes.[104]
Helmut Zemo escapes from Wilson and moves forward with his plan, boarding a flight to Moscow.[104]
When Barnes awakes, he proves to Rogers that he is free of the conditioning by recounting small details about their childhood to him. Rogers asks what Zemo wanted, so Barnes reveals the existence of another five Winter Soldiers that HYDRA created after he retrieved a super soldier serum in 1991. He says that they had got out of HYDRA's control, and had been put back into cryogenic freeze. Barnes tells them that he thinks Zemo will be looking to reactivate them. Rogers and Wilson discuss what they should do next. While Rogers thinks they are out of luck, Wilson tells him that he might know someone who can help.[104][123]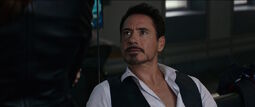 After convincing Ross to leave the job of capturing Rogers to him, Stark and Romanoff decide to recruit T'Challa and Rhodes, but Stark reveals to her that he also has someone else in mind.[103]
Stark flies to Queens, hoping to get the help of the relatively new spider-like vigilante who Stark is sure is secretly teenager Peter Parker.[104]
Rogers contacts Clint Barton and asks him to help rescue Maximoff and arrange to pick up Scott Lang. Barton accepts.[104]
Peter Parker arrives home, only to find Tony Stark in his apartment, already talking to his aunt.

Stark tells him that he has won the grant he applied for, subtly letting him know that he should go along with what Stark says, despite not knowing what he is talking about. Stark then goes to Parker's room to discuss things further with him.[104][103]
He explains that he knows Parker is the new vigilante of New York, but when Parker denies this, Stark finds his hidden costume. Parker explains his powers, saying that he has the responsibility to protect people. Stark informs him that he needs his help, and they have to go to Germany. He eventually agrees, as Stark promises to make him a completely new costume.[104][103][124][125]
Accompanied by Happy Hogan, Parker films as he is driven past Flushing Meadows, and is flown to Germany in a self-piloting jet.[116]
Rescue of Wanda Maximoff:

Clint Barton causes an explosion outside the New Avengers Facility, forcing Vision to briefly leave the compound so he can get away with Scarlet Witch.[104]
However, Maximoff initially refuses to leave, giving Vision time to arrive and fight Barton.[104]
Because of his far superior abilities, Vision defeats Barton.[104]
Maximoff then decides to use her own powers to restrain the synthetic being and increase his weight,

plummeting him through many floors, deep underground, allowing them plenty of time to escape. Barton then informs her that they have one more stop to make first.[104]

Hawkeye then picks up Scott Lang, and the trio fly to Germany to meet with Rogers, Wilson, and Barnes.[104]
24th
Peter Parker arrives in Germany early in the morning by local time, and gets to briefly sightsee before getting to his hotel, where he is staying in the room next to Happy Hogan. Hogan tells him to "suit up".[116]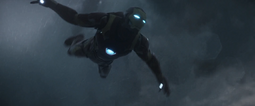 25th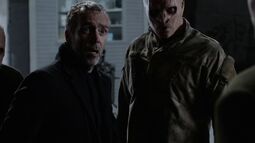 26th
28th
30th
Tony Stark arrives back at the New Avengers Facility.[104]

Rhodes begins physical therapy, learning to use an exosuit that will help him walk again after he broke his back. While helping him, Stark receives a package containing a phone and a letter from Rogers.[104]
In the letter, Rogers apologizes for everything that happened between them, expressing regret for not telling him the truth about his parents, as well as noting sadness that he simply could not accept the Accords. He tells him that he knows the day will come when the team will need to come together and act as one, and that when that day arrives, Rogers and his friends will be just a phone call away.[104]

Escape from the Raft: Meanwhile, Steve Rogers breaks into the Raft and frees all his imprisoned teammates. Thaddeus Ross informs Stark about the break-in, but Stark simply enjoys irritating him by putting him on hold.[104]
July
4th
7th
Believing that it is the best course of action to protect those she loves, Daisy Johnson leaves S.H.I.E.L.D. to become the rogue vigilante later known as "Quake". She flies to California to pursue leads on the Watchdogs.[131][133]
10th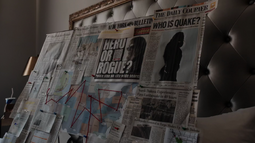 14th
17th
18th
19th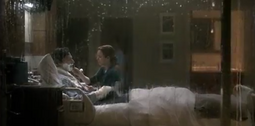 23rd
Strange undergoes a fifth procedure.[9]
26th
August
1st
8th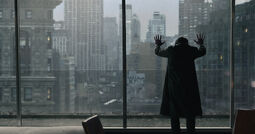 10th
Peter Parker quits the school band a few weeks before term starts, knowing he is too busy being Spider-Man to still do extra-curricular activities.[134][116]
11th
12th
15th
Strange does finger strength exercises with an expert instructor on physical rehabilitation from Metro-General Hospital. Strange gets angry at his lack of improvement. However, to his surprise, the instructor says that he knew a paraplegic man who miraculously regained the ability to walk.[9]
Impressed by this impossible event, Strange asks for the man's files. The instructor tells him that he will find them from the archive.[9]
16th
Stephen Strange tries to shave himself, but due to his trembling hand, he gives up trying.[9]
17th
21st
24th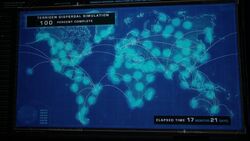 25th
26th
Black Bolt and Medusa wake and look out on Attilan, the secret city of the Inhumans, located on the Moon.[136][137]
Gorgon destroys a rover sent by NASA and Callisto Aerospace to explore the Moon. His hoof is caught in the last second of its footage.[136][137]
As Gorgon informs the royal family about the rover and insists it is not a problem, on Earth, a center of intelligence tries to analyze why the rover was destroyed - among them, Louise Fisher. Fisher freezes the last frame of the footage, positing that a hoof can be seen.[136][137]
Maximus approaches Medusa to ask if she regrets choosing to marry Black Bolt over him. Offended, Medusa attacks Maximus with her prehensile hair, pinning him against the wall. Maximus realizes that this is the vision Bronaja had spoken of earlier, the "snakes" representing Medusa's hair, and that the boy has obtained powers of precognition.[136][137]
27th
Maximus tries to convince Crystal to join him, reminding her how her parents were murdered when they tried to change the way things were made on Attilan, and that turning on Black Bolt would be honoring them.[136][138]
Attack on Medusa: Medusa ambushes Auran and a fight begins.[136][138]
Black Bolt is questioned in the police precinct, but cannot speak to answer any questions.[136][138]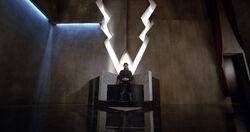 28th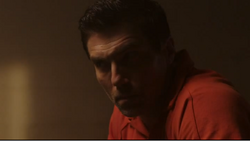 29th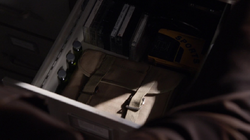 Meanwhile, Maximus orders Tibor to prepare for his upcoming Terrigenesis. Maximus' guards kill the rest of the Genetic Council for their refusal to comply.[136][142]
Medusa and Louise Fisher arrive at Declan's facility just as Mordis fires at Black Bolt, causing an explosion. Black Bolt escapes with Medusa and Fisher, taking an unconscious Locus with them, intending to get her to help find their family members. Mordis gets back up, still alive.[136][142]
30th
Leaving the tent, Jen's partner, Reno, shoots at Karnak. However, Karnak has recovered his powers, and he manages to split the bullet with a carefully calculated chop of his hand.

However, shrapnel from the bullet pierces Jen's side. The duo flee, pursued by Reno, until they fall into Ted's grave, dug by Reno. However, when Reno receives a call, he reluctantly leaves and Karnak and Jen manage to escape.[136][143]
On the way down the road, Medusa tells Black Bolt about her hair being cut and he becomes angry at his brother's actions. Suddenly, they hear noises from the trunk and let out Auran's companion, Locus, who is able to use an echo power to locate different Inhumans. Black Bolt grabs her arm to get her to find Karnak.[136][143]
Soon, Locus' Com-Link starts ringing, receiving a call from Maximus.

Medusa answers and threatens him, telling him that Black Bolt wants to say a few words when he gets home, before Black Bolt breaks the device.[136][143]
On the farm, Audrey, the veterinarian, says that Lockjaw's swelling is going down. Crystal asks Lockjaw to teleport them to the place where Lockjaw had left Medusa. Dave joins them, and the trio disappear, stunning Audrey.[136][143]
In Dr. Declan's lab, he performs autopsies on Auran and Sakas, who both died in the explosion outside.[136][143]
While Gorgon searches for Karnak, he recalls the time he took the American flag from the Moon.[136][143]
Reno tries to explain away his colleagues' absence to the men who come to check on the harvest. Not believing his story, they choose to kill him for his betrayal.[136][143]
In Attilan, Maximus meets with Tibor, his friend and the new head of the Genetic Council.

He asks that he looks for a candidate to help Auran in the fight against Black Bolt.[136][143]
While Dr. Declan studies the DNA he has obtained, Auran returns from death once again and heals herself. She grabs Declan by the neck and enquires about Black Bolt. When Declan's partner tries to save him, she takes his scalpel and sticks it in through his eye and into his head, killing him on the spot.[136][143]
Karnak and Jen return to the camp, but on arrival, Karnak begins to have doubts, and fears this, having always been certain of his choices ever since Terrigenesis. Jen encourages him and makes him understand that it is not bad to have doubts.[136][143]

Maximus orders Auran to cooperate with Evan Declan, and find the Royal Family, and lets her know that she will receive reinforcements.