"My Adria. We already have been through so much together."
―Kaecilius remembering his wife
Adria was the wife of Kaecilius, who died because of a brain aneurysm.
Biography
Losing His Wife
"Time is unmerciful... I knew before the doctor even set foot in that room that you were lost to me, just as our son was lost to us, and you were going to be joined together in a place I could not follow. I failed you both..."
―Kaecilius to Adria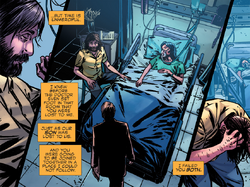 Adrian and her husband
Kaecilius
, lived happily in
Copenhagen
, despite having to deal with the death of their son years before. One day, Adria was struck with a terrible illness which took ahold of her and despite Kaecilius' best efforts, he could not save her. Her loss led him to desperately seek out some kind of understanding of why. This eventually led Kaecilius to join the
Masters of the Mystic Arts
.
[1]
Relationships
Family
Trivia
References
External Links
Ad blocker interference detected!
Wikia is a free-to-use site that makes money from advertising. We have a modified experience for viewers using ad blockers

Wikia is not accessible if you've made further modifications. Remove the custom ad blocker rule(s) and the page will load as expected.