Anne Marie Hoag is the director of the Department of Damage Control who was instructed by Tony Stark to handle all clean up operations which involved the Avengers or their allies. This had included firing Adrian Toomes and his Crew from the clean up of the Battle of New York cleanup and other future jobs.
Biography
Battle of New York Cleanup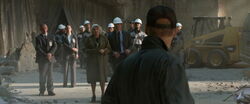 In the wake of the Battle of New York, Anne Marie Hoag met Adrian Toomes as he cleaned up Grand Central Station, telling Herman Schultz to use the Chitauri technology to take apart a Chitauri Chariot. As he turns away, she approaches him, informing him that he is to withdraw his men from the area as the Damage Control had secured the contract to clean up after Avengers battles. As Toomes explains that he had the contract to clean up New York City, he was allowed to be there.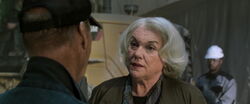 Hoag was unrelenting however, telling Toomes' men to leave the area immediately or face consequences. Toomes started begging her to let him have the contract, as he had a family to support. When one of Hoag's men told him to leave it to the professionals, Toomes then punched him in the face, causing the guards around Hoag to draw their guns and for Toomes to leave the area. Hoag told Toomes that he could talk to Tony Stark about the contracts if he wished.[2]
Bank Cleanup
Hoag continued working with Damage Control, leading her team following the aftermath of the Robbery at Queens Community Bank, Hoag and her own Damage Control team showed up to evaluate the damage to the bank and the Delmar's Deli-Grocery, which were caused by alien-human hybrid weapons, although Delmar himself was just saved by Spider-Man's heroic actions.[2]
Personality
To be added
Relationships
Allies
Enemies
Trivia
Behind the Scenes
References
External Links