"It's our policy not to comment on ongoing operations, but I can assure you that S.H.I.E.L.D. has the situation completely under control."
The specific order and/or accurate dates presented in this article has never been confirmed by Marvel Studios, and therefore it can be inaccurate, incomplete, or partial.
"Before creation itself, there were six singularities. Then the universe exploded into existence, and the remnants of this system were forged into concentrated ingots... Infinity Stones."
This is a timeline of events that occurred before the 20th century.
Before the Convergence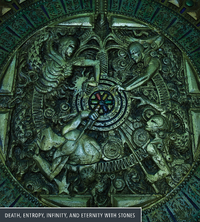 Before the Universe began, six singularities existed. These were formed into the six Infinity Stones (Space, Mind, Reality, Power, Soul, and Time) by the Cosmic Entities some time after the Universe came into existence.[1]
The Celestials use the Power Stone to impose judgment upon enemy civilizations. Over time, the Beings are overwhelmed by the Stone's power and attempt to dispose of it by encasing it in an Orb and storing it away in the Temple Vault on Morag.[1]
In order to raise their chances in the war against their enemies, a rogue Kree faction visits numerous planets, genetically altering a number of sentient life forms in order to create biological weapons. One of the planets visited is Earth, and the Kree's experiments give rise to an unique caste of genetically altered Humans. When these humans are deemed ready for war, the Kree expose them to Terrigen Mist, which activates their special genetic ability of Terrigenesis; a process which imbues the human with a power unique to them. They construct the Diviners, containment devices built to hold Terrigen Crystals. The Diviners will only open if one of these genetically altered humans brings them to a cityscape built beneath the planet's surface, releasing the mist so as to "divine" those who have the altered Terrigen Gene. The Kree hierarchy discovers the faction's illegal activities and the operation is abandoned. The Kree disperse from Earth, leaving behind six Diviners, the city, and at least one of their deceased kin. These genetically altered humans eventually start to call themselves 'Inhumans.'[2]
2988 B.C.
The Convergence occurs. The gravitational anomalies that it causes allows the construction of several megalithic monuments, particularly Stonehenge.[8]
First Battle of Svartalfheim: The Dark Elves led by Malekith try to destroy the Nine Realms with the power of the Aether. They are stopped by the Asgardian army led by Bor, who successfully seized the Aether. In an effort to save his race, Malekith kills most of his army and much of Bor's army, then puts his remaining forces into a sleep which lasts for millennia. Bor orders for the Aether to be hidden in the deepest area possible, where no one can access it.[8]
965
January
14th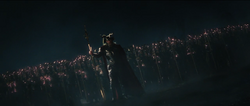 August
3rd
Battle of Jotunheim: Odin leads the Asgardian army in an epic battle against the Frost Giants, to repel their invasion and protect Midgard. They force the Frost Giants back to Jotunheim, where Odin discovers an abandoned Frost Giant infant. He adopts the child, names him Loki and raises him alongside his own son, Thor. He later negotiates a truce with Jotunheim's king, Laufey.[9][10]
977
June
30th
In Asgard, Odin tells his sons Loki and Thor of his success in the battle in Jotunheim, and that they were both born to be kings.[9][10]
450
The Art of War is first published.[11]
1014
1197
February
8th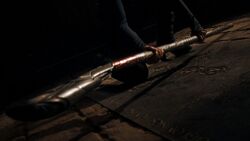 A warrior from Asgard's Berserker Army defects from Asgard to live on Earth. He decides his weapon, the Berserker Staff, which greatly enhances the wielder's strength, is too powerful for anyone to possess, so he breaks it into three pieces and hides each one in different locations across Europe.[12]
April
2nd
The Berserker Warrior receives food and shelter at a monastery in Ireland, where he is venerated as a saint. He shares his true identity with the priests, who have a vow of silence, and hides a piece of the Berserker Staff in the monastery.[12]
August
26th
December
11th
1342
1409
January
21st
1413
Lorelei terrorizes the Nine Realms, using her power of enthrallment to enslave hundreds of men. She is eventually defeated by Sif and imprisoned in Asgard's dungeons.[15]
1507
April
13th
1521
May
7th
12th
13th
14th
Thor states that the contest will follow the traditional rules of the Virtue Challenge, which they all passed when they became adults. Loki's team and Brunok's team set off riding, until they reach the first challenge of valor they have to retrieve a treasured bone from the Wolves' Treasureyard. Loki wins the challenge and Brunok is incarcerated.[17]
1546
December
20th
Having spent hundreds of years living on Earth, the Berserker Warrior tells his story to a French girl. Her brother, a priest, adapts the story into the legend of "The Warrior Who Stayed".[12]
1634
May
4th
Construction on one of the first sentry boxes at Castillo San Cristóbal is finished. Over time, this particular guerite would be called "The Devil's Sentry" ("La Garita del Diablo"), becoming the subject of a legend in which soldiers disappeared from the sentry box.[18]
1650
1706
January
17th
1723
1770
March
5th
1839
April
8th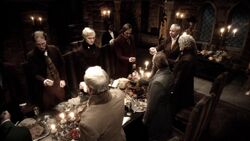 1853
June
21st
1864
November
29th
Around seven hundred men of one of the militias of the United States Military slaughter a peaceful village of Cheyenne in Sand Creek, Colorado, killing and mutilating around one hundred Indians, mostly women and children. The militiamen waited for the men of the tribe to leave the village, and they attacked the families left behind to claim their land.[24]
1867
December
23rd
1869
September
14th
1874
March
24th
November
30th
1876
September
14th
December
3rd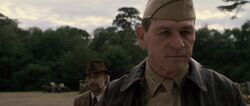 1878
December
18th
1882
January
30th
September
22nd
1884
May
8th
1889
April
20th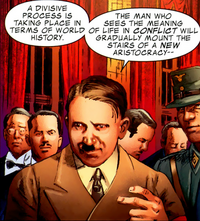 1890
October
14th
1891
January
7th
September
16th
October
20th
1894
April
15th
1897
November
24th
1899
April
29th
References
↑ 20.00 20.01 20.02 20.03 20.04 20.05 20.06 20.07 20.08 20.09 20.10 20.11 20.12 20.13 20.14 20.15 20.16 Sometimes the Marvel Cinematic Universe alludes to people who existed in our world, and it is assumed they were born on the same day in the universe, for timeline purposes.
↑ Sometimes the Marvel Cinematic Universe alludes to events which happened in our world, and it is assumed they happened on the same dates in the universe, for timeline purposes.
Ad blocker interference detected!
Wikia is a free-to-use site that makes money from advertising. We have a modified experience for viewers using ad blockers

Wikia is not accessible if you've made further modifications. Remove the custom ad blocker rule(s) and the page will load as expected.