Bristol is a city in southwest England.
History
World War II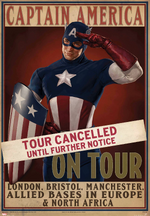 Captain America's USO Shows
Steve Rogers was scheduled to perform one of the Captain America's USO Shows in Bristol. However, he joined the Strategic Scientific Reserve as a soldier to battle in World War II following his successful rescue of prisoners of war in Austria, and the scheduled shows had to be cancelled.[1]
References
External Links
Ad blocker interference detected!
Wikia is a free-to-use site that makes money from advertising. We have a modified experience for viewers using ad blockers

Wikia is not accessible if you've made further modifications. Remove the custom ad blocker rule(s) and the page will load as expected.