"You must miss the good old days, huh?"
"Well, things aren't so bad. Food's a lot better. We used to boil everything. No polio is good. Internet, so helpful. I've been reading that a lot, trying to catch up."
"Marvin Gaye, 1972, Trouble Man soundtrack. Everything you missed jammed into one album."
"I'll put it on the list."
―Sam Wilson and Steve Rogers
Captain America's To-Do List is a list of items, people and events which Steve Rogers made note of in order to become better acquainted with the modern world.
History
Steve Rogers told Sam Wilson the day they met while jogging in Washington, D.C. that he had difficulty getting caught up with the modern world. Wilson recommended Marvin Gaye's Trouble Man soundtrack from 1972, stating that it was everything that Rogers had missed while he was frozen jammed into one album. Rogers promptly put it on his list.[1]
Variations
Different versions of the list are featured in the various international releases of the film:
Trivia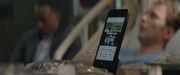 References
Ad blocker interference detected!
Wikia is a free-to-use site that makes money from advertising. We have a modified experience for viewers using ad blockers

Wikia is not accessible if you've made further modifications. Remove the custom ad blocker rule(s) and the page will load as expected.