Captain America: Road to War is a comic book set in the Marvel Cinematic Universe. It is set between the events of Avengers: Age of Ultron and Captain America: Civil War.[1]
Synopsis
Captain America and Black Widow must train the new Avengers recruits to work together as a team.
Plot
While Captain America was trying to get his new Avengers team together, HYDRA has been collecting destroyed Ultron bodies in order to create a new robot, Ultimo. When Ultimo attacks a small village in Eastern Europe, the Avengers need to fight together in order to defeat Ultimo.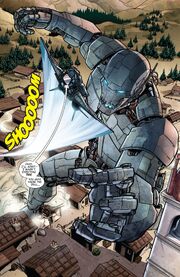 Appearances
Characters
Locations
Events
Items
Vehicles
Sentient Species
Organizations
Mentioned
References
External Link