Ad blocker interference detected!
Wikia is a free-to-use site that makes money from advertising. We have a modified experience for viewers using ad blockers

Wikia is not accessible if you've made further modifications. Remove the custom ad blocker rule(s) and the page will load as expected.

The Capture of Winter Soldier was an attempt to find Bucky Barnes, who was considered responsible for the Bombing of the Vienna International Centre, and bring him into custody. 
Background
To Be Added
Event
Finding Barnes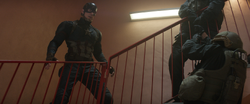 "This doesn't have to end in a fight, Buck."
"It always ends in a fight."
To Be Added
Freeway Chase
"Congratulations, Cap. You're a criminal."
To Be Added
Aftermath
To Be Added