"What kind of charity meeting is this?"
―Chase Stein
Chase Stein is a lacrosse-playing, high school heartthrob. While many write him off as a dumb jock, Chase exhibits flashes of untapped brilliance in engineering, not unlike his wildly successful father's.
Biography
To be added
Personality
Chase is a popular student at Atlas Academy and a valued player on the school's lacrosse-team. This causes many to assume he's one of the "jocks" and therefor of low intelligence. Much to the contrary however, Chase has exceptional talent with engineering in a similar fashion to his successful father, Victor Stein.
Powers and Abilities
Abilities
Equipment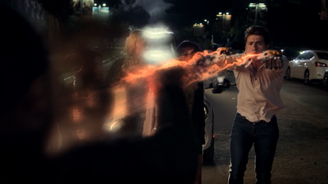 Relationships
Trivia
Behind the Scenes
References
External Links