A collection of quotes of journalist Christine Everhart.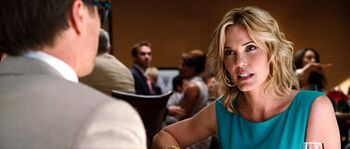 Movies
Dialogue
"You've been called the da Vinci of our time. What do you say to that?"
"Absolutely ridiculous. I don't paint."
"And what do you say to your other nickname, the Merchant of Death?"
"That's not bad."
―Christine Everhart and Tony Stark
"Have you ever lost an hour of sleep in your life?"
"I'd be prepared to lose a few with you."
―Tony Stark and Christine Everhart
"After all these years, Tony still has you picking up the dry cleaning."
"I do anything and everything Mr. Stark requires. Including occasionally taking out the trash. Will that be all?"
―Christine Everhart and Pepper Potts
"You have a lot of nerve showing up here tonight. Can I at least get a reaction from you?"
"Panic. I would say panic is my reaction."
"I was referring to your company's involvement in this latest atrocity."
―Christine Everhart and Tony Stark
"I'm sorry Mr. Stark, but do you honestly expect us to believe that that was a bodyguard in a suit, that conveniently appeared, despite the fact that-"
"I know that it's confusing... It is one thing to question the official story, and another entirely to make wild accusations or insinuate that I'm a superhero."
"I never said you're a superhero."
"You didn't? Well, good, because that would be outlandish and... fantastic."
―Christine Everhart and Tony Stark
Spoken about Christine Everhart
Spoken by Christine Everhart
"Be sure to follow us online for those stories and more."
―Christine Everhart
Dialogue
"You seem very unrepentant Scott, you can see why so many of us have trouble believing your side of the story."
"Yeah, so many of you who get paid by Vistacorp. I'm getting tired of your biased accusations."
―Christine Everhart and Scott Lang
Ad blocker interference detected!
Wikia is a free-to-use site that makes money from advertising. We have a modified experience for viewers using ad blockers

Wikia is not accessible if you've made further modifications. Remove the custom ad blocker rule(s) and the page will load as expected.