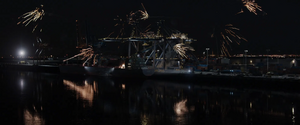 "J.A.R.V.I.S., hey."
"All wrapped up here, sir. Will there be anything else?"
"You know what to do."
"The "Clean Slate" Protocol, sir?"
"Screw it, it's Christmas. Yes, yes!"
―Tony Stark and J.A.R.V.I.S.
The Clean Slate Protocol was a command given by Tony Stark to J.A.R.V.I.S. to destroy all of his Iron Man suits.
History
This command was used by Tony Stark after the Battle on the Norco, as a sign that he would spend more time with Pepper Potts.[1]
References
Ad blocker interference detected!
Wikia is a free-to-use site that makes money from advertising. We have a modified experience for viewers using ad blockers

Wikia is not accessible if you've made further modifications. Remove the custom ad blocker rule(s) and the page will load as expected.