Marvel Cinematic Universe 'Cloak And Dagger'
"The universe keeps pushing us together."
"The universe keeps pulling us apart."
Marvel's Cloak & Dagger, or simply Cloak & Dagger, is an American television series based on the Marvel Comics superheroes of the same names. It is produced by Marvel Television and airs on Freeform.
The first season premiered on June 7, 2018.
On July 20, 2018, it was renewed for a second season. The second season will premiere in the Spring of 2019.[1]
Season Synopses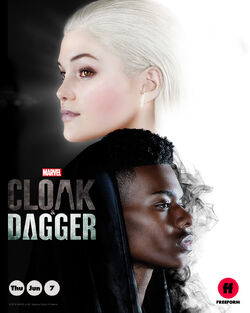 Tandy Bowen and Tyrone Johnson come from starkly different backgrounds, each growing up with a secret they never dared share with another soul.
Once a privileged little girl, Tandy Bowen watched as her family was destroyed by a disastrous storm that uprooted her life. Now in her late teens, an unexpected encounter with a boy named Tyrone sparks a life-changing event.
Young Tyrone Johnson wanted nothing more than to prove he was fearless. But when everything he held close was taken away, life taught Tyrone to be afraid. Now older and more sheltered, Tyrone closes himself off. But when he meets a girl named Tandy his life changes forever.[2]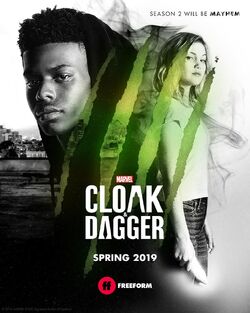 To be added
Cast
Starring Cast
Recurring Cast
Production
On April 7, 2016, Freeform greenlit Cloak & Dagger with a straight-to-series order. It is co-produced by Marvel Television and ABC Signature Studios.[3]
On January 30, 2017, Marvel.com announced that Olivia Holt and Aubrey Joseph had been cast as the two leads of the series.[2]
The production of the series started in February 2017 in New Orleans, under the working title "Shadows".[4]
Videos
Sneak Peeks
References
External Links