"The world has stolen from me my whole life. Maybe I have this thing so I can steal some of it back."
―Tandy Bowen to Tyrone Johnson
Tandy Bowen is a plucky teenage Southern girl who, due to an accident, was forced to become a thief. She somehow eventually acquired the power to emit light daggers, and fell in love with Tyrone Johnson.[1]
Biography
To be added
Personality
To be added
Powers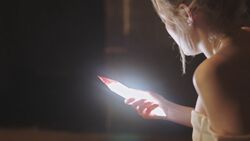 Light Manipulation: Dagger has the ability to project light daggers.
Equipment
To be added
Relationships
Family
Allies
Trivia
Behind the Scenes
References
External Links