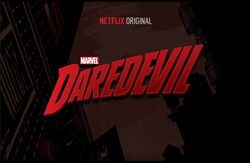 Full Credits for Daredevil.
Cast
Main Cast
Recurring Cast
Special Guest Stars
Minor Cast
Guest Cast
Other Cast
Crew
Created By
Producers
Executive Producers
Post Production Executive
Directors
Writers
Director of Photography
Production Designer
Editors
Art Direction
Assistant Art Director
Set Decoration
Art Department
Music
Casting
Costume Designer
Stunts
Ad blocker interference detected!
Wikia is a free-to-use site that makes money from advertising. We have a modified experience for viewers using ad blockers

Wikia is not accessible if you've made further modifications. Remove the custom ad blocker rule(s) and the page will load as expected.