"When did you..."
"I thought it would be cool if the Director of S.H.I.E.L.D. had a shield. Fitz agreed, so..."
―Melinda May and Phil Coulson
The Energy Shield is a shield made of energy that expands from Phil Coulson's Prosthetic Hand.
History
Phil Coulson came to Leo Fitz with an idea to have a shield, being the Director of S.H.I.E.L.D.. Fitz agreed with it, and put the function to create the Energy Shield in Phil Coulson's Prosthetic Hand.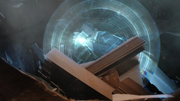 As Coulson and Melinda May came to JT James' cabin in their search for Hive, they hid inside a hole in the floor from a bomb. The bomb exploded, and Coulson defended May and himself from it by using the Energy Shield.[1]
Coulson used the Energy Shield to defend himself from the gunshots of a prison guard infected by Lucy Bauer and to then knock the guard out.[2]
Trivia
References
External Links
Ad blocker interference detected!
Wikia is a free-to-use site that makes money from advertising. We have a modified experience for viewers using ad blockers

Wikia is not accessible if you've made further modifications. Remove the custom ad blocker rule(s) and the page will load as expected.