Exolon Monks[1] are a group of clerics that serve Ronan the Accuser.
History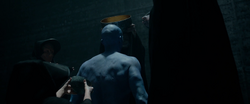 The Exolon Monks performed a ritual on Ronan the Accuser by placing unknown substances on his body, dressing him in Kree Armor and presenting him with the Cosmi-Rod.
During the Battle of Xandar, the monks piloted the Dark Aster. They were killed when Rocket Raccoon crashed the Milano into the Dark Aster, causing it to crash into the planet's surface.[2]
Trivia
References
External Links
Ad blocker interference detected!
Wikia is a free-to-use site that makes money from advertising. We have a modified experience for viewers using ad blockers

Wikia is not accessible if you've made further modifications. Remove the custom ad blocker rule(s) and the page will load as expected.