Gert Yorkes is a purple-haired, bespectacled, contemporary riot grrrl. Never passing up a moment to stand on a soapbox, Gert sometimes wields her persona as a brash social justice warrior to mask her true feelings.
Biography
To be added
Personality
On the surface, Gert appears to be rebellious and confrontational. Consistently promoting a radical Social Justice agenda to anyone who will listen. However, this attitude is largely a front to mask her true feelings. [1]
Powers and Abilities
Powers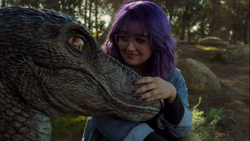 Telepathic Link: Gert possesses a telepathic link with Old Lace, allowing her to form a bond with the creature and command it.
Abilities
Multilingual: Aside from English, Gert is also fluent in Spanish.
Relationships
Appearances
Appearances for Gert Yorkes
In chronological order:
Trivia
In the comics, Gert Yorkes was also known as Arsenic.
Behind the Scenes
References
External Links