The Goldfish is a boat owned by Frank Levin and Justin Boden.
History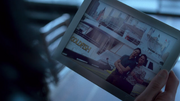 Kilgrave took a liking to it when he saw the picture of Levin and Boden next to the boat, in their penthouse that Kilgrave was using as a lab with his father.
Kilgrave left the image of the boat on the table for Jessica Jones to find, leading her to find the actual boat.[1]
Trivia
References