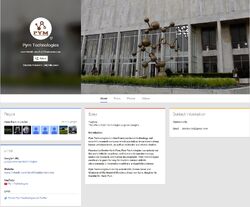 The Google+ profile of Pym Technologies was part of the 2015 Ant-Man promotional campaign.[1] It supported the WIRED Insider: Darren Cross interview. This is a page which includes all the Google+ posts of Pym Technologies.
Introduction
Pym Technologies is a San Francisco based technology and scientific research company which specializes in nanotechnology, human enhancements, as well as molecular and atomic studies.
Founded by Doctor Hank Pym, Pym Technologies has astonished the world with its countless contributions to nanotechnology, molecular research, and human development. Pym Technologies continues to pave the way for modern science with its advancements in innovative machinery and particle sciences.
Pym Technologies is run by current CEO Darren Cross and Chairman of the Board of Directors, Hope van Dyne, daughter to founder Dr. Hank Pym.
Posts
| Date | Image | Post |
| --- | --- | --- |
| 11 December, 2014 | | Pym Technologies has been supporting ideas for improved sensory-technology. Swarm robots with no sensory limitations? We think yes. (https://en.wikipedia.org/wiki/Ant_robotics). |
| 6 January, 2015 | | Hope van Dyne leads team of new scientists on a special project. CEO @DarrenCross to oversee the management. More information to come later. |
| 27 January, 2015 | | Info on new project remains underwraps. @DarrenCross promises big things are coming to the future of tech industry. https://www.linkedin.com/in/officialdarrencross/ |
| 3 February, 2015 | | Research on the atomic structure of the human body will change our future. Information to be released through third party press. |
| 13 February, 2015 | | Fitness bands. Watches. Contacts? There's big room for bio-tech innovation in wearable technology. What will the future look like? (Link - http://www.wired.com/2015/02/the-future-of-wearable-tech/)  |
| 6 April, 2015 | | Hope van Dyne is confident with the changes @DarrenCross is making at Pym Tech. "Our CEO is focusing on making the impossible, possible." |
| 7 May, 2015 | | Pym Tech meets with Stark Industries regarding future technological endeavors. #NewFrontier |
| 3 June, 2015 | | Scientists make another breakthrough in practical science. Pym Technologies is aiding in this field as well. http://www.washington.edu/news/2015/06/03/stable-beams-achieved-large-hadron-collider-at-cern-research-facility-begins-recording-data |
| 10 June, 2015 | | Another example of a company looking out for mankind. Consumer safety should always be a top priority. Pym Tech agrees. http://www.wired.com/2015/06/new-ducati-stability-system-makes-crashing-near-impossible/ |
| 12 June, 2015 | | Nanotechnology behind newest anti-viral drug. Another example of this technology aiding mankind. http://wnyt.com/article/stories/s3824731.shtml |
| 6 July, 2015 | | Pym Tech is looking to use advanced nanotechnology to find ways to improve the human body. (https://en.wikipedia.org/wiki/Nanobiotechnology) |
| 7 July, 2015 | | Progress is very much on the horizon. Pym Technologies continues to make scientific breakthroughs despite recent setbacks internally. #NewFrontier |
| 8 July, 2015 | | Interesting article about San Francisco and its geographical makeup: http://www.wired.com/2015/06/seep-city-san-francisco-map |
| 15 July, 2015 | | CEO Darren Cross speaks to +WIREDInsider about the future of Pym Technologies. WIRED Insider: Darren Cross |
Gallery
References
External Links