Guardians of the Galaxy (film)
Comments

44
1,762pages on
this wiki

Guardians of the Galaxy is an upcoming film made by Marvel Studios and will be the tenth main installment in the Marvel Cinematic Universe and the fourth in Phase Two.
The original concept for the  Guardians of the Galaxy, which dates back to 1969, focused on a team of superhumans and extraterrestrials dedicated to the safeguarding of the Milky Way Galaxy. However, studio chief Kevin Feige said that the new film would focus on the more recent 2008 version of the team, rather than the original.
It is planned to be released on August 1, 2014.
Marvel's Guardians of the Galaxy expands the Marvel Cinematic Universe into the cosmos, where brash adventurer Peter Quill finds himself the object of an unrelenting bounty hunt after stealing a mysterious orb coveted by Ronan, a powerful villain with ambitions that threaten the entire universe. To evade the ever-persistent Ronan, Quill is forced into an uneasy truce with a quartet of disparate misfits — Rocket, a gun-toting raccoon; Groot, a tree-like humanoid; the deadly and enigmatic Gamora; and the revenge-driven Drax the Destroyer. But when Peter discovers the true power of the orb and the menace it poses to the cosmos, he must do his best to rally his ragtag rivals for a last, desperate stand — with the galaxy's fate in the balance.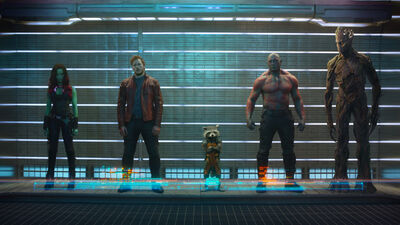 Appearances
Edit
Locations
Edit
To be added
Sentient species
Edit
Creatures
Edit
Organizations
Edit
Production
Edit
In June 2012, numerous sources claimed that Marvel Studios' mystery 2014 project was Guardians of the Galaxy and that a script had already been written by Nicole Perlman. Filming began around July 6, 2013[2] under the working title of "Full Tilt", with pre-shoots starting on June 24, 2013.[3]
External links
Edit
References
Edit
↑ Cite error: Invalid <ref> tag; no text was provided for refs named 2013JulyComicCon
↑ Cite error: Invalid <ref> tag; no text was provided for refs named FullTilt