Hel is a region of Niflheim that serves as the home of the dead who are neither honored nor dishonored.
History
Exile of Hela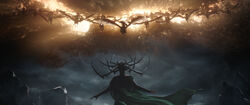 Thousands of years ago, Odin banished his daughter Hela from Asgard and imprisoned her in Hel after her ambition to expand Asgard exceeded his.[1]
Hela later attempted to escape from Hel, prompting Odin to send the Valkyries to stop her. She was defeated and sent back to her prison, but not before successfully overpowering the Valkyries and, with the exception of their leader Brunhilde, executing them in cold blood.[1]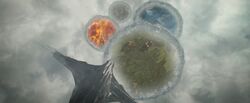 Hel was among the worlds labeled by Erik Selvig on his chalkboard mapping the Nine Realms.[2]
Loki also promised Algrim he would see him in Hel following their final confrontation.[2]
Hel was visible among other realms during the Convergence during the Battle of Greenwich.[3]
Thor mentioned Hel after Bruce Banner stormed Wolfgang von Strucker's base as Hulk at Sokovia.[4]
Thor's Vision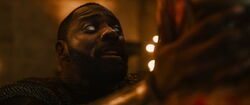 Hel was mentioned by Heimdall who appeared in Thor's vision instilled by Scarlet Witch on him to incapacitate him during the Battle at the Salvage Yard.[4]
Hela's Freedom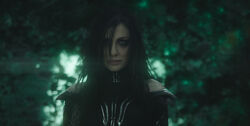 After the death of Odin, his power over Hela's imprisonment waned until there was no force keeping her at bay. She stepped out of a portal-like gateway soon after, musing that she would have liked to see her father die.[1]
Appearances
Appearances for Hel
In chronological order:
Trivia
Behind the Scenes
References
External Links