"You know what they say: You're out of luck, until you've gone Duck."
―Howard the Duck
Howard the Duck is an anthropomorphic duck, and a former resident specimen in Taneleer Tivan's museum on Knowhere.
Biography
Inside the Collector's Museum
Howard was a specimen being held in Taneleer Tivan's museum when the Guardians of the Galaxy brought the Orb to him. Tivan's assistant Carina, angry how Tivan had treated her and her predecessors, unleashed the Orb's power, destroying much of the museum.[1]
After the mishap, a battered, beaten-up Collector sat in his museum, drinking from a green cup. Seconds later, Cosmo approached Tivan and began to lick his face. Howard, who was undamaged in his broken containment cell, watched on, and remarked how "gross" the act was. Howard was also drinking out of a similar green cup.[2]
Partying in Contraxia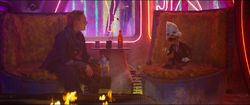 A few months later, on Contraxia, Howard had a date with a woman in the Iron Lotus. Telling a joke about his species, Howard laughed hysterically along with the woman.[3]
Powers and Abilities
Powers
Duckworldian Physiology: As an Duckworldian, Howard resembles a humanoid duck, having a cognitive and intellectual ability equivalent or superior to the most sensitive species in the galaxy.

Enhanced Durability: Howard is highly durable, despite his appearance, as he was able to survive an explosion caused by the Power Stone in the Collector's Museum.
Relationships
Allies
Trivia
Behind the Scenes
References
External Links