Marvel's Inhumans SDCC Trailer
Marvel's Inhumans is an American eight-episode live-action television series, based on the Royal Family of the Inhumans. It is produced by Marvel Television and distributed by ABC, and the first television series distributed by IMAX. The first two episodes of the series was shot with IMAX digital cameras and available in IMAX cinemas. It premiered September 29, 2017 on ABC.
On May 11, 2018, the series was cancelled by ABC.[1]
Season Synopses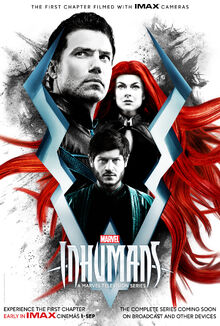 "Marvel's Inhumans explores the never-before-told epic adventure of the Royal Family of Inhumans including Black Bolt, the enigmatic, commanding King of the Inhumans, with a voice so powerful that the slightest whisper can destroy a city. After the Royal Family of Inhumans is splintered by a military coup, they barely escape to Hawaii where their surprising interactions with the lush world and humanity around them may prove to not only save them, but Earth itself".[2][3]
Cast
Starring Cast
Recurring Cast
Behind the Scenes
Videos
Trailers
References
External Links