JARVIS: A Second Screen Experience is a promotional iOS application for Iron Man 3. It features an interface based on Tony Stark's J.A.R.V.I.S. interface and voice. It enables users to interact with the U.I. through voice commands or creating customized reminders and alarms. The App also contains data about all of Tony Stark's Iron Man suits (up to the events of Iron Man 3).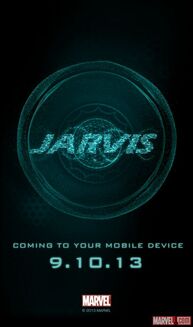 App Features
J.A.R.V.I.S style Voice Controlled Interface.
Current date, time and temperature
Weather forecast
Alarm clock with personalized alarms
First appointment reminders
Direct post to Facebook feature 
Blu-Ray Remote Control. 
Initiate media delivered in messages, including video, audio, image, ringtone or website 
Additional "ghost files"
Unlocking Iron Legion
The App features ghost files who can only be fully accessed by using the application's scan function and scan the hidden codes on the Iron Man 3 Blu-Ray. By using the JARVIS armors voice command, or tapping the armors icon, the application shows an empty Hall of Armors, with silhouettes of the suits. To unlock them, the user has to connect his app via wifi to control the blue ray disc playing on a different device.
While connected with the Jarvis app, the hidden codes can be found on various locations which then should be scanned with the app. Unlocking the Iron Legion provides the users with a high quality picture of all the 42 Iron Man suits and a brief description.
Mark I-VII can be unlocked by playing the intro explaining the hidden codes.
Mark VIII – X will unlock with Marvel One-Shot: Agent Carter.
Mark XI – XIV by highlighting the Sneak Peeks on the main menu and pressing on the remote of your app.
Mark XV – XVII can be unlocked by watching the Gag reel.
Mark XVIII – XX by highlighting the 'Deconstructing the Scene' and pressing right on the remote.
Mark XXI – XXIII by highlighting 'subtitles' and pressing left on the remote of your app.
Mark XXIV – XXVI can be unlocked by watching the 'Iron Man 3 Unmasked'.
Mark XXVII – XXIX by highlighting 'Hey is that Thor?' and pressing right on the remote.
Mark XXX – XXXII by highlighting 'Tony Hacks AIM' and pressing up on the remote.
Mark XXXIII – XXXV can be unlocked by watching Iron Man 3.
Mark XXXVI – XXXVIII by highlighting Espanol and pressing right on the remote.
Mark XXXIX – XL by highlighting Francais and pressing right on the remote.
Mark XLI – XLII by highlighting the option 'on' for audio commentary and pressing up on the remote.
External Links
Ad blocker interference detected!
Wikia is a free-to-use site that makes money from advertising. We have a modified experience for viewers using ad blockers

Wikia is not accessible if you've made further modifications. Remove the custom ad blocker rule(s) and the page will load as expected.