JARVIS: A Second Screen Experience is a promotional iOS application for Iron Man 3. It features an interface based on Tony Stark's J.A.R.V.I.S. interface. It enables users to interact with the U.I. through voice commands or creating customized reminders and alarms. The App also contains data about all of Tony Stark's Iron Man suits (up to the events of Iron Man 3).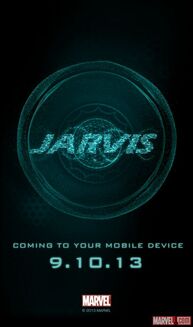 App Features
J.A.R.V.I.S style Voice Controlled Interface.
Current date, time and temperature
Weather forecast
Alarm clock with personalized alarms
First appointment reminders
Direct post to Facebook feature 
Blu-Ray Remote Control. 
Exploring Tony Stark's Hall of Armors, with Stark's first 42 Iron Man suits. 
Initiate media delivered in messages, including video, audio, image, ringtone or website 
Additional "ghost files" 
Iron Legion
After using the JARVIS armors voice command, or tapping the armors icon, the application enters Tony Stark's empty Hall of Armors, but only with silhouettes of the suits. One needs to use the application's scan function on the hidden codes of the Iron Man 3 Blu-Ray, and unlock all the 42 Iron Man suits. Unlocking them provides the users with a high quality picture of the armor and with a brief description of it.
External Links
Ad blocker interference detected!
Wikia is a free-to-use site that makes money from advertising. We have a modified experience for viewers using ad blockers

Wikia is not accessible if you've made further modifications. Remove the custom ad blocker rule(s) and the page will load as expected.