A collection of quotes of the astrophysicist Jane Foster.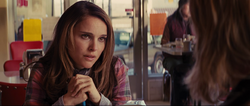 Movies
Spoken by Jane Foster
"Where did he come from?"
―Jane Foster
Dialogue
"I thought you were a scientist."
"Political science."
"She was the only applicant."
―Erik Selvig, Darcy Lewis, and Jane Foster
"I'm talking about science, not magic."
"Well, "magic's just science we don't understand yet." Arthur C. Clarke."
"Who wrote science-fiction."
"A precursor to science fact!"
―Erik Selvig and Jane Foster
Spoken about Jane Foster
"As soon as Loki took the doctor, we moved Jane Foster. We've got an excellent observatory in Tromsø. She was asked to consult there very suddenly yesterday. Handsome fee, private plane, very remote. She'll be safe."
―Phil Coulson to Thor
Spoken by Jane Foster
"Thor was here and he just left again. No message, nothing. Not a word. All the work I did was for nothing. So that's it. I'm done."
―Jane Foster
Dialogue
Spoken about Jane Foster
Ad blocker interference detected!
Wikia is a free-to-use site that makes money from advertising. We have a modified experience for viewers using ad blockers

Wikia is not accessible if you've made further modifications. Remove the custom ad blocker rule(s) and the page will load as expected.