Jeffrey Mace is the Director of the espionage and law-enforcement agency S.H.I.E.L.D.. Originally working as a journalist for International Affairs, he survived Helmut Zemo's terrorist attack on the Vienna International Centre. After this, he was called upon by the government to partake an experiment that would give him super strength under Project Patriot. Now a hero in the eyes of the public, he was considered by both Phil Coulson and President Matthew Ellis a perfect person to lead S.H.I.E.L.D. when the organization was to be legitimized again, under the guise of an Inhuman. As S.H.I.E.L.D.'s Director, Mace revealed the agency's continued existence to the world. Despite conflicts of interest with Coulson, Mace proved himself a worthy Director by challenging the actions of Ghost Rider before assisting to prevent Eli Morrow from causing city wide destruction and clearing Quake's name. After the deception was exposed, he planned to resign, but Coulson, recognizing Mace's popularity with Inhumans in particular, offered to take over as field director while he had dealt with politics.
Biography
Public Image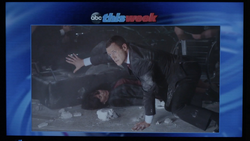 Jeffrey Mace was attending a ceremony in Vienna, Austria following the signing of the Sokovia Accords. As King T'Chaka of Wakanda opened the proceedings with the keynote address, a bomb detonated and decimated the building, resulting in the deaths of King T'Chaka and twelve other people. Immediately following the explosion, Mace tried to reach a safe place, stumbled upon a fellow victim of the attack, then caught in camera as he was helping. He was believed to have helped free several survivors who were trapped under rubble, despite his attempts to scale down the episode, an attitude misinterpreted as humilty. Ultimately, he was considered a hero by both the public and the American government.[1][2]
Director of S.H.I.E.L.D.
Appointment
With S.H.I.E.L.D. having been legitimized following the Destruction of HYDRA and the ratification of the Accords, the organization needed a new director to be the public face since the world believed Phil Coulson was dead. Coulson met with President Matthew Ellis and requested that his successor be someone with superpowers who the general public could consider trustworthy. Since Steve Rogers was currently on the run and without other suitable characters, as the "hero of Vienna" Mace was selected by Glenn Talbot for Project Patriot, which gave him super-strenght through a serum derived by Calvin Zabo's Formula. He would have been said to have had undergone Terrigenesis during the Inhuman Outbreak, in order to improve public acceptance of the new race.[3][2]
Recruiting Yo-Yo Rodriguez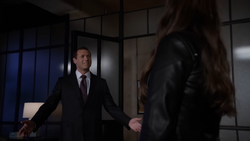 Not long after he became S.H.I.E.L.D.'s director, Mace met Elena Rodriguez, a former member of S.H.I.E.L.D.'s Secret Warriors team. He welcomed her in her native Spanish language but she said that she was fine with having a conversation in English. As they sat in his office, Mace gave her the electronic copy of the Sokovia Accords to sign. When she signed the document, Mace took her fingerprint and retinal scan. Rodriguez then asked Mace for help with arresting Victor Ramon, the man responsible for the death of her cousin Francisco Rodriguez.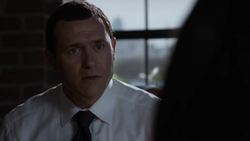 Mace told her that he appreciated her enthusiasm and that he was looking forward to working with her, but everything first had to go through the official channels, and that the United Nations would determine who should go after Ramon. He also warned her that if she decided to go after Ramon on her own, he would have to arrest her and turn her over to Secretary Ross who would not hesitate to lock her in the Raft prison. Mace then told her that bureaucracy, even though it's frustrating, always works in the long run. When Agent Cecilio informed them that Mace had a scheduled talk with the National Security Advisor, Mace asked him to take Rodriguez to the lab where Agents Fitz and Simmons would complete her registration.[4]
First Orders
Director Mace sent Agents Alphonso Mackenzie and Phil Coulson to capture the resigned agent Daisy Johnson now known as the vigilante Quake whose activities as a vigilante put her into conflict with her old friends in S.H.I.E.L.D.[5] During the first months in his new role, Mace also appointed Jemma Simmons as Special Advisor to the Director in Science and Technology, being one of her most trusted advisors. Also, as part of his moves to separate Coulson's former inner circle, Mace assigned Agent Melinda May the task of creating, training and leading a specialist strike team. After Quake ran from Coulson once again, Mace pulled him and Mackenzie from the pursuit, convinced that Coulson was letting Quake escape. Later, when Mace learned that Coulson and Mackenzie continued to chase Quake, he asked to speak with Coulson once he returns to the Playground.[6]
Meeting with Coulson
Having returned to the base, Phil Coulson and Melinda May were called to meet Mace following Coulson's own unauthorized attempt to retrieve Daisy Johnson despite being ordered not to do so. Once they had been let inside by Cecilio, surprisingly, however, Mace was not upset like the two had expected him to be despite them disobeying his orders. Instead he praised Coulson for his actions stating that loyalty was a good thing, noting he was impressed in Coulson's team's trust.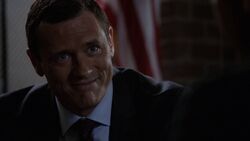 Mace then went on to say that the rogue Quake was a still a major problem at the moment for them, because of S.H.I.E.L.D.'s upcoming re-legitimization in the public eye, and needing the public's trust in the wake of the HYDRA Uprising which had destroyed S.H.I.E.L.D.'s reputation. Mace asked May to leave him and Coulson to speak in private, noting how he felt May was an impossible character to work out, while Coulson wished him good luck with that. Mace then gave Coulson the assignment of giving a tour of the Playground to a group of government representatives from Congress.[3]
S.H.I.E.L.D. Tour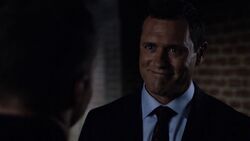 In desperate need for increased funding for their new future missions, Mace and Phil Coulson led a group of government representatives through the Playground with Mace relying on Coulson to give a more historical backstory to the tour including Peggy Carter's involvement in it's build.
However while the tour was happening, Melinda May, who had been exposed to the touch of a "Ghost", desperately went to Chen who was experiencing the same terrifying illusions. Upon questioning, the man began to bash his head on the window of a containment room creating a horror show as he cracked his own head open. When Mace offered to take the group to the Containment Module rooms, Coulson stated it might not be a good idea while Jemma Simmons informed him that there was "blood everywhere" and the group was instead taken to the Hanger to see the Quinjets.
May, continuing to grow further distraught from her visions of horrific images, now began to get aggressive. She tore through lockers and attacked her own strike team in fear, subduing Piper and the other agents. Eventually Mace got involved and he used his "Inhuman" powers to apprehend her, taking several strikes to the head before lifting May high in the air and smashing her head against a wall. Once it was clear that May would be alright despite the blow to the head, Coulson stated that it was a shame Mace couldn't put his powers on tour to which Mace claimed that he couldn't, "not yet".
Following a quick photo op with the members of congress who were still completely unaware of the incident involving Chen in the other room, Mace sent the representative's on their way saying that what they had seen was confidential until S.H.I.E.L.D. was then officially announced to be returning to the world. While the congressmen were then loaded into Zephyr One to be returned home, Mace took the time to speak to Coulson for a complete debrief about what had occurred involving May and Chen while the tour was happening, with Coulson demanding to know what had happened with May.
Mace then told Coulson he was taking care of May's recovery, further questioning Coulson by asking if he was the Director he wanted, as he wanted a powered person people could trust. Coulson however made it clear that while he wanted one of the Inhumans in charge of S.H.I.E.L.D., he still was not sure that Mace was the man for the job, while Mace noted that since Steve Rogers had disappeared there was no one else Coulson would have approved for the position, while also vowing that he would quickly prove himself to be the best man for the job in the wake of both Nick Fury and Coulson.[3]
A Dangerous Blackout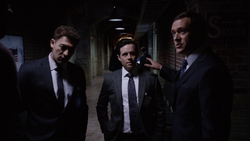 When several wide blackouts happened across the USA, Mace assembled his staff in the Playground base to explain to him what was going on. He watched the screen, as an unidentified "Inhuman" said they would have to shut off more cities after Miami hour by hour if the Sokovia Accords are not shut down. Counseling with Leo Fitz and Alphonso Mackenzie who were both still furious at Burrow's attitude.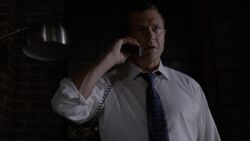 Mace sent the two and Phil Coulson to Miami to assist Yo-Yo Rodriguez there. Mace entered the lab where he told Coulson that Melinda May was being treated, when suddenly, Chen squirmed and died. Jemma Simmons said that it would happen to May as well, so Mace allowed her to take May to somewhere else to save her.
Mace called Coulson to inform him that more cities had gone dark, violence were spreading and President Matthew Ellis wanted results, but the call was interrupted due to another EMP in Miami. Mace received a call from Ellis again, who told him that he would send troops into the cities to kill as many Inhumans as possible. Eventually, Coulson called Mace and said he had found a way to bring the light to the cities back.[7]
Out of the Shadows
Public Statement
Phil Coulson told Mace that the Watchdogs had caused the blackouts around the world, and that they were funded and equipped well. Mace said to Coulson that the Watchdogs succeeded in frighting the public. Coulson advised him to announce publicly the relegalization of S.H.I.E.L.D.. In the next day, Mace revealed during a press conference that S.H.I.E.L.D. had been reformed and it would serve Humans and Inhumans.[7]
Debating with a Senator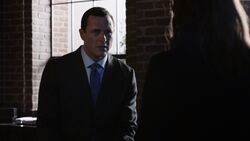 When he was called to debate on television with Senator Ellen Nadeer about what the public called "Inhuman War on Humans", Mace interrupted Jemma Simmons' Lie Detector testing and brought her to his office. He asked her to back him up with scientific facts via earpiece because the upcoming discussion would be a battle for hearts and minds.
At the beginning of the debate, Nadeer asked him why S.H.I.E.L.D.'s priority was not to defend Humans from the Inhumans. Simmons and then Mace said that the human and Inhuman genome were almost identical. Nadeer was not convinced, and said that it did not explained the blackouts that had occurred. Simmons said to Mace and then he spoke, that more Inhumans had been killed during the blackouts. Nadeer asked him that if it was true that S.H.I.E.L.D. was attacking a prison right now in Los Angeles. Since neither Mace or Simmons knew about such operation, Mace explained that he could not report about their missions, but that the situation was under control.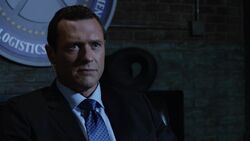 Nadeer continued with her questions, and criticized the number of fatalities under S.H.I.E.L.D.'s watch. Simmons gave Mace the datum that number of fatalities have decreased since the signing of the Sokovia Accords. Nadeer said that Inhumans defined themselves illustrated that they did not share the same values of humans. Mace said they should talk about the Inhumans with respect, but Nadeer said he did not talk about the subject in honesty, so how people would trust him. She also countered him that he was not the man for this job. Mace cut off the connection with Simmons and said to Nadeer that he had become the Director of S.H.I.E.L.D. since he wanted to protect and integrate Inhumans, and that he was the man for the job because he was an Inhuman, therefore revealing to the world his secret. He explained that Inhumans' situation was personal for him and those who are different like him should not be hunted.
After the debate, Burrows told to Mace in his office that his approval numbers were higher. Simmons entered the office and he thanked her for her help, but asked her to do again the Lie Detector test, since she had received alarming results. Simmons threatened Mace to expose his lie about his story in Vienna. Mace said to Harlan that he exempted Simmons from her testing. After she left, Mace thought of his secret.
Mace later met with Nadeer, who congratulated him on his rising popularity. Mace responded that she left him no choice but to tell the truth. Nadeer showed him footage of Phil Coulson working with Quake and Ghost Rider during an operation in prison. She threatened to send it to the media. Mace asked her what did she want.[1]
Fighting Ghost Rider
In order to take her out of the Playground with no fight, Mace said to Jemma Simmons that she had been asked by the United States Government to help them with her study on the Inhumans. Simmons asked if he would come with her, so Mace said he had another mission and showed her the bag to cover her eyes. He tried to explain his action by saying his catch phrase, but Simmons interrupted and put on her the bag willingly.
Mace and his team flew with a Quinjet to Zephyr One to arrest Quake and Ghost Rider. Before landing, Mace talked to Zephyr crew and warned them. After landing, Phil Coulson denied he had them on board, so Mace ordered his team to find them. Mace and Coulson argued about Coulson protracting a killer and he showed him pictured of Ghost Rider's victim during the South Ridge Penitentiary Riot.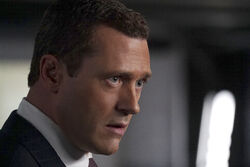 In the garage, Mace was pleased to hear from Coulson that he was honest with him about the powered people not being inside the plane. However, having noticed that the Containment Module was missing, he pulled it from under the plane, with Quake, Ghost Rider and his brother inside it. Leo Fitz entered and asked permission for classified documents. Mace said that it was not the time, but Fitz said it could lead them to Lucy Bauer and Eli Morrow. Coulson explained that it was their priority, but Mace ignored it. Reyes asked if they knew where his uncle was, but Mace responded that they would go to a trial once they landed. Coulson and Fitz tried to explain that thousands of lives were at risk because of Bauer, yet Mace had enough and ordered them to return to the Playground.
Reyes transformed into Ghost Rider and tried to get out of the Containment Module. Mace asked Coulson if he was an Inhuman, so Coulson said Reyes told him he had made a deal with the Devil. Once Ghost Rider got out, Mace pushed him to the other side of the room. Ghost Rider cornered him and began pounding Mace. Coulson tried to stop him but failed. Close to his death, it was Ghost Rider brother who stopped him and Mace was safe.
Later, Coulson explained to Mace that Ghost Rider was needed in their operation to stop Bauer, since he was the only one who could kill her. At first, Mace refused, claiming Reyes was a terrorist, but then he was convinced, saying Reyes would have to pay for what he had done later.[8]
Losing Coulson and Fitz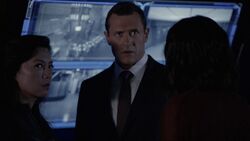 Mace, Melinda May, Alphonso Mackenzie, Daisy Johnson and Gabe Reyes watched the footage of Phil Coulson, Leo Fitz and Robbie Reyes vanishing after a mysterious explosion caused by Eli Morrow. Mace started to say it was a tragedy, but Johnson interrupted him and said they did not know what happened and there was a chance they were still alive. Johnson suggested they should call Jemma Simmons and inform her about the incident. May and Mackenzie were confident the Chinatown Crew might know where Morrow was, although Mace said they must first call Simmons, so they could understand the Momentum Labs' boxes and to find a way to bring back the three missing.
Mace asked Burrows to get for him Simmons, however her phone had been confiscated and it was Ellen Nadeer on the line. Mace said to her that he needed to speak with Simmons, but she refused and hang up. Mace asked Burrows to keep calling her men. Mace then went to speak with Mackenzie and May, who told him the Chinatown Crew were working for Morrow. Mackenzie said he could go to their hideout and find Morrow, but Mace explained they would follow his lead after they understand the boxes. He told them Zephyr One was ready to take off to the Playground. He then said to May they would use the Quinjet to bring the boxes to Holden Radcliffe, so May asked him if Simmons had approved it. Mace lied to her by telling her Simmons would return in a few hours.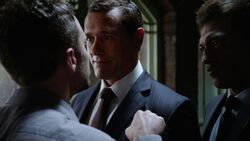 In the base, Mace was furious to discover that Mackenzie had escaped and Johnson had gone after him. In the lab, Mace thanked Radcliffe for coming. He and his assistant, Aida, explained to Mace the boxes harnessed energy from multiple dimensions. May showed them a book which according to her, had helped the Momentum Labs worker to built the boxes. Mace left them in order to call the families of the agents who had been killed by Mace. After a while, Aida managed to bring Coulson and Fitz back. Fitz went straight to Mace and demanded to know where Simmons was, only to see her coming to him.[9]
Hunting Eli Morrow
S.H.I.E.L.D. located Eli Morrow in Chinatown Crew Headquarters in Los Angeles, so Mace sent his agents to the compound. In the Playground, Mace answered to the questions of a reporter, who asked if it had to do with Quake or an Inhuman, but Mace said to her he could not answer. Mace then said to Phil Coulson and Melinda May that they could not allow Quake or Ghost Rider to be seen by the press. Coulson replied that the two and Yo-Yo Rodriguez were their best options. Mace asked Coulson if Aida could assist them, but to his surprise, Coulson revealed she was an Android. Mace was furious to discover that, noting that it was against the Sokovia Accords to built an Artificial Intelligent after Ultron. Coulson advised to use Aida for the mission and he agreed, so he ordered May to go to Holden Radcliffe's home to bring the two, clarifying they would dismantle Aida afterwards.
Radcliffe later came to Mace's office and tried to justify why he had built Aida. Mace then asked him if the Darkhold helped Aida build the Inter-Dimensional Gate, leading to Radcliffe explaining that the book could read mind. Radcliffe asked him what he planned for Aida, so Mace answered it depended on her next mission. Mace, Radcliffe and Aida then boarded Zephyr One. Having heard Morrow had position of a material with the power to explode Los Angeles, Mace said to Coulson he wanted to take action in the mission and he had a plan. He explained to him, Alphonso Mackenzie and Rodriguez they would take the material by force, despite Mackenzie's disapproval.
In a private conversation with Coulson, Mace argued with him about his acts since Mace became the Director, including using criminals and murderers and keeping secrets for him. Coulson demanded he would tell him what was the deal he made with Senator Ellen Nadeer. Johnson entered the room and asked Mace if he knew Nadeer had a captive Inhuman for research, why to cooperate with someone who hated Inhumans. Mace told Johnson she had footage of her and Reyes during the South Ridge Penitentiary Riot, so he had to do what would keep S.H.I.E.L.D. safe. Coulson asked why he had not come to him first, but Mace said they were not a team that trust. Coulson said to him they had to become a team in order to stop Morrow, with Johnson telling them Leo Fitz had discovered how to do it.[10]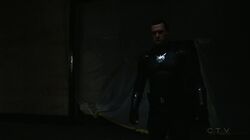 As part of Mace's plan to defeat Eli Morrow, Phil Coulson surrendered himself to him in order to explain to Morrow the nature of his power. After stalling time, Coulson said it was time to act. Mace, with battle suit, Melinda May, Alphonso Mackenzie and Yo-Yo Rodriguez entered the hall and fought against the Chinatown Crew. Mace pushed one to the other side of the room and knocked out several more. He then saw Ghost Rider killing Morrow inside Quantum Battery and vanishing to other dimension.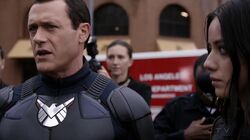 Daisy Johnson escaped the scene but accidentally landed near to the press. Mace hurried to there and lied to all that Johnson was actually a S.H.I.E.L.D. agent, acting outside the law to take down the Watchdogs. After the victory, Johnson rejoined S.H.I.E.L.D.. Mace and Radcliffe talked in the Playground and agreed that now his work on Life-Model Decoy would be under S.H.I.E.L.D. supervision, and Mace told him he sent Nathanson to bring his items to their labs.[10]
Admitting the Truth
When giving a press conference for Daisy in one of the towns she was in during her months as a fugitive pursuing the Watchdogs network, she calls out a sniper and everyone to get down. Director Mace blocks the sniper fire with the speech podium, but the bullet whirls & explodes (Judas Bullet). Director Mace is evac'd to the Quinjet by Coulson and Mack for safety while the assassin is captured and interrogated. When in the air, the Quinjet comms fail, and as Burrows gets up to make a call, the door for the jet breaks open sucking him out and falling to his death. Then the whole Quinjet fails and crashes into a forest leaving the pilot dead. Mace orders Coulson and Mack to find Burrows and the case he was carrying as their primary priority, and upon finding him see Watchdogs have both Burrow's body & the case.
Upon assaulting the Watchdogs and Mace grabbing the case, he is pursued by a long Watchdog who chases Mace. Mace afraid & in a panic, opens the case only for the Watchdog to shoot him in the leg & destroying all the vials inside. Coulson pieces together that Mace is not or has ever been an Inhuman, but a Super Soldier attempt w/ temporary bursts of power. Mace explains as the new S.H.I.E.L.D. needed a trustable & capable powered leader, Talbot had him enhanced so as to fit that criteria- a powered individual who is loyal to the government, while still a trustworthy hero to the people.
Mace is convinced by Coulson to bluff the Watchdogs not to shoot and Mack and Coulson make their last stand as Quake and May arrive on scene to rescue them. Back at base while Talbot argues the merit in making Mace a partial Captain America, the Director asks for privacy between him and Coulson. Mace explains that in Vienna the smoke obscured his vision so bad he tripped and fell on top of a woman. When the reporters and rescue teams came in, he was dubbed a hero despite his pleas and everyone brushing it off as "he's being modest". Mace acknowledges he was a coward and doesn't feel he deserves Phil's friendship or fielty. Coulson stops him there and states he understands, but while Mace works the public relations and general ops (as Phil hated that part) while Coulson tackles the covert ops and dangerous missions that he has led S.H.I.E.L.D. through in the past.
Personality
Jeffery Mace is a straight minded individual. Once he sets his mind on something, it takes a great amount of effort to change his mind. He has great faith in Phil Coulson, placing great trust in him and making him his top agent. Mace has a very typically superhero-like personality, in the sense he is well-suited for the battlefield and people-saving acts. Yet it is this contextual displacement from battlefield to government that makes him who is. He is headstrong, and usually knows what is the right thing to do in the trickier situations, as he puts his emotions and personal values aside. This is the exact reason Coulson stepped from Director himself and appointed Mace in his position, as even Coulson can recognize that these bold characteristics are key to leading such an important organization.
Powers and Abilities
Powers
Originally, Jeffrey Mace pretended to be an Inhuman who achieved his genetic potential after undergoing Terrigenesis, gaining superhuman powers, while in reality he obtained his abilities by using regular dose of an altered version of Calvin Zabo's Formula through Project Patriot.
Superhuman Strength: Jeffery Mace was strong enough to easily subdue Melinda May, lift her by the neck off the ground with one arm, and walk her over to a wall to knock her head against it and render her unconscious without visible effort. He was able to engage Ghost Rider in a fight and toss him across the room with ease. However he was not as strong as Ghost Rider and was quickly overpowered. Mace is strong enough to send a man flying by pushing him with one hand.
Superhuman Durability: Mace was able to withstand Melinda May's attacks without even being moved. Once May resorted to hitting him with a barbell, he recoiled from the blow, but it caused no injury. He suffered repeated blows from Ghost Rider. However, while he had no visible injuries, he was wounded and fatigued.
Abilities
Combatant: Incorporating his strength into his fighting style, Mace was able to defeat multiple members of the Chinatown Crew.
Multilingualism: Mace is fluent in English and has some proficiency in Spanish (though with a thick American English accent).[4]
Equipment
Uniform
Armored Uniform: While in combat, Mace uses an armored vest with the S.H.I.E.L.D. insignia on the front.
Other Equipment
Relationships
Appearances
Appearances for Jeffrey Mace
In chronological order:
Trivia
In the comics, Jeffrey Mace was a journalist from the Daily Bugle that fought under the costumed identity of "Patriot" in World War II alongside Bucky Barnes. He also became the third individual to hold the identity of Captain America, before retiring in 1949 and later dying of cancer. Jeffrey Mace was also the uncle-by-marriage of Thaddeus Ross.
Mace's history of lies around his power his similar to another character who had the "Patriot" aliases, Eli Bradley. In the comics, Bradley joined the Young Avengers, claming he inherited superpowers from his enhanced grandfather Isaiah Bradley, when he was actually using illegal Mutant Growth Hormone to fabricate himself superhuman abilities.
Mace's uniform features the S.H.I.E.L.D. logo on the chest and one silver star on each gauntlet. In the comics, Patriot's costume includes both of these features on the same places (with an eagle instead of the S.H.I.E.L.D. logo).
Jeffery Mace is the only known individual to have publically announced that he is an Inhuman, but this was revealed to be a lie.
References
External Links
Ad blocker interference detected!
Wikia is a free-to-use site that makes money from advertising. We have a modified experience for viewers using ad blockers

Wikia is not accessible if you've made further modifications. Remove the custom ad blocker rule(s) and the page will load as expected.