"Simmons is probably smarter, technically. But that's because she likes homework more than life itself."
―Leo Fitz about Jemma Simmons to Donnie Gill
Jemma Simmons is an English born level 5 S.H.I.E.L.D. agent and scientist working as a mole inside HYDRA. A genius bio-chemist, she is one of the youngest and most prominent members of S.H.I.E.L.D.'s research division, along with her inseparable friend and equally brilliant partner, Leo Fitz. She, along with Fitz were recruited to Coulson's Team by Melinda May and worked with them on all of their missions. While on the team, Simmons became friends with teammates Skye and Grant Ward. During the S.H.I.E.L.D. Civil War she became friends with Agent Antoine Triplett while defending the Hub. Simmons was an active participant in hunting for John Garrett and the rest of the Centipede Project. She was shocked and saddened to learn that Ward had been a member of HYDRA all along, and became bitter towards him resulting in several arguments with Fitz. Despite the events surrounding the Battle at Cybertek and Fitz's severe injury, Simmons stayed with the team to help rebuild S.H.I.E.L.D. as Nick Fury requested.
Biography
Edit
Early Life
Edit
"Why did you join S.H.I.E.L.D. in the first place?"
"I was a 17-year-old girl with two Phds and a million questions. S.H.I.E.L.D. had the resources to help me answer them."
―Sunil Bakshi and Jemma Simmons
Jemma Simmons was born on September 11th, 1987 in Ashburton, Devon, England. A 17-year old bio-chem genius with two PhD's, Jemma Simmons started attending the S.H.I.E.L.D. Academy of Science and Technology in 2004, where she met who would become her best friend, the engineering genius Leo Fitz. One of her main reasons for joining was to get answers to millions of questions.[2] Among their instructors were Professor Vaughn[3] and Professor Franklin Hall, who taught chemical kinetics during their second year.[4]
Simmons and Fitz graduated from the academy three years early.[5] Wanting to see more than the inside of a lab, and against the advice of Professor Vaughn, Simmons convinced Fitz to seek out a field assignment.
S.H.I.E.L.D.
Edit
Field Work
Edit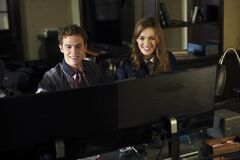 Simmons and Leo Fitz were recruited by Agent Phil Coulson to be the science crew for a new team he was putting together. Stationed on the Bus, the pair have designed specialized equipment and compounds on the fly in various emergency situations.
Their first foray into the field involved the case of Michael Peterson, a man in danger of exploding due to his use of the volatile Centipede Serum. Peterson was saved in part by Simmons' efforts to create a Centipede counter-agent for Peterson.[6]
Simmons first faced danger in the field in Peru, where the team was investigating an 0-8-4. Simmons and the team escaped Peruvian rebels only to face an armed takeover of the Bus. Working with the team, she helped take back the Bus and secure the old HYDRA weapon.[3]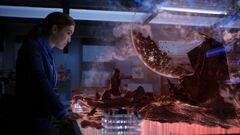 While investigating a mysterious death in Wrigley, Pennsylvania, Simmons was infected with a lethal alien virus passed along from a Chitauri Helmet. After what appeared to be a final failed attempt at a cure, Simmons threw herself from the Bus in flight in order save her team from the virus' effect. Fortunately for Simmons, the cure was actually effective and teammate Grant Ward caught her in mid-flight and parachuted them both to safety.[7]
At the Hub, Simmons assisted Skye with finding out about Fitz and Ward's mission. However, Simmons was discovered by agent Sitwell and tried to lie her way past him. she was then forced to use the Night-Night Gun on him. She then joined May, Skye, and Coulson in extracting Fitz and Ward.[3]Later, she helped the team cleanup the Battle of Greenwich and aided them in their search for the Berserker Staff.
Simmons and Fitz visited StatiCorp after its particle accelerator exploded and scanned the area. Simmons then discovered that the StatiCorp explosion actually ripped a portal between worlds and that the "demon" that the team was investigating was Tobias Ford.[8]
Learning to Assert Herself
Edit
"No. That's an order."
"That's not a good enough reason! I have a duty to you, sir, as my commanding officer, but I also have a duty as a S.H.I.E.L.D. scientist to pursue this, to save lives!"
―Coulson and Simmons arguing about GH.325
Simmons decided that since she couldn't lie well, she would learn to act. When Coulson's Team went after Ian Quinn by tracking the Cybertek Prosthetic Leg he bought, Simmons acted as Coulson's daughter in order to distract the carrier of the package to put tracking dust on him.
Simmons' medical knowledge saved Skye as Simmons ordered her teammates to put her in a Hyperbaric Chamber after she was shot twice in the stomach.[9]
Antoine Triplett arrived with John Garrett in order to take Ian Quinn to the Fridge. While Garrett, Coulson, Grant Ward, and Leo Fitz raided the Guest House to find GH.325 in order to save Skye from her fatal injuries, Simmons and Triplett monitored Skye and got to know each other. Ultimately, Fitz brought one sample of the drug and Simmons used it to heal Skye.[10]
With the only sample of the drug used and the Guest House destroyed, Simmons worked tirelessly to try to find a way to reproduce it. When Coulson ordered her not to share her research with anyone, Simmons yelled at him for not realizing how important this drug was. Eventually, she yielded, but she was determined to reproduce GH.325.
Meanwhile, her feelings toward Fitz began to change as he was enthralled by Lorelei, whose power only affected men. She discussed with Skye how men are flawed.[11]
"At least we still have each other."
"Good, 'cause the last thing I want is for things to change."
"Fitz...It's too late for that."
―Simmons and Leo Fitz
After Deathlok critically injured Felix Blake, Simmons was transferred to the Hub to be a consultant on Deathlok. She was enthusiastic because the Hub had better equipment than the Bus for analyzing Skye's and Phil Coulson's blood to reproduce the drug. Triplett was ordered to be her escort.[12]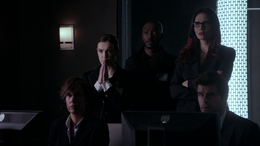 Simmons called
Anne Weaver
for assistance, but she had her own problems:
HYDRA
was taking over the
S.H.I.E.L.D. Academy
. Weaver warned Simmons that the civil war had begun. Simmons found herself locked in a room with Triplett, but he quelled her fears by giving her his pocket knife. When
Victoria Hand
's agents found them, they passed her test of loyalty to
S.H.I.E.L.D.
When Coulson's loyalty was questioned, Simmons argued with Hand until she had his "crimes" listed. Ultimately, Simmons was reunited with the team and Tripett impressed her with his strength and loyalty.
[13]
When the team was forced to leave the Hub and Simmons had to relinquish her badge, she cried. Coulson ordered an evacuation in order to stay ahead of Colonel Glenn Talbot. She vouched for Triplett's loyalty and place on the team. During their trip to Providence, Fitz approached her, and she let him know that things were no longer the same.[14]
When Agent Eric Koenig asked Simmons why she was there during her Lie Detector test, Simmons said she didn't know. She went with Phil Coulson, Antoine Triplett and Leo Fitz to Portland to apprehend Blackout, and learned of Coulson's past with Audrey Nathan. After defeating the Fridge escapee, the splinter team returned to find the Bus and the others gone.[15]
Simmons decided to make pancakes, while Coulson tried to find the others. She found Koenig's body in a closet while Fitz found a message from Skye, "Ward is HYDRA." Simmons gave Koenig's autopsy report proving Grant Ward killed him. Then Maria Hill led Colonel Glenn Talbot to Providence. Simmons debated with Talbot but it took Coulson and Hill to begin the escape. Ultimately, Simmons and the team were reunited in a hotel in Los Angeles.[16]
The next morning, while watching the news, Simmons wondered why Deathlok killed Alejandro Castillo. Coulson and the team went to Palo Alto to infiltrate the Cybertek Corporate Headquarters there to find Deathlok and eventually John Garrett. The team learned that Garrett was in Cuba and went there.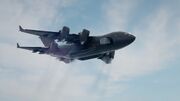 While Simmons was spying on the Centipede Project with Fitz, Grant Ward captured them and took them aboard the Bus. Fitz activated an EMP Joy Buzzer that fatally wounded Garrett, but as the two tried to hide in a Medical Pod, Ward cornered them and ejected them off the Bus into the Atlantic Ocean.[17]
Best Friends Forever
Edit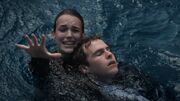 When Simmons awakened, she saw Leo Fitz with a sling over his broken arm, feeling hopeless. He explained that the Medical Pod they were in sank ninety feet and he tried to send a signal but, with S.H.I.E.L.D. dissolved, he doubts that anyone received it. Determined not to die, Simmons created a plan to break the glass without the water pressure crushing them. Fitz gave her the only air device and decided to stay behind as he told her how he truly felt about her. Simmons cried and allowed him to trigger the release, but she did not allow him to die. She swam to the surface with him and was saved by Nick Fury, who received the distress call.
In a Hyperbaric Chamber, Simmons and Fury discussed how to find Phil Coulson and Fitz's condition.
After the battle at Cybertek, Simmons was reunited with the team as Coulson became the Director of S.H.I.E.L.D. and they met Billy Koenig in the Playground. When asked about Fitz, Simmons only stated that he was alive. [18]
Rebuilding the Agency
Edit
Undercover
Edit
"Have you made friends?"
"Oh, sir, you don't need to worry. I mean, it's been a tad lonely, true, but you weren't asking out of concern of my feelings, were you?"
"Undercover is all about the relationships you make. If you're gonna move up in HYDRA, you need to make friends."
―Phil Coulson and Jemma Simmons
A few months after the ordeal, Director Phil Coulson put Simmons on a top-secret assignment in which she was to infiltrate HYDRA at its deepest levels. Moving to a house at 1180 N. Mearne Drive in Crosswell, Delaware, she joined the science division and began working at the HYDRA Laboratories. She slowly caught the attention of prominent HYDRA officer Sunil Bakshi. To see if he could trust her, he sent Simmons onto a freighter harboring the dangerous Donnie Gill. She proved her trustworthiness and remained undercover. Her actions made Bakshi promote her, telling Daniel Whitehall that if something were to happen, they could always brainwash her.[2]
While Simmons was out on her secret assignment, Fitz became withdrawn and unfocused in her absence. His mental downward spiral went so far as to him now speaking to a hallucination of Simmons, believing that she is still there helping him. [19] Coulson neglected to share Fitz's deteriorating condition with Simmons, believing that knowledge of it would jeopardize her otherwise important mission.[2] Mislead, Fitz feels Simmons left him because she does not return his affection. He told Alphonso Mackenzie and Lance Hunter his feelings as they celebrated surviving a mission in Florida.[20]
Weeks later, Simmons had an adjacent desk with her supervisor Kenneth Turgeon. They were ordered by Sunil Bakshi to attend a meeting that Daniel Whitehall was having with his top scientists, including Dr. Lingenfelter. Lingenfelter attempted to duplicate the effects of the Obelisk from skin samples of one of its victims, a waitress, but the experiment at the wedding of Pete and Mariah Leitner did not meet Whitehall's expectations. Whitehall asked Simmons for her expert opinion, to Turgeon's jealousy. Simmons assured him that the Obelisk could be made into a Weapon of Mass Destruction.
Simmons then sent S.H.I.E.L.D. a message via Flex Screen, not knowing that Raina was watching her.
Bobbi Morse, head of security, and Bakshi realized that there was a mole in the facility and searched everyone's desk. As Morse interrogated Simmons, Turgeon was dragged away, as a flex screen was found in his desk.
Later, when Simmons exited the restroom, all eyes were on her; Raina had sent a file transfer blowing her cover. Bakshi sent a security team after her and Simmons ran. When Morse came with her team, Simmons was trapped until Morse used her battle staves to fight the guards. Bobbi Morse was also an undercover S.H.I.E.L.D. agent. The two jumped from the roof where a cloaked Quinjet piloted by Antoine Triplett awaited them.
At the Playground, Leo Fitz greeted Simmons with hesitancy.[21]
Reunion with Fitz
Edit
"If I ever see you again, I'll kill you."
―Jemma Simmons
Personality
Edit
"You're a surprisingly bad liar, Agent Simmons."
"I know, but I'm getting better at it."
―Antoine Triplett and Jemma Simmons
Jemma Simmons is known as the attractive nerd and also a science buff on her profile for S.H.I.E.L.D. She has a normally calm and rational attitude, often relying on what is or isn't scientific fact. She is very forgiving, as seen when she so quickly forgave Skye after she betrayed them with the Rising Tide. She has a deep affection towards Leo Fitz refusing to let him sacrifice his life for her.
Simmons is a terrible liar, proved many times over, prominently the instance in the Hub when she shot Agent Jasper Sitwell with the Night-Night Gun out of panic when he did not believe her fibs.[3] However, Simmons has improved on this flaw during her undercover assignment in HYDRA's science division.[2] Simmons also has a bright outlook on life, most often trying to see the best in any situation, and then trying to make them better.
Fitz-Simmons Designs
Edit
"I'm engineering, she's bio-chem."
―Leo Fitz-- referring to himself and Jemma Simmons
Relationships
Edit
Appearances
Edit
Behind the Scenes
Edit
The relationship between Leo Fitz and Simmons is based on the relationship between Jed Whedon and Maurissa Tancharoen.
Due to her popularity, Jemma Simmons will appear in the mainstream Marvel Comics universe.[22]
References
Edit