"You're a real miracle worker."
Jemma Simmons is an English-born S.H.I.E.L.D. agent and scientist. A genius biochemist, she is one of the youngest and most prominent members of S.H.I.E.L.D.'s research division, along with her inseparable friend and equally brilliant partner, Leo Fitz. She, along with Fitz were recruited to Coulson's Team by Melinda May and worked with them on all of their missions. While on the team, Simmons became friends with teammates Skye and Grant Ward. During the HYDRA Uprising she became friends with Agent Antoine Triplett while defending the Hub. Simmons was an active participant in hunting for John Garrett and the rest of the Centipede Project. She was shocked and saddened to learn that Ward had been a member of HYDRA all along, and became bitter towards him, resulting in several arguments with Fitz. Despite the events surrounding the Battle at Cybertek and Fitz's severe injury, Simmons stayed with the team to help rebuild S.H.I.E.L.D. as Nick Fury requested.
As Coulson began to rebuild S.H.I.E.L.D., she became aware that her presence was impeding Fitz's healing and took an undercover assignment from the Director to infiltrate HYDRA. When Raina broke her cover, she was helped in her escape attempt by fellow spy, Bobbi Morse, with whom she developed a strong friendship with. She aided the team in their search for the Kree City and in other operations. When their base was attacked and occupied by another S.H.I.E.L.D. faction led by Robert Gonzales, she helped Fitz take Nick Fury's Toolbox to Coulson.
Biography
Edit
Early Life
Edit
"Why did you join S.H.I.E.L.D. in the first place?"
"I was a 17-year-old girl with two Phds and a million questions. S.H.I.E.L.D. had the resources to help me answer them."
―Sunil Bakshi and Jemma Simmons
Jemma Simmons was born on Friday, September 11th, 1987 in Ashburton, Devon, England. A 17-year old biochemistry genius with two PhD's, Jemma Simmons started attending the S.H.I.E.L.D. Academy of Science and Technology in 2004, where she met who would become her best friend, the engineering genius Leo Fitz. One of her main reasons for joining was to get answers to millions of questions.[2] Among their instructors were Professor Vaughn[3] and Professor Franklin Hall, who taught chemical kinetics during their second year.[4]
Simmons and Fitz graduated from the academy three years early.[5] Wanting to see more than the inside of a lab, and against the advice of Professor Vaughn, Simmons convinced Fitz to seek out a field assignment.
S.H.I.E.L.D.
Edit
Field Work
Edit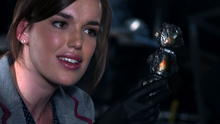 Simmons and Leo Fitz were recruited by Agent Phil Coulson to be the science crew for a new team he was putting together. Stationed on the Bus, the pair have designed specialized equipment and compounds on the fly in various emergency situations.
Their first foray into the field involved the case of Michael Peterson, a man in danger of exploding due to his use of the volatile Centipede Serum. Peterson was saved in part by Simmons' efforts to create a Centipede counter-agent for Peterson.[6]
Simmons first faced danger in the field in Peru, where the team was investigating an 0-8-4. Simmons and the team escaped Peruvian rebels only to face an armed takeover of the Bus. Working with the team, she helped take back the Bus and secure the old HYDRA weapon.[3]
Coulson's team received a message that a S.H.I.E.L.D. lorry transporting cargo had been attacked by a mysterious and invisible enemy. The team investigated and Simmons discovered that a rare element called Gravitonium was the cause of the attack. The team then learned that it was in fact Fitz and Simmons' former mentor, Franklin Hall, who was the cargo and he had been kidnapped by billionaire Ian Quinn. The team were sent in to rescue Hall from Quinn's island home, but Coulson was forced to kill him, despite Fitz and Simmons' pleas, when he threatened to destroy the entire island and everyone on it.
While investigating a mysterious death in Wrigley, Pennsylvania, Simmons was infected with a lethal alien virus passed along from a Chitauri Helmet. After what appeared to be a final failed attempt at a cure, Simmons threw herself from the Bus in flight in order save her team from the virus' effect. Fortunately for Simmons, the cure was actually effective and teammate Grant Ward caught her in mid-flight and parachuted them both to safety.[7]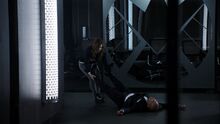 At the Hub, Simmons assisted Skye with finding out about Fitz and Ward's mission. However, Simmons was discovered by agent Sitwell and tried to lie her way past him. she was then forced to use the Night-Night Gun on him. She then joined May, Skye, and Coulson in extracting Fitz and Ward.[8]Later, she helped the team cleanup the Battle of Greenwich and aided them in their search for the Berserker Staff.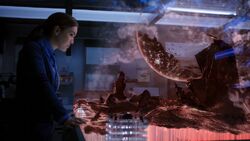 Simmons and Fitz visited StatiCorp after its particle accelerator exploded and scanned the area. Simmons then discovered that the StatiCorp explosion actually ripped a portal between worlds and that the "demon" that the team was investigating was Tobias Ford. They learnt that Ford was trapped between worlds as a ghostly figure and was attacking anyone who got near the girl he loved Hannah Hutchins. Ford attacked the plane and managed to ground it but was ultimately stopped by Melinda May and Hutchins and was allowed to die.[5]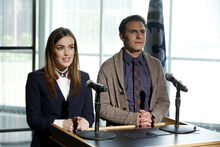 Simmons and Fitz were invited to revisit their old S.H.I.E.L.D. academy when there was an attack on some of the students there. They were greeted by Anne Weaver and asked to give the students a speech about their own experiences working for S.H.I.E.L.D.. During the speech one student named Donnie Gill was frozen in ice and nearly killed in a similar attack. Simmons and Fitz managed to save his life and continued their investigation. They later learned that it was in fact Gill and another student, Seth Dormer, who had arranged the attacks on themselves to draw Fitz to the academy so he could inadvertently help them finish their design for a Freezing Device. The team managed to track down the pair, Dormer was killed by a lightning strike and Gill was arrested.
Learning to Assert Herself
Edit
"No. That's an order."
"That's not a good enough reason! I have a duty to you, sir, as my commanding officer, but I also have a duty as a S.H.I.E.L.D. scientist to pursue this, to save lives!"
―Coulson and Simmons arguing about GH.325
Simmons decided that since she could not lie well, she would learn to act. When Coulson's Team went after Ian Quinn by tracking the Cybertek Prosthetic Leg he bought, Simmons acted as Coulson's daughter in order to distract the carrier of the package to put tracking dust on him.
Simmons' medical knowledge saved Skye as Simmons ordered her teammates to put her in a Hyperbaric Chamber after she was shot twice in the stomach.[9]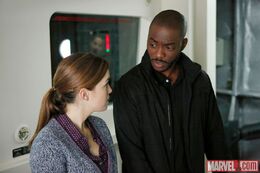 Antoine Triplett arrived with John Garrett in order to take Ian Quinn to the Fridge. While Garrett, Coulson, Grant Ward, and Leo Fitz raided the Guest House to find GH.325 in order to save Skye from her fatal injuries, Simmons and Triplett monitored Skye and got to know each other. Ultimately, Fitz brought one sample of the drug and Simmons used it to heal Skye.[10]
With the only sample of the drug used and the Guest House destroyed, Simmons worked tirelessly to try to find a way to reproduce it. When Coulson ordered her not to share her research with anyone, Simmons yelled at him for not realizing how important this drug was. Eventually, she yielded, but she was determined to reproduce GH.325.
Meanwhile, her feelings toward Fitz began to change as he was enthralled by Lorelei, whose power only affected men. She discussed with Skye how men are flawed.[11]
"At least we still have each other."
"Good, 'cause the last thing I want is for things to change."
"Fitz...It's too late for that."
―Simmons and Leo Fitz
After Deathlok critically injured Felix Blake, Simmons was transferred to the Hub to be a consultant on Deathlok. She was enthusiastic because the Hub had better equipment than the Bus for analyzing Skye's and Phil Coulson's blood to reproduce the drug. Triplett was ordered to be her escort.[12]
Simmons called
Anne Weaver
for assistance, but she had her own problems:
HYDRA
was taking over the
S.H.I.E.L.D. Academy
. Weaver warned Simmons that the civil war had begun. Simmons found herself locked in a room with Triplett, but he quelled her fears by giving her his pocket knife. When
Victoria Hand
's agents found them, they passed her test of loyalty to
S.H.I.E.L.D.
When Coulson's loyalty was questioned, Simmons argued with Hand until she had his "crimes" listed. Ultimately, Simmons was reunited with the team and Tripett impressed her with his strength and loyalty.
[13]
When the team was forced to leave the Hub and Simmons had to relinquish her badge, she cried. Coulson ordered an evacuation in order to stay ahead of Colonel Glenn Talbot. She vouched for Triplett's loyalty and place on the team. During their trip to Providence, Fitz approached her, and she let him know that things were no longer the same.[14]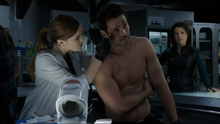 When the team arrived at Providence they were greeted by Agent Eric Koenig who showed them around the base; he also told the team that Nick Fury had indeed been killed during HYDRA's attack on S.H.I.E.L.D. Agent Grant Ward joined the team later badly injured. Simmons performed first aid on his wounds and Ward claimed that the Fridge was overrun by HYDRA and he had killed John Garrett in the fight.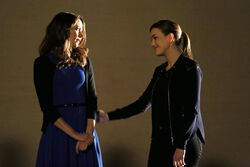 When Agent Eric Koenig asked Simmons why she was there during her Lie Detector test, Simmons said she did not know. She went with Phil Coulson, Antoine Triplett and Leo Fitz to Portland to apprehend Blackout, and learned of Coulson's past with Audrey Nathan. After defeating the Fridge escapee and saving Audrey Nathan, the splinter team returned to find the Bus and the others gone.[15]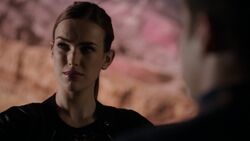 Simmons decided to make pancakes, while Coulson tried to find the others. She found Koenig's body in a closet while Fitz found a message from Skye, "Ward is HYDRA." Simmons gave Koenig's autopsy report proving Grant Ward killed him. Then Maria Hill led Colonel Glenn Talbot to Providence. Simmons debated with Talbot but it took Coulson and Hill to begin the escape. Ultimately, Simmons and the team were reunited in a hotel in Los Angeles.[16]
The next morning, while watching the news, Simmons wondered why Deathlok killed Alejandro Castillo. Coulson and the team went to Palo Alto to infiltrate the Cybertek Corporate Headquarters there to find Deathlok and eventually John Garrett. The team learned that Garrett was in Cuba and went there.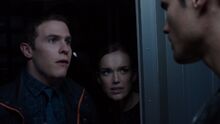 While Simmons was spying on the Centipede Project with Fitz, Grant Ward captured them and took them aboard the Bus. Fitz activated an EMP Joy Buzzer that fatally wounded Garrett, but as the two tried to hide in a Medical Pod, Ward cornered them and ejected them off the Bus into the Atlantic Ocean.[17]
Best Friends Forever
Edit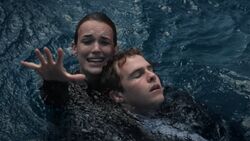 When Simmons awakened, she saw Leo Fitz with a sling over his broken arm, feeling hopeless. He explained that the Medical Pod they were in sank ninety feet and he tried to send a signal but, with S.H.I.E.L.D. dissolved, he doubts that anyone received it. Determined not to die, Simmons created a plan to break the glass without the water pressure crushing them. Fitz gave her the only air device and decided to stay behind as he told her how he truly felt about her. Simmons cried and allowed him to trigger the release, but she did not allow him to die. She swam to the surface with him and was saved by Nick Fury, who received the distress call.
In a Hyperbaric Chamber, Simmons and Fury discussed how to find Phil Coulson and Fitz's condition.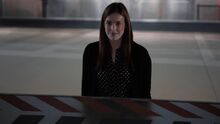 After the battle at Cybertek, Simmons was reunited with the team as Coulson became the Director of S.H.I.E.L.D. and they met Billy Koenig in the Playground. When asked about Fitz, Simmons only stated that he was alive. [18]
Rebuilding the Agency
Edit
Undercover
Edit
"Have you made friends?"
"Oh, sir, you don't need to worry. I mean, it's been a tad lonely, true, but you weren't asking out of concern of my feelings, were you?"
"Undercover is all about the relationships you make. If you're gonna move up in HYDRA, you need to make friends."
―Phil Coulson and Jemma Simmons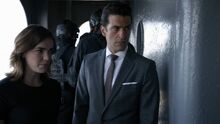 A few months after the ordeal, Director Phil Coulson put Simmons on a top-secret assignment in which she was to infiltrate HYDRA at its deepest levels. Moving to a house at 1180 N. Mearne Drive in Crosswell, Delaware, she joined the science division and began working at the HYDRA Laboratories. She slowly caught the attention of prominent HYDRA officer Sunil Bakshi. To see if he could trust her, he sent Simmons onto a freighter harboring the dangerous Donnie Gill. She proved her trustworthiness and remained undercover. Her actions made Bakshi promote her, telling Daniel Whitehall that if something were to happen, they could always brainwash her.[2]
While Simmons was out on her secret assignment, Fitz became withdrawn and unfocused in her absence. His mental downward spiral went so far as to him now speaking to a hallucination of Simmons, believing that she is still there helping him. [19] Coulson neglected to share Fitz's deteriorating condition with Simmons, believing that knowledge of it would jeopardize her otherwise important mission.[2] Mislead, Fitz feels Simmons left him because she does not return his affection. He told Alphonso Mackenzie and Lance Hunter his feelings as they celebrated surviving a mission in Florida.[20]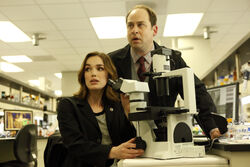 Weeks later, Simmons had an adjacent desk with her supervisor Kenneth Turgeon. They were ordered by Sunil Bakshi to attend a meeting that Daniel Whitehall was having with his top scientists, including Dr. Lingenfelter. Lingenfelter attempted to duplicate the effects of the Obelisk from skin samples of one of its victims, a waitress, but the experiment at the wedding of Pete and Mariah Leitner did not meet Whitehall's expectations. Whitehall asked Simmons for her expert opinion, to Turgeon's jealousy. Simmons assured him that the Obelisk could be made into a Weapon of Mass Destruction.
Simmons then sent S.H.I.E.L.D. a message via Flex Screen, not knowing that Raina was watching her.
Bobbi Morse, head of security, and Bakshi realized that there was a mole in the facility and searched everyone's desk. As Morse interrogated Simmons, Turgeon was dragged away, as a flex screen was found in his desk.
Later, when Simmons exited the restroom, all eyes were on her; Raina had sent a file transfer blowing her cover. Bakshi sent a security team after her and Simmons ran. When Morse came with her team, Simmons was trapped until Morse used her battle staves to fight the guards. Bobbi Morse was also an undercover S.H.I.E.L.D. agent. The two jumped from the roof where a cloaked Quinjet piloted by Antoine Triplett awaited them.
At the Playground, Leo Fitz greeted Simmons with hesitancy.[21]
Reunion with Fitz
Edit
"I'm not trying to treat you any differently than-"
"I know, but I am different and I'm trying not to be, but I am!"
―Jemma Simmons and Leo Fitz
Simmons noted that Grant Ward had no way of knowing the time, but every morning at 5:30 he awakened and exercised. Skye asked her how she knew that; Simmons was stationed to watch Ward before she went undercover. Their conversation was interrupted by Melinda May alerting them that the United Nations was attacked.
When Simmons saw that those hit during HYDRA's attack on the United Nations Headquarters were disintegrated, she helped identify Toshiro Mori from the hard drive that was obtained from HYDRA Laboratories. Coulson asked her to learn more from the hard drive.
Going to Fitz for help in accessing the hard drive, the two started arguing about why Simmons left. She could not handle the conversation and left Fitz to his work. Alphonso Mackenzie assisted Fitz, and when Simmons returned, they told her that the Splinter Bombs were created by Vincent Beckers.
When Ward, being transferred to federal custody, went by her, Simmons promised to kill him if they ever met again.
Simmons went to the garage to thank Mackenzie for his help and his friendship with Fitz. Mackenzie told her that Fitz was better without her; she tearfully agreed.[22]
Helping Coulson's Problems
Edit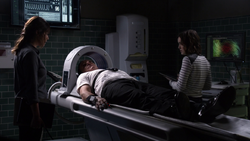 Simmons berated Alphonso Mackenzie for his words of bravado when he and Leo Fitz brought the body of Janice Robbins to her so she could perform an autopsy. She learned that the knife cuts on her did not kill her but the trauma and pain did.
She accompanied Skye and Phil Coulson to the secret room holding the Theta Brain-Wave Frequency Machine; Coulson wanted to remember the past pertaining to Project T.A.H.I.T.I. and his and Robbins' connection to it. Simmons reminded Coulson that, after six months of research, she and Fitz still did not fully understand the machine. Coulson proceeded nonetheless and Simmons was stationed to watch his vitals as he recalled the past. When Coulson could no longer handle the experience, Simmons ordered the session to end.
Afterwards, Simmons wondered where Skye went and asked Alphonso Mackenzie and Fitz who were playing video games. Simmons saw on the video monitor to Vault D Skye waving to the camera; Coulson locked her inside with the Inertial Confinement Laser Barrier and left. Simmons freed Skye, who went to chase the Director.
Later, Simmons was among the assembled senior agents when Director Coulson gave the new mission: find the city that matched the City Blueprints before HYDRA can.[23]
Familiar Face
Edit
"Did you hear what I said? Peggy Carter, founder, happens to be British, held this in her hand."
―Jemma Simmons
As Bobbi Morse interrogated Sunil Bakshi, Simmons showed her admiration for her being that close to him. Simmons suggested to Melinda May that they procure old Strategic Scientific Reserve files to find what connection Daniel Whitehall had to the Red Skull, causing May to open Vault B. Simmons loved that she was touching the same files as her hero and S.H.I.E.L.D. founder Peggy Carter. When she saw the picture of Werner Reinhardt, Simmons realized that he was Whitehall; however, her research could not find the secret of Reinhardt's youth.[24]
Science Team Leader
Edit
Simmons inspected Antoine Triplett's wounds when he returned to the Playground from Australia and told him that she was thankful that he survived his mission. Before Triplett could tell her about Calvin Zabo, Skye's father, Skye interrupted and the three discussed him together.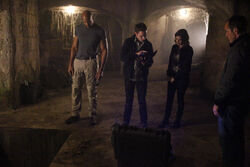 Simmons was chosen to accompany Phil Coulson to Puerto Rico to destroy the city that matched the City Blueprints. While preparing for the trip, she shared with Bobbi Morse her feelings about Leo Fitz, the coma he experienced, and how she was not ready for a relationship with him greater than friendship. Upon arrival, the silence between the two scientists caused Mack to leave them alone to talk privately. Tearfully, Simmons attempted to explain to Fitz why she left him to go undercover months ago; Fitz interrupted her to say that he could not work with her. She misinterpreted his statement and asked if he was quitting S.H.I.E.L.D.; Fitz felt it best that he work for her, making her leader of the science team.
Inside Castillo San Cristóbal, Simmons and Fitz prepared the D.W.A.R.F.s to test the structural integrity of the city so when they destroyed it, it would not affect the residents of San Juan. When the drones lost power, Mackenzie was sent into the hundred foot shaft to investigate. Hearing his screams, he was hoisted up; Mackenzie then slapped Coulson across the room. During the battle, Simmons was hit and began to fall into the hole. Coulson, ordering Fitz to shoot the super-strong mechanic, grabbed Simmons and struggled to stop her fall. As Mackenzie approached Simmons and Coulson, Morse used her battle staves to electrocute him; stunned, he fell into the hundred foot hole just as Coulson saved Simmons.[25]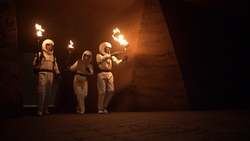 Simmons, along with Fitz and Antoine Triplett, in containment suits, then went down to the Kree City to plant explosives and to see if Mackenzie survived. They witnessed Triplett return to the city to defuse the bombs when he learned that Skye and Phil Coulson entered. An earthquake occurred as she waited with Fitz and they hugged in panic as the island shook. [26]
Changing Opinions
Edit
Simmons was in charge of a team of scientists mapping the Kree City. Her teams planned to document, then flood, the area so neither HYDRA nor any one else could harness it. When her team found the remains of Antoine Triplett, she shouted for them to handle it carefully. However, two scientists were dragged off and killed by a transformed Raina. Simmons shot at Raina and managed to hit her several times; however, Raina still escaped up a lift. Simmons reported this to Phil Coulson who allowed her to return to the Playground, since Simmons wanted to check on Skye.
Back at the Playground, Simmons told Skye who was in quarantine about her encounter with Raina. She showed her that Raina's genetic makeup had changed and said that aliens should be neutralised to prevent an epidemic. When Skye pointed out the harshness of her stated conclusion, Simmons told Skye that everything was her fault, including the death of Triplett, because of her interest in superpowers. She decided that instead of her dedicating half of her life trying to understand alien technology and biology, she should have been focused on trying to exterminate it.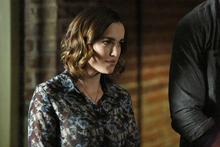 Skye tried to refute her claim pointing out that she had helped plenty people with powers; Simmons pointed out the hostile ones like Donnie Gill, Chan Ho Yin, and Carl Creel. Simmons even noted that the Avengers themselves would not be necessary if they did not unleash an alien invasion on the world. As Melinda May and Coulson wondered what to do about Raina, Simmons voiced that killing Raina would not be the worst scenario.
Simmons returned to Skye's cell when Leo Fitz brought her blood test results; the test said that Skye was normal. Unknown to Simmons, Fitz gave false results to quiet Simmons' possible fear of her until everyone would be more receptive of her change.
Simmons and the other senior agents then sat remembering Triplett with Skye pointing out they would laugh a lot less with him gone.[27]
Leo Fitz's Lie
Edit
Simmons later came across the real results of Skye's blood test on Fitz's computer, and noticed how extraordinary they were. Fitz told her that the data was simply a simulation he had done. She was amazed at the accuracy, but believed him.
After Skye's powers began firing out of control, Simmons realized Fitz had lied to her about the blood test results. She was deeply hurt, and told him so. She told him that the first time she had ever lied to him was when she went undercover for HYDRA.[28]
Doctor Andrew Garner came aboard the Bus to work with Skye, and Fitz and Simmons briefly discussed May and Garner. For a moment, their relationship seemed to improve, but Simmons soon began ignoring Fitz again.[29]
Simmons made it quite clear that she intended to help suppress Skye's powers instead of harnessing them, as Fitz wanted to do. She constructed a pair of gloves intended to absorb the shock of Skye's powers, therefore harming the latter less when she redirected them inside. She refused to specify when Fitz asked her what was in the case that she had taken to Coulson, because the gloves were the content.[30]
S.H.I.E.L.D. vs S.H.I.E.L.D.
Edit
Tricking Morse
Edit
Simmons was alone during the blackout in the Playground until Bobbi Morse found her in the locker area. Simmons knew of Morse's true loyalty, and was therefore scared at first. She was able to calm herself, and act as though she was oblivious to the true unfolding events. She managed to stall Morse, tricking her into holding two small devices that shocked and rendered her unconscious.
When S.H.I.E.L.D. agents loyal to Robert Gonzales invaded the Playground, Simmons and Leo Fitz sat side by side on the floor, watching the events around them, unable to do anything. Simmons knew Fitz was scared, so she rested her hand on top of his, and he returned the gesture. Anne Weaver asked Simmons for her medical expertise on Alphonso Mackenzie; she first looked at Fitz and waited for his approval before going to attend to Mack.[31]
The Switch
Edit
Simmons and Fitz discussed the Toolbox before being confronted by Robert Gonzales and Bobbi Morse. Gonzales attempted to exchange pleasantries, but Simmons rebuffed him. Gonzales asked Leo Fitz to open the Toolbox, and Simmons retaliated with asking what would happen to him if he refused. When Morse assured them that Fitz would be free to go, he left to pack his bags, leaving Simmons.
Simmons and Morse talked while Fitz was packing, and Morse seemingly convinced Simmons to stay and help to open the Toolbox. Instead, Simmons replicated the box in order to smuggle it out of the Playground with Fitz. When Fitz learned what she was doing, he covered her actions and convinced Alphonso Mackenzie and Morse that Simmons was in earnest.
She later packed Fitz's favorite sandwich in his bag, and helped him get the backpack on. She watched with Morse and Mackenzie as Fitz left the base.[32]
Discoveries
Edit
When Melinda May returned to the Playground, Simmons greeted her warmly. May asked her to assist her in recent revelations that Phil Coulson was accused of being deceptive. May told Simmons that Coulson asked her to work on upgrades to Deathlok without her knowledge; they decided to learn what Theta Protocol was.
Simmons learned that Coulson was spending a lot of money and was having clandestine meetings with Andrew Garner. Alphonso Mackenzie theorized that Coulson was making a super-powered team without anyone's knowledge. May ordered Simmons to open the Toolbox, but Simmons hesitated, not wanting to reveal that she had duplicated it and smuggled the real one out of the Playground with Leo Fitz. However, she told May that she would do her best.[33]
Personality
Edit
"You're a surprisingly bad liar, Agent Simmons."
"I know, but I'm getting better at it."
―Antoine Triplett and Jemma Simmons
Jemma Simmons is known as the attractive nerd and also a science buff on her profile for S.H.I.E.L.D. She has a normally calm and rational attitude, often relying on what is or isn't scientific fact. She is very forgiving, as seen when she so quickly forgave Skye after she betrayed them with the Rising Tide.
She has a deep affection towards Leo Fitz, refusing to let him sacrifice his life for her. Recently, she has found being around Fitz hard because of the memories she has of the man he was before his brain was damaged.
Simmons was a terrible liar, proved many times over, prominently the instance in the Hub when she shot Agent Jasper Sitwell with the Night-Night Gun out of panic when he did not believe her lies.[8] However, Simmons has improved on this flaw during her undercover assignment in HYDRA's science division.[2] Simmons also has a bright outlook on life, most often trying to see the best in any situation, and then trying to make them better.
The death of Antoine Triplett drastically changed Simmons's views of superpowers and alien artifacts. She thought that the world was a better place without anyone with powers, to the point in almost saying that killing Raina, since she had powers, was the best option for the team. She viewed Skye as being equal to Hulk in terms of destructive capability and lack of control; Simmons hoped to find a way to remove her powers permanently, or at least supress them through sedatives. Her change of opinions was so surprising that Fitz himself said that her change in personality is almost scary. This change also brought out a darker side of Simmons' personality as she intended to kill Grant Ward with a Splinter Bomb after all of his betrayals and while she failed due to Sunil Bakshi's interference, she calmly told them that he didn't make it, not revealing his death was caused by her murder attempt.
Abilities
Edit
"You're a real miracle worker."
Equipment
Edit
Smith & Wesson M&P: The Smith & Wesson M&P pistol is the standard sidearm carried by S.H.I.E.L.D. agents, and, as such, Simmons was issued with one of these to protect herself when examining the remains of the Kree City under Puerto Rico. She used it to shoot at Raina, but she managed to withstand the bullets.
SIG Sauer P226: Simmons carried one of these guns during her undercover assignment within HYDRA, and grabbed it when she mistook Phil Coulson for an intruder in her apartment.
Night-Night Pistol: Jemma Simmons helped Leo Fitz on the design of the original Night-Night Gun, by creating the dendrotoxin rounds used as ammunition, and began to carry one of the pistols in her purse. She accidentally used it to shoot Jasper Sitwell when she was in a restricted area of the Hub, and then again during the mission in a train through Italy, shooting at her teammates as she regained consciousness from being affected by a Dendrotoxin Grenade.
Other Equipment
Edit
Fitz-Simmons Designs
Edit
"I'm engineering, she's bio-chem."
―Leo Fitz referring to himself and Jemma Simmons
Relationships
Edit
Appearances
Edit
Appearances for Jemma Simmons
Simmons had a one night stand with a guy who went up to her and Skye during a mission at the S.H.I.E.L.D. Academy, and their relationship never went into anything more because he was a bit boring.[34]
During her years at the Academy, Simmons did not exactly have boyfriends because she never found anyone as interesting other than Fitz, to whom she refers as being "the only thing interesting in this place".
Behind the Scenes
Edit
References
Edit
External Links
Edit