A list of trivia related to Jessica Jones.
References to the Marvel Cinematic Universe
Movies
Netflix series
References to Marvel Comics
References to Disney
In "AKA WWJD?," Kilgrave uses his power to have police officers leave their posts. He says "We can go about our business, move along. Move along." This is an almost direct quote from when Obi-Wan Kenobi uses his Jedi mind trick in Star Wars: A New Hope.  Jessica then refers to Kilgrave as Obi-Wan Kenobi.
References to Brian Michael Bendis
Casting Decisions
Filming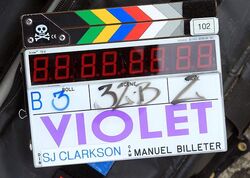 Filming began in New York City under the production name "Violet" on February 4, 2015.
Episode Titles
Ad blocker interference detected!
Wikia is a free-to-use site that makes money from advertising. We have a modified experience for viewers using ad blockers

Wikia is not accessible if you've made further modifications. Remove the custom ad blocker rule(s) and the page will load as expected.