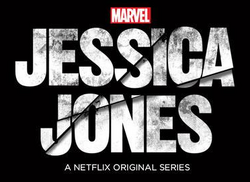 A list of trivia related to Jessica Jones.
References to the Marvel Cinematic Universe
Movies
Netflix series
References to Marvel Comics
Characters from Marvel Comics adapted into the show as main cast during its first season are Jessica Jones, Luke Cage, Kilgrave, Trish Walker, Jeri Hogarth, Malcolm Ducasse and Will Simpson.
Other characters derived from the comics are Reva Connors, Oscar Clemons, Dorothy Walker, Len Sirkes, Brian Jones, Alisa Jones and Phillip Jones.
Season 2 adds comics characters Whizzer, Maynard Tiboldt, and Karl Malus.
Multiple scenes are based on similar scenes in the original Alias comics, such as Jones throwing a man through the door of her office, working on cases while on the toilet, being interrogated by a suspicious detective, bragging about being bulletproof to indimidate an opponent, finding a dead man on her own bed, or Luke Cage advising her to find a new job if the current one did not make her feel good.
Jessica Jones has an Egon Schiele poster in her appartment, like in the original series.
The comic that the Patsy Walker Fan asks for Trish Walker to autograph, has its cover based on Patsy Walker Vol 1 #26.
The country of Costa Verde is mentioned on the New York Bulletin.
Despite not appearing, Angela del Toro is mentioned by Jones as a fellow private investigator living in New York City
Luke Cage utters his catchphrase from the comics, "Sweet Christmas", at least twice.
The costume that Trish Walker shows to Jessica Jones is based in the costume that Jones used during her tenure as the costumed superhero Jewel.
Jessica Jones drinks Winston Supreme Canadian Whiskey, a reference to the real-world Windsor Supreme Canadian blended whiskey, and an homage to the cover of the Iron Man's story "Demon in a Bottle".
Jeri Hogarth sends Hope Shlottman and Kilgrave's aborted child to Hammond Labs to be analyzed in search of metahuman powers.
Season 2 alludes to the origins of Trish's superhero alter ego Hellcat, by giving her cat-like reflexes, after an incomplete procedure by Dr. Karl Malus.
References to Disney
In "AKA WWJD?," Kilgrave uses his power to have police officers leave their posts. He says "We can go about our business, move along. Move along." This is an almost direct quote from when Obi-Wan Kenobi uses his Jedi mind trick in Star Wars: A New Hope.  Jessica then refers to Kilgrave as Obi-Wan Kenobi.
References to Brian Michael Bendis
Casting Decisions
Filming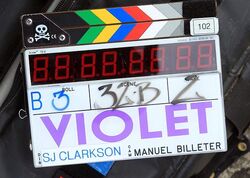 Filming began in New York City under the production name "Violet" on February 4, 2015.
Episode Titles