Katherine Shane was an undercover weapons systems S.H.I.E.L.D. operative.
Biography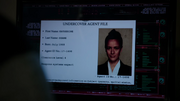 After joining S.H.I.E.L.D. and during her time as an agent, Katherine Shane worked in a few operations partnered with Agent Phil Coulson, mostly in the 1990s, who described her as a smart resourceful agent with a soft spot for François Truffaut movies.
After knowing that the woman who left her at the orphanage was a S.H.I.E.L.D. agent, Skye started investigating the identity of her mother within the database of agents active in the date she was handed over.
Skye used parameters such as age and marital status to narrow the search, and Katherine Shane was one of her most likely results.[1]
Relationships
Allies
References
Ad blocker interference detected!
Wikia is a free-to-use site that makes money from advertising. We have a modified experience for viewers using ad blockers

Wikia is not accessible if you've made further modifications. Remove the custom ad blocker rule(s) and the page will load as expected.