The Kree Orb was a beacon created by the Kree to broadcast an emergency signal to Kree Reapers orbiting the Solar System. The artifact was designed as a last resort to call for reinforcements should their Inhuman creations rebel against them.
History
Stolen By Alveus
When the powerful Inhuman, Alveus, led an insurrection against the Kree, he stole from them the Kree Orb.[1]
Stolen by James
During his stay at Afterlife, JT James stole the Kree Orb alongside other objects. Even though he was banished from Afterlife by Jiaying, he somehow managed to keep the artifact.[1] And there was another artifact connected to it that activated the beacon,[2] as he had buried it beneath his house.[3]
Stolen by S.H.I.E.L.D.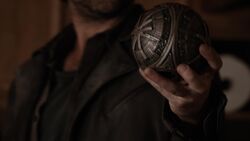 Daisy Johnson and Lincoln Campbell offered James a Terrigen Crystal in exchange for whatever he had stolen from Afterlife. James agreed and showed the pair the Kree Orb. When she asked him what it does, he replied that if he knew that, he would have powers instead of using firearms. However, he knew that it was stolen from the Kree by Alveus. When they agreed to exchange the two objects, Campbell tricked him and snatched the Orb without handing over the Terrigen Crystal, as he shared Jiaying's opinion that not everyone deserves powers.[1]
Back in Hive's Possession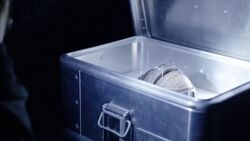 During the Hijacking and Retaking of Zephyr One, Hive swayed Daisy Johnson and gave her orders to steal from S.H.I.E.L.D. the Orb. After the Secret Warriors returned to the Playground, Johnson framed Lincoln Campbell to be under Hive's control by putting the Orb in his locker. Alphonso Mackenzie found it and gave it to Phil Coulson, who stopped Campbell. Johnson's plan worked and she escaped the Playground with the Orb.[4]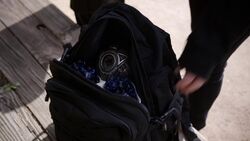 Johnson reunited with Hive and brought him the Orb. After the two turned JT James into an Inhuman, Hive swayed him. James revealed that the device that connected to the Orb was buried beneath his house. Johnson used her powers to uncover it.[3]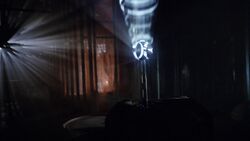 In Union City, Hive and Holden Radcliffe tried to replicate the same experiments the Kree Reapers had done to Hive to turn him into an Inhuman. After they failed, Radcliffee told him he needed Kree blood to success. Hive connected the Orb to its device and activated it, calling the Kree Reapers. As a team of S.H.I.E.L.D. agents led by Mackenzie entered the facility the Orb was in, they saw the Orb in action. The Kree Reapers Satellite crashed directly at the facility, destroying the Orb.[2]
Appearances
In chronological order:
References
External Links