LT Koenig is a veteran S.H.I.E.L.D. agent and the elder sister of Eric, Billy, Sam and Thurston Koenig.
Biography
Early Life
LT was born with four younger brothers, Eric,Sam, Billy and Thurston who she picked on. She eventually joined S.H.I.E.L.D. and encouraged her siblings to do so and helped them get into the organisation except for Thurston, who declined.[1]
Operation Hot Potato
In a attempt to get rid of the Darkhold, Phil Coulson entrusted the book to the Koenigs to dispose of. After receiving the book from Sam Koenig, she then passed it onto Billy Koenig who hid it in the S.H.I.E.L.D vault known as the Labyrinth.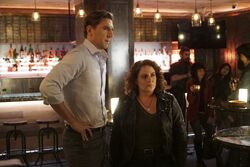 A few days later, while she was listening to her brother, Thurston's concert, she was approached by Phil Coulson due to her brother, Billy being kidnapped. She initially attacked Agent Davis but apologized when she realized they were with S.H.I.E.L.D. As the Koenigs reunited on the Zephyr One, they argued about S.H.I.E.L.D. activities during which their brother Eric died before engaging in a group hug as a sign of reconciliation, where LT punched Billy for letting his guard down. LT then revealed where Billy hid the book and took the team to the Labyrinth.
While at the Labyrinth, the team was attacked by Watchdogs led by Tucker Shockley with Billy as their hostage. This lead into a firefight where she managed to save her brother. Unfortunately, Holden Radcliffe managed to get the Darkhold and ran away. LT returned aboard the Zephyr One, where she made fun of Davis for believing that the Koenigs brothers were Life-Model Decoys. She then left the team with her brothers.[1]
Personality
LT Koenig is a very lively person. Despite her short size, she does not let anyone step on her feet and does not hesitate to fiercely defend herself. Being the one who brought the other Koenigs to S.H.I.E.L.D., she is keen on making sure that they are always on their guards. She also heavily criticizes her brother Thurston who blames his siblings for taking part into S.H.I.E.L.D. activities, stating that he is not particularly doing good on his own. In spite of this trend to pick on her brothers, LT deeply cares for them and is ready to take risks when one of them is in danger. She is also very dedicated to the S.H.I.E.L.D. cause, which his why Phil Coulson frequently asks for her assistance along with her brothers'.[1]
Abilities
Equipment
Relationships
Family
Allies
Enemies
Trivia
References
External Links