Laufey was the king of the Frost Giants of Jotunheim, and the biological father of Loki.
Biography
Edit
Laufey was the leader of the Frost Giants. He led his army against the Asgardians and began a war. The final battle of the war took place on Jotunheim. As the Asgardians left the battle, Odin entered a temple to steal the Casket of Ancient Winters. He also found a child who was Laufey's son, left there to die, so he took him as his own.[1]
Attack on Jotunheim
Edit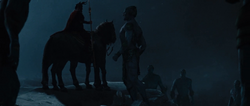 Years later, Thor, Loki, Sif and the Warriors Three went to Jotunheim to look for an explanation for the Frost Giants' intrusion that they suffered. However, they received an unwelcomed visit and Laufey commanded his Frost Giants to attack them. After a long battle, Odin arrived on Sleipnir and left with his fellow Asgardians.[1]
Reunited with His Son
Edit
Later, Loki paid a visit to him in Jotunheim, hinting that he was the one who allowed the Frost Giants into Asgard in the first place. He offered a deal with Laufey, in which he told Laufey to go to Asgard to kill Odin. That way, Loki would be able to take the throne.[1]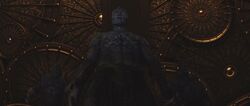 Loki then led Laufey to Odin, but Loki stayed behind. Laufey made his way to the unconscious Odin, and was ready to kill him. In a twist of fate, Loki betrayed and killed Laufey, by using Gungnir's energy beam to disintegrate him instantly. This act made him look like a hero in front of his adoptive mother as part of his plan to completely destroy Jotunheim and the Frost Giant race as well as usurp the throne of Asgard.[1]
Powers and Abilities
Edit
Superhuman Strength:
Superhuman Durability:
Ice Manipulation:
Abilities
Edit
Expert Combatant:
Expert Tactician:
Relationships
Edit
Loki - Biological Son and Killer
In the comics, Laufey was killed in battle by Odin.
In Norse mythology, Laufey is actually Loki's mother.
References
Edit
External Links
Edit