Marvel's Luke Cage Netflix Trailer
Marvel's Luke Cage, or simply Luke Cage, is a television series that stars the superhero character of the same name.
The first season premiered on September 30, 2016.
On December 4, 2016, the series was officially renewed for a second season.[1]
Season Synopses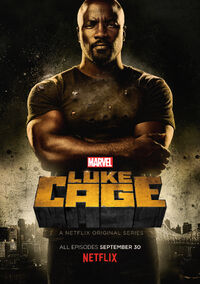 After a sabotaged experiment leaves him with super strength and unbreakable skin, Luke Cage becomes a fugitive trying to rebuild his life in modern day Harlem, New York City. But he is soon pulled out of the shadows and must fight a battle for the heart of his city--forcing him to confront a past he had tried to bury.[2]
To be announced.
Cast
Starring Cast
Recurring Cast
Behind the Scenes
On November 7, 2013, Marvel Studios announced a joint project with Netflix that would bring a 13-episode Luke Cage series to television. The series will be set in the Marvel Cinematic Universe, will tie into series featuring Daredevil, Iron Fist and Jessica Jones, and will culminate in a Defenders series.[4]
On March 30, 2015, Netflix & Marvel Television announced that Cheo Hodari Coker will serve as executive producer and showrunner of the anticipated series, "Marvel's Luke Cage." Coker is writing the first two episodes of the series that will premiere in 2016.[5]
In an interview with the Los Angeles Times, Cheo Hodari Coker and Mike Colter announced that the series would feature onscreen performances from music artists such as Charles Bradley, Faith Evans, Jidenna, Method Man, Raphael Saadiq and The Delfonics.[6]
Videos
Season One
Title Sequence
Trailers
Season Two
See Also
References
External Links