MacDonald Gargan is a professional criminal and one of Adrian Toomes' potential buyers. In the wake of an encounter with Spider-Man, Gargan vowed revenge against the wall crawler, seeking out new allies to help him kill Spider-Man.
Biography
Buying Weapons
Deal with Aaron Davis
To be added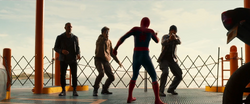 Mac Gargan met Herman Schultz on the Staten Island Ferry to purchase alien technology. He was unknowingly scanned by the Spider-Drone which relayed information to Spider-Man about Gargan's history. When Spider-Man attacked, Gargan put up a fight, but was knocked off the edge of the ferry by Spider-Man. Despite holding on for dear life, Gargan was later knocked off the ferry by a car that lurched forwards into him, plunging into the water. He was recovered from the water, heavily injured, and arrested by the FBI who had set up a sting operation to catch the black market dealings occurring around the city.[1]
Revenge on Spider-Man
After being apprehended by Spider-Man, Gargan was taken to prison. Gargan approached Adrian Toomes who was recently imprisoned reassuring Tomes that the result of their fight with Spider-Man wasn't his fault. Gargan then informed Toomes that his has some friends on the outside who have come across Spider-Man and want revenge on him and that he heard Toomes knew the identity of Spider-Man. Toomes lied to Gargan saying he didn't know his identity, stating that Spider-Man would be dead if he did.[2]
Personality
Gargan is a sadistic and dangerous criminal, being convicted with of multiple homicides. He is shown to hold a grudge, instantly plotting to kill Spider-Man for his involvement in his imprisonment.
Powers and Abilities
To be added
Equipment
To be added
Relationships
Allies
Enemies
Trivia
In the comics, Mac Gargan was a private investigator hired by J.J. Jameson to learn how Peter Parker managed to get such sensational photos of Spider-Man. He later agreed to become the subject in an experiment which granted him superhuman powers similar to Spider-Man, although it also drove him insane, and brought to became the criminal known as Scorpion.
Gargan has a tattoo of a scorpion on his neck, referencing his comic book counterpart.
In the mid credits scene of Spider-Man: Homecoming, Gargan told Vulture that he knew people on the outside that would love to get their revenge against Spider-Man, this could be a possible reference towards the Sinister Six, a group of villains that team up to take down Spider-Man, which Vulture and Scorpion are both apart of.
References
External Links