Malekith the Accursed
Comments

9
1,200pages on
this wiki
"Thor, your bravery will not ease your pain. Your family, your world, will be extinguished."
―Malekith the Accursed
 
Malekith the Accursed is the cruel leader of the Dark Elves, a race of beings said to be older than the universe itself. Born into darkness, Malekith led his people in a war against the Asgardians, but they were thought to have been destroyed thousands of years ago. Malekith survived, however, and now seeks to transform the universe, plunging it back into eternal darkness.
Biography
Edit
Malekith's war
Edit
"Long before the birth of light there was darkness, and from that darkness came the Dark Elves. Millennia ago the most ruthless of their kind, Malekith, sought to transform our universe back into one of eternal night. Such evil was blossomed through the power of the Aether, an ancient force of infinite destruction."
―Odin
Born into darkness, Malekith was the cruel Dark Elf wizard and sorcerer. Thousands of years ago, he led his people in a war against the Asgardians, the protectors of the universe. Hellbent on plunging the world into darkness, he needed to harness the power of the 'Aether', an "ancient force of infinite destruction". Led by Bor, the Asgardians managed to stop Malekith, who sacrificed the majority of his people, including his wife an son, sticking himself and a few survivors into hibernation.[1]
Thousands of years later, the vengeful Malekith and his remaining army awoke, and started searching for the Aether. They found it on Earth, where the Aether found a host in the body of Jane Foster. After finding out that Jane was on Asgard, Malekith sent his lieutenant Algrim into the city under the guise of a prisoner. After Algrim transformed into the super strong warrior and freed the inmates, they went to the palace room where they found Queen Frigga and Jane. As Frigga fought off Malekith, Algrim eventually arrived and restrained her while he went to grab Jane, only to discover that she's an illusion. Realizing that Frigga would not talk, Algrim stabbed her in the back. Thor, witnessing this, angrily struck Malekith's face with lighting, leaving a permanent burn on the right side of his face and causing him to retreat.[1]
Battle on Svartalfheim
Edit
Malekith and his forces, having retreated to their home, Svartalfheim, were confronted by Thor and Loki. They had brought Jane Foster with them and prepared for battle. Malekith was surprised when Loki suddenly betrayed his brother by seemingly cutting off his hand and surrendering Jane to his forces. Loki then told Malekith that all he wanted was a seat from where he could watch Asgard burn. Algrim recognized Loki as a fellow prisoner on Asgard and confirmed this to his superior. As the Dark Elf extracted the Aether from Jane, it was revealed that Loki cutting off his brother's hand was actually an illusion. Summoning his powers, Thor seemingly destroyed the Aether while Loki protected Jane, only for the Aether to reform itself. Malekith explained that it was too powerful to be destroyed and absorbed it, leaving his Dark Elves and Algrim to deal with his two Asgardian opponents.
Attack on Migard 
Edit
Arriving on Migard, Malekith and his army attacked Earth only to be confronted by Thor. With the Aether enhancing his power and abilities, Malekith battled Thor across the realms. Their strength was equal, no  one could overpower the other. Eventually, the two get teleported away from each other and Malkeith prepared to unleashed  the Aether, only for Thor using devices made by Jane Foster and Erik Selvig to teleport him to Svartalfheim at the same place where his ship was crashing down, seemingly killing him.
Malekith the Accursed seems to be one of the most powerful beings in the nine Realms but is only able to match Thor with the power of the Aether, if not slightly surpass him. Malekith possesses various superhuman attributes, some of which are common to his race, the Dark Elves.
Superhuman Strength: Malekith, like all Dark Elves, possesses superhuman strength. Ordinarily, Malekith possesses sufficient strength to overpower weaker beings without supplementing his strength with his other powers. However, while using the Aether, he is able to increase his strength to the point where he can match Thor blow for blow, even with Thor having Mjølnir.
Superhuman Speed: Malekith can possibly run and move at speeds that are beyond the physical limits of even the finest human athlete.
Superhuman Stamina: Malekith's musculature produces considerably less fatigue toxins during physical activity than the musculature of an ordinary human. He can physically exert himself at peak capacity for up to 24 hours before the build up of fatigue toxins in his blood begins to impair him.
Superhuman Durability: Malekith's body is tougher and much more resistant to physical injury than the body of a human. Malekith can withstand powerful impact forces, exposure to temperature and pressure extremes, falls from great heights, and powerful energy blasts without being injured.
Superhuman Agility: Malekith's agility, balance, and bodily coordination are enhanced to levels that are beyond the natural physical limits of the finest human athlete.
Superhuman Reflexes: Malekith's reflexes are similarly enhanced and are superior to those of the finest human athlete.
Extended Longevity: Malekith, like all Dark Elves, possesses a greatly extended lifespan and ages at a much slower pace than humans. He is also immune to the effects of all known Earthly diseases and infections.
Regenerative Healing Factor: In spite his his body's increased durability, it is possible to injure him. However, Malekith's metabolism enables him to repair damaged bodily tissues much faster and more extensively than a human is capable of. The limits of Malekith's natural healing abilities aren't known, but it is believed that he isn't able to regenerate missing limbs or organs without magical assistance.
Magical Energy Manipulation: Malekith can manipulate great amounts of mystical energy for a number of purposes. Malekith has been known to often use his mystical powers to alter his shape and appearance. He can even use this ability to transform himself into a mist-like substance, allowing him to fly through the air over great distances. He is also capable of using this same energy to teleport himself across great distances, including between dimensional barriers. Malekith can also generate powerful blasts of concussive energy for destructive purposes. It is also believed that Malekith can use this mystical energy to increase most, if not all, of his superhuman physical attributes temporarily.
Abilities
Edit
Though he generally avoids is, Malekith is a moderately skilled hand to hand combatant, but not as good as Frigga . However, he is also a talented and powerful sorcerer.
Relationships
Edit
Behind the Scenes
Edit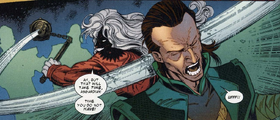 In a non-canon story in the Captain America & Thor: Avengers! comic, Malekith is the royal mage of Queen Alflyse of Svartalfheim.
Mads Mikkelsen was considered for the role of the Dark Elf, but he dropped out due to scheduling conflicts.
Unlike most of Malekith's appearances, the dark side of his face is on the right instead of left.
References
Edit
External links
Edit