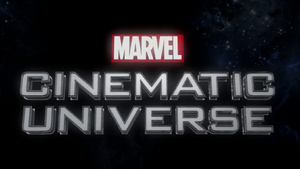 The Marvel Cinematic Universe is a shared universe created by Marvel Studios, designated as Earth-199999 within Marvel's multiverse system. The universe is comprised mainly by films independently made by Marvel Studios, that are always set within this same universe, much like Marvel has done with their comics.
The universe includes a series of short films, called Marvel One-Shots, launched with each film's Blu-ray release starting with Thor and finishing with Thor: The Dark World. These short films were, however, eventually discontinued.
Starting with the release of Agents of S.H.I.E.L.D., the universe expanded into television series, including series premiered in the ABC and Freeform channels, and in the Netflix streaming platform.
The franchise also includes a series of tie-in Comics and video games, released as promotional material to the films, all set within the same reality. However, some of them, especially video games, do not match the events featured in other products following their release, and are classified as non-canonical parts of this universe.
Movies
(Untitled Movie) (2020)
(Untitled Movie) (2020)
(Untitled Movie) (2020)
TV Series
ABC Series
Web Series
Behind-the-scenes features
​Undeveloped Movies
Main article: List of Undeveloped Movies
Undeveloped TV series
Video Games
Stories Inspired by the Universe
Trivia
So far, the released movies of the Marvel Cinematic Universe have grossed $10,026,042,620 worldwide. It is the first major film franchise to cross the $9 billion and $10 billion marks.
The Marvel Cinematic Universe is the highest-grossing franchise of all time.
Due to financial difficulties Marvel faced in the past, they had to sell the film rights to several of their comic book characters. Some of these sales are still in effect today, and thus the characters cannot be used in the MCU.[1]
After the release of Iron Man, Marvel Studios made a deal to produce five further movies with Paramount Pictures - Iron Man 2, Thor, Captain America: The First Avenger, The Avengers and Iron Man 3.[6] In 2009, Disney purchased Marvel and gained the distribution rights to The Avengers and Iron Man 3.[7][8] In 2013, they gained the distribution rights to Iron Man, Iron Man 2, Thor and Captain America: The First Avenger to close the acquisition of Marvel.[9]The Incredible Hulk is the only MCU film not currently owned by Disney due to a separate agreement between Marvel and Universal Studios.[10]
A recurring theme in the solo movies is that the main protagonist often isn't the one who defeats the main antagonist, or needs help from an ally to do so.
References
External Links
Ad blocker interference detected!
Wikia is a free-to-use site that makes money from advertising. We have a modified experience for viewers using ad blockers

Wikia is not accessible if you've made further modifications. Remove the custom ad blocker rule(s) and the page will load as expected.