Welcome to the Playground! On top of being S.H.I.E.L.D.'s headquarters, this is also the general discussion page for the Marvel Cinematic Universe Wiki! The Playground is where this Wiki community comes together to organize and discuss projects for the Wiki. To see the most recent discussions, scroll down the page.

---
Removing Video Game/Deleted Material Articles
Staff Members
Following the Staff Survey that we conducted in July, polls reveal that a majority of voters believe this wiki could benefit from newer Staff members. As such, we will begin a process to choose new Content Moderators. In case you need to, you can consult the whole Staff Survey here and some of its conclusions here.
Since the last election in this wiki, Wikia has released new groups of User rights, including Content Moderators, whose tools and functions can be consulted at the Help:User rights. The tools they have would allow new Content Moderators to protect and edit pages that had needed to be protected, rename images, delete or undelete articles and files, rollback undesired edits and patrol new pages. As such, an ideal content moderator should be an user whose edits are trustworthy, and, especially, that knows, follows and respects this wiki's policies and standards.
Following the release of these ranks, that are an intermediate step between a regular user and a full-fledged administrator, Wikia encourages promotion of users to these medium ranks before a promotion to administrators. So, in the proper section below, editors will be able to nominate the users they think are worthy of becoming new content moderators.
On the other hand, during the staff survey there were also comments, some in first person, about the possibility of demotions of some of the current staff members. In the proper section below, you will also be able to comment about this possibility.
Don't forget to sign your comments, and thank you to everyone for your participation!--Shabook (talk) 11:30, August 20, 2016 (UTC)
Content Moderators Nominations
Staff Demotions
Pages renames
Articles for Movies with Uncomfirmed Titles
Citizenship Template
Categorisation
Affiliation Template
States
New articles
New category
Category for Magic Users
Promotional Images
By this conversation between me and Nerdtastic1221 we've came up with different views for the same problem. As noted by him most of the galleries here on the wiki have Promotional Still Images listed under Screenshots sections. Since I was the one of the main editors for the Spider-Man/Gallery page, I could shape it the wright way: by adding Still images under the proper Promotional section as they should be. By reading our conversation (and the links I showed him ) you can see that by definition Screenshots and Stills are different things. Nerdtastic1221 justified keeping things the way they are because that's the way we always did and that's why we shouldn't change. Several times we did structural changes here (for the best) and we also did changes that included editing lots and lots of articles (like the addition of the Citizenship and Affiliation categories). That's why I propose to proper rearrange the Gallery pages and rightfully ajust this little mistake we have on our wiki. I would be glad if I could count on your help like I did with the Citizenship and Affiliation categories since I'll need all of it.--Blaublau94 (talk) 17:04, August 7, 2017 (UTC)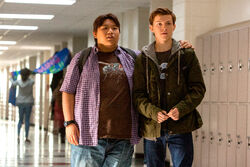 My argument is that this is a still image from a movie scene, it is a taken from a scene being filmed with the actors. In my mind this allows it to be included in the screenshots section. The screenshots section is for images from the movie/tv show scenes themselves, regardless if they were literally taken from the completed shot or not.
I believe the promotional section of the gallery should be reserved for posters or posed images of the cast.
Backing me up is the fact that in the wiki's entire history, these sorts or images have always been included in the screenshots section of the galleries.Nerdtastic1221 (talk) 17:28, August 7, 2017 (UTC)
There are things that don't have to be discussed. Definitions are what they are. And any image that appears in a movie or TV episode is an screenshot, no matter if it was taken from the released media, or by Marvel prior to the release...--Shabook (talk) 17:43, August 7, 2017 (UTC)

Except this image does not appear in a TV episode or a movie. They are set photo, they have different angles and cuts and light and are not representative of the final product.--Elledy92 (talk) 10:49, August 8, 2017 (UTC+1)

Agreed. Set photos such as the one shown above with Ned Leeds and Peter Parker should be categorized under "stills"; if anything, however, it would still fall under "Promotional" rather than "Screenshots". Murali9395 (talk) 14:37, August 8, 2017 (UTC)
I would say there's a difference between a set picture and a still, and a still has more relevance in the screenshots section. I honestly believe that the promotional section should be reserved for posters, and cast photoshoots like the recent ones from the Inhumans. On another point, for ease of use on this wiki, it is vastly easier to find a still image from a movie/tv scene when it's in the screenshots section in the correct order. And as Shabook says, why does anyone want to try and redefine this? If anything should be changed (which it doesn't need to), then perhaps consider changing the word screenshots to stills, but that is still basically pointless.Nerdtastic1221 (talk) 15:36, August 8, 2017 (UTC)
Or maybe there should be a section for "stills" as well as a section for "screenshots", with the latter being classified for actual screenshots taken from the film. And this way, the "promotional" section is reserved for posters, magazine artwork, etc. Adding another header isn't going to be too difficult or a waste of time, even. And it does smooth this issue out, does it not? Murali9395 (talk) 15:40, August 8, 2017 (UTC)

There isn't much of a difference between a still and a set photo. They are the same thing. The difference between a screenshot and a still is the first one is a frame taken from a video, the latter is a photo taken from video. There is no need to create a "stills" paragraph, but they certanly fall more under the category of promotional material. Elledy92 (talk) 19:23, August 8, 2017 (UTC+1)
I agree with Blaublau94. Just because the wiki has always done something doesn't mean it needs to stay that way. Stills released by Marvel are mostly set photos (the ones that aren't are usually the ones that have CGI, in which case they are actually screencaps). By the strictest definitions of canon, which is what we usually abide by, set photos would therefore not be canon and shouldn't appear in screenshots or on in universe pages and should just be in the promotional galleries. Coluanprime (talk) 18:17, August 9, 2017 (UTC)
IF the "still" does not literally appear the same way in the movie/tv-show, it should not be in screenshots, if it does (like a lot of them do) it could fit as a screenshot. But if making this change could lead to "stills" that match "screenshots" could end up not falling under screenshots, even though they technicaly are, I dont agree with the change, because that wont mean fixing a mistake, but just changing a mistake. Atleast they should not end up in the set photos.TomasDerksen (talk) 20:24, August 11, 2017 (UTC)
Removing Reviews Pages
Timeline Upkeep
"Appearances"
Sorcerers Category
Hi,
May I create the Sorcerers category? I believe that this deserves its own category. Banana32 (talk) 20:18, November 28, 2017 (UTC)
MCU Film Descriptions
Template for attacks, kidnappings and assassinations attempts
Mythological Characters Category
I was thinking that, since a lot of characters that are consider mythological exists in the MCU, like Bast and Hanuman, but even "physical" characters like Thor and Loki, the category "Mythological Characters" could be created (since Characters suitable in this case). --Elledy92 (Elledy92) 11:17, February 28, 2018 (UTC)
Medicines Category
I'd like to suggest the creation of a category for Medicines, as a subcategory of Items. This category could at least include GH.325, Ghost Infection Antidote, Terrigenesis Vaccine, Rapid Bone-Healing Pills, Resurrection Elixir and Sufentanil. I'm not sure whether the Tetrodotoxin B would fall into this.--TraceFinder (talk) 12:45, March 9, 2018 (UTC)
Category for Actors with Upcoming Roles
Could we have a category for actors whose characters have not yet appeared? Examples being Peter Dinklage, Walton Goggins, and Laurence Fishburne. At the very least, these actors should be in the Upcoming Content category. TheRadion (talk) 00:55, March 28, 2018 (UTC)
Gifs
Is there a specific reason the wiki doesn't seem to use gifs outside of the spoiler tag? (moving images if there's anyone who doesn't know) If there isn't I feel it'd be a good way to show powers in action among other things in comparison to still images. SwagMasterDbl (talk) 05:11, April 2, 2018 (UTC)