Marvel One-Shot: A Funny Thing Happened on the Way to Thor's Hammer
Talk

0
Share
"What should I tell the police?"
"Tell them those Tae-bo tapes really paid off."
―Cashier and Phil Coulson
A Funny Thing Happened on the Way to Thor's Hammer is the second in a series of Marvel One-Shots, released on the Captain America: The First Avenger Blu-ray on October 25, 2011. It takes place during the events of The Incredible Hulk, and in between the events of Iron Man 2 and Thor.
Synopsis
Phil Coulson stops a gas station robbery on his way to New Mexico.
Plot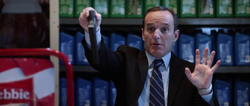 Agent Phil Coulson leaves Tony Stark's lab in Malibu to investigate a situation in New Mexico. Coulson stops at a gas station to fill up his car and, as he tries to decide between which donuts to buy, two armed robbers enter the shop and hold the night clerk at gun point telling her to empty the cash register. Coulson reveals himself to the criminals and feigns stupidity, offering to surrender his pistol. However, he tricks them into allowing him to slide it over through the next aisle, and while they are distracted, the agent takes them both down. Agent Coulson then casually pays for his donuts and leaves the night clerk staring in awe and recommends that she inform the police that she was the one who subdued the thieves.
Cast
Appearances
Locations
Vehicles
Organizations
Mentioned
Trivia
Music
External Links
Ad blocker interference detected!
Wikia is a free-to-use site that makes money from advertising. We have a modified experience for viewers using ad blockers

Wikia is not accessible if you've made further modifications. Remove the custom ad blocker rule(s) and the page will load as expected.