Michael Peterson
Comments

16
1,191pages on
this wiki
"Michael Peterson, factory worker. Married, one kid. Gets injured, gets laid off, wife jumps ship. Good guy, bad breaks. Best guess is, somebody tells him they can make him strong again. Make him super."
Michael Peterson was an ordinary man until he was approached by the mysterious group who helped him to develop superpowers through use of Centipede. However, when he compromised the secrecy of the project, they decided to eliminate him, but they were stopped by a group of S.H.I.E.L.D. agents led by Phil Coulson. Some time later, Peterson decided to join S.H.I.E.L.D.
Biography
Edit
Early life
Edit
Not much is known about Peterson's early life. He lived alone with his son, his wife having left him when he lost his job due to injury.
The Centipide
Edit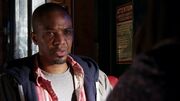 "You're in danger."
"What do you mean danger?"
"S.H.I.E.L.D."
"I should carry a shield?"
―Skye and Michael Peterson
At some point he was approached by a doctor known only as Debbie, who offered him a treatment that could restore his health and put him back to work. Debbie treated Peterson with the Centipede device, which utilized, among other things, unstable Extremis technology. A side-effect of the treatment was Peterson's development of super-powers, including strength and durability.
When Debbie's lab was destroyed by the detonation of another Centipede user, Peterson saved Debbie from the burning building. This action was observed and recorded by Skye, who was investigating Centipede for the Rising Tide. Skye posted her video online, giving Peterson an unwanted celebrity, as he only desired to find work and raise his son in peace.
Peterson was later tracked down by Skye, who led him to believe that he was in danger from S.H.I.E.L.D. Soon after, Peterson's condition began to deteriorate, both mentally and physically.
In desperation, Peterson returned to his former workplace, hoping to regain his old position. After being rebuffed, he attacked his old manager, putting him in the hospital. He then visited Debbie in the hospital, who convinced him that he needed to disappear, as the people behind Centipede did not want to be exposed.
Mike's condition from the Centipede soon grew critical. However, Mike was still convinced that he needed to try and rebuild his life. He took his son and broke into Skye's van, ordering her to take him to the nearest train station. He soon discovered that Skye was working with S.H.I.E.L.D., and escaped into the station. He was confronted by Agent Phil Coulson who tried to talk him down, before being shot by Agent Grant Ward with the Night-Night Gun, which tranquilized him with a curative agent created by agent Jemma Simmons, saving his life.
He was then taken into S.H.I.E.L.D. protective custody for rehabilitation, and his son taken to live with Mike's sister Mindy until he has recovered. [1]
Fighting Back
Edit
"We need you to suit up."
―Phil Coulson to Michael Peterson
To Be Added.
Due to use of Centipede, which is an combination of Extremis, gamma radiation, alien metal and elements of the Super Soldier Serum, injected into his system through an device on his arm, Michael Peterson possesses various superhuman abilities.
Superhuman Strength: Mike possesses strength that is greater than an normal human. He can lift much heavier objects that cannot be moved without use of machinery and overpower normal humans and send them flying about tens of feet away. With his strength, he can tear any solid objects like concrete with ease. In addition, his strength extends into his leg muscles as he is able to leap great distances.
Superhuman Speed: Mike can move at speeds much faster than any normal human athlete. After exiting the building, he was able to reappear behind his son to leave the scene.
Superhuman Agility & Reflexes: Mike has agility and reflexes far greater than an normal human being.
Enhanced Durability: While he is not bulletproof, Mike can withstand physical damage much greater than that of an normal human. He was able to withstand an fall from the higher level of the train station down to the ground.
Regenerative Healing Factor: If injured, Mike is able to heal much faster than an normal human being. He took an shot from an shotgun but showed no siginificant damage upon getting up.
References
Edit