The Milano is a customized M-ship used by Peter Quill and the Guardians of the Galaxy.
History
The vessel known as the Milano was one of the spacecrafts used by the Ravagers. These ships were used for scouting and hunting purposes.
In 1988, moments after Meredith Quill's death, her son Peter Quill ran out into a field where he was abducted by Ravagers. The Ravagers considered eating him, or returning him to his father who had paid them to abduct Quill, but did neither, deciding to adopt Quill as one of them.
As Star-Lord, Quill used the Milano for looting and piracy, establishing his name as an intergalactic criminal. When Quill obtained the Orb, the Milano transported Quill to Xandar to sell it. After his arrest, the Milano was impounded by the Nova Corps to the Kyln. The Guardians of the Galaxy later used it to escape.
The Guardians used the ship to travel to Knowhere. When Drax the Destroyer called Ronan the Accuser to Knowhere, and Quill and Gamora were abducted by the Ravagers, Rocket, Groot, and Drax used the Milano in an attempt to free their partners.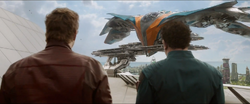 In the Battle of Xandar, Quill, Gamora, Groot, and Drax used the Milano to enter Ronan's ship, the Dark Aster. In the process the ship was severely damaged.
Afterwards, the Nova Corps rebuilt the Milano for Quill as repayment for saving Xandar.
Trivia
In the original comics, Starlord's ship was a sentient star called Aurora, who was turned into a sentient spaceship by the Master of the Sun.

In the most recent storyline, the mobile headquarter of the Guardians of the Galaxy it's called C.I.T.T., an acronym for Cool Interstellar Travel Travelship.

The Milano is named after Peter Quill's childhood crush Alyssa Milano.[1]
References
External Links
Ad blocker interference detected!
Wikia is a free-to-use site that makes money from advertising. We have a modified experience for viewers using ad blockers

Wikia is not accessible if you've made further modifications. Remove the custom ad blocker rule(s) and the page will load as expected.