"That's what I love about you Molly. Our parents are killers, the cops are crooked and we almost got killed by some gang members. But you see it as everything is going great."
Molly Hernandez is a young girl with a superhuman strength, a power she gained after being exposed to a mysterious type of rocks prior to and during the explosion that killed her biological parents, Gene and Alice Hernandez, when she was a child. She was adopted by Dale and Stacey Yorkes, the parents of Gert Yorkes. Upon reuniting with her childhood friends, they discovered that their parents used PRIDE to cover up ceremonial sacrifices of the Church of Gibborim. She teamed up with her friends and formed the Runaways. Having been framed for Destiny Gonzalez's murder, and with no other choice, they are forced to run.
Biography
Early Life
Losing her Parents
"I always thought it was a miracle that Molly survived that night."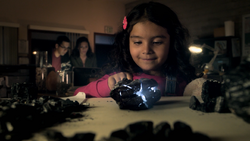 Molly Hernandez was born in 2003 to and Gene and Alice Hernandez. When Molly was four years old, while she was playing in their lab, she saw her parents worrying around the room. Her mother, Alice, approached her and told her that she loved her. Observing her parents, Molly noticed a stone on the desk that her mother had brought back, which moved by making light. Amused, she moved the stone until a door knocking noise drew her attention again, as well as that of her parents.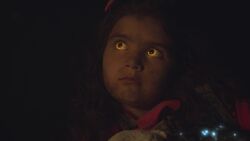 While her parents discovered that they were locked up in the lab, Hernandez went back to playing with the stone. Seconds later, an explosion blasted the lab. Clinging to her stone and her soft toy, Molly went to hide under a table, watching the remains of the building following the explosion that has just killed her parents. Hernandez did not immediately realize what had just happened to her and remained calm to wait for someone to pick her up. As she looked at the sky, the color of her eyes turned orange, indicating that she had gained her powers.[2]
Adoption by the Yorkeses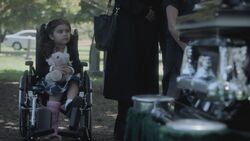 "You know that we loved your mommy and daddy very much, and we know how much they love you. And..."
"We know that they would want you to have a good home, so we were wondering if maybe you'd want to come live with us."
―Dale and Stacey Yorkes to Molly Hernandez
Later, Hernandez attended the funeral of her parents being pampered by Stacey Yorkes who collapsed in tears understanding the suffering of it. Hernandez looked attentively at the burial of her parents, without crying once. Hernandez then went to the Yorkes Residence with the other children of the members of PRIDE, remaining sitting alone and playing with her stuffed elephant toy.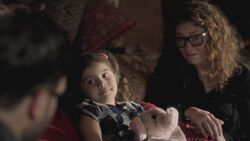 Later, Hernandez was approached by Stacey and Dale Yorkes who asked her if she wanted to eat. Hernandez told them that she was not hungry but that her stuffed animal would not say no to a little food. The discussion turned to the fact that Hernandez dreamed of being an elephant and the Yorkesed finally offered her to come live with them, which Hernandez accepted without hesitation.[3]
Reunion
Powers Discovery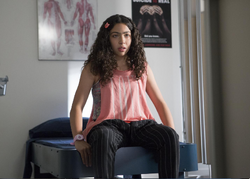 In 2017, Hernandez and Gert Yorkes were taken to Atlas Academy by Dale and Stacey Yorkes. After an awkward conversation about menstruating, Hernandez told Gert that she wanted to audition and join the school's dance squad. However, during the audition, she experiences what seemed to be bad menstrual cramps, and was left unable to continue the tryout, causing Hernandez to ask Eiffel for a reschedule. Hernandez headed to the nurse's office, where she was given meds. When the nurse stepped out, her powers suddenly emerged as she inadvertently used super-strength to accidentally crush her chair. This relieved her discomfort, the repression having been the true source of her pain.
Back home, Hernandez decided to further try out her powers in the garage. She tried to pull a van but failed, instead going to bend a crowbar, just as the van began to roll towards her from behind. Hernandez noticed and turned, causing her powers to suddenly activate to stop the vehicle. Hernandez cheered at her success, before suddenly becoming very tired and slumping against the wall. She was then awakened by a text from Gert asking her to feed their parents' pets.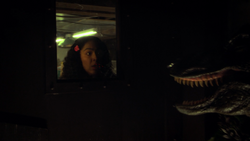 Hernandez went down into the basement to feed the pets. However, she also heard noises from the a heavily secured vaulted room, and approached its window. As she looked through, she managed to see some kind of creature - actually a genetically engineered dinosaur, prompting her to flee in terror. She called her sister, saying that she wanted to leave the house. Hernandez was later found by Gert, who took her to the Wilder Mansion, as Alex Wilder had previously invited all of his former friends over.
Once all the group of former friends was gathered, they asked for suggestions on what to do next. However, the conversation quickly went wrong as they began arguing with each other, although no one had peculiar grudge against Hernandez herself, since most of the resentment was directed towards Wilder. The group then followed Chase Stein as he headed over to Geoffrey Wilder's office to find some alcohol, although he refused to give some to Hernandez.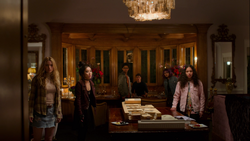 The group was then surprised when Wilder accidentally activated a secret mechanism which triggered the opening to a mysterious passageway leading in the mansion's basement. They arrived at an underground hall and were confused as to what was happening as they saw their parents in red robes preparing for some sort of ritual and apparently unreachable behind a mysterious energy barrier. Hernandez was then pushed back by Yorkes as a young girl, Destiny Gonzalez, was being brought for what appeared to be human sacrifice. However, Hernandez refused to be the only one not to see anything and used her phone to take a picture, thus alerting PRIDE with the flash. Figuring out that they could be discovered having seen something they were not supposed to, Hernandez and the others fled back to Geoffrey's office.[4]
Avoiding Confession
To be added
"You try lifting an SUV with your bare hands. It's exhausting! At least you guys finally got to see what I can do."
―Molly Hernandez to the Runaways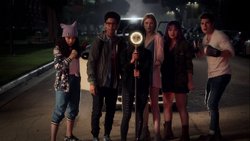 To be added
Sent Away
"I don't want to live somewhere else. Why are they doing this to me?"
"Because they know you saw."
―Molly Hernandez and Gert Yorkes
To be added
To be added
To be added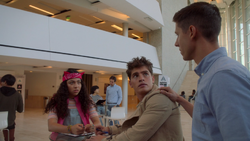 Running Away
"Does Arizona like brown people? I don't think they do."
―Molly Hernandez
To be added
Personality
" Maybe my true super power is my positive attitude."
―Molly Hernandez
To be added
Powers and Abilities
Powers
"You try lifting an SUV with you bare hands. It's exhausting."
―Molly Hernandez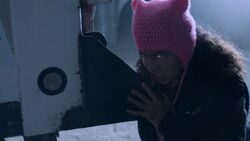 Superhuman Strength: Molly developed superhuman strength, presumably a result of coming in contact with a mysterious rock during her childhood. Though she started manifesting physical characteristics of this change immediately after the explosion that killed her parents (specifically, a reddish glow emanating from under the skin around her eyes and a bright golden-orange limbral ring around her irises), her powers did not start to develop until she reached puberty. In moments of great stress, tension, or other heightened emotions, her eyes begin to glow and her physical strength increases to superhuman levels. Since reaching puberty, Molly has demonstrated the power to easily crush a metal bench in her hands, lift a large SUV off of the ground, push a Volkswagon bus and another SUV for a considerable distance, rip a toilet that had been bolted to the floor up into the air, wrench a set of bars in a public bathroom from the windows (and taking quite a bit of the brick wall surrounding it as well), and push open a large set of locked wood and concrete doors, the latter of which was a feat that the other five Runaways were previously unable to accomplish with their combined strength. The upper limits of her powers are not yet known. However, after using her powers, Molly usually becomes very exhausted and sleepy.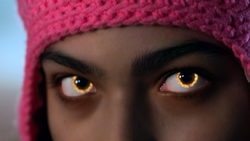 Bioluminescence: When Molly's strength increases, her eyes glow with bright golden-orange ring around her irises.
Abilities
Multilingualism: Molly has demonstrated the ability speak both American English and Spanish.
Facilities 
Yorkes Residence: Molly lived in this wealthy residence with her adoptive parents Dale and Stacey Yorkes and her adoptive sister Gert Yorkes. 
Timely Coffee: Molly often met with the other Runaways at the Timely Coffee, where they would discuss their plans to take down PRIDE.
Graciela Aguirre's Residence: Molly was forced to live with her second cousin Graciela Aguirre by her adoptive parents after it was discovered she witnessed one of PRIDE's sacrifices for her own protection. Molly later left the residence in order to investigate the key she was given by Graciela from her dead parents.
Relationships
Appearances
Appearances for Molly Hernandez
In chronological order:
Trivia
In the comics, Molly Hayes is the mutant daughter of Gene and Alice Hayes who develops superhuman strength. After running away from her parents, she takes the alias Bruiser, but later changes it to Princess Powerful.
Behind the Scenes
References
External Links