Ad blocker interference detected!
Wikia is a free-to-use site that makes money from advertising. We have a modified experience for viewers using ad blockers

Wikia is not accessible if you've made further modifications. Remove the custom ad blocker rule(s) and the page will load as expected.
Nelson and Murdock was a law firm in New York City.
History
Getting an Office
Foggy Nelson and Matt Murdock met with Susan Harris to tour an office in Hell's Kitchen to start their new law firm. Harris explained to them the benefits of owning the office, stating that it had been barely touched by the incident while the neighboring building had not.
Nelson argued that the price seemed too high for an office with a view of only cranes and scaffolding. Harris addressed that the price was only a quarter of what they used to be and that in 18 months, they wouldn't be able to afford a broom closet at that price point.
Murdock decided that they would take the offer, to which Nelson disagreed saying that they would not be able to afford it unless they made some changes to their clientele policies. They eventually both accepted the deal.[1]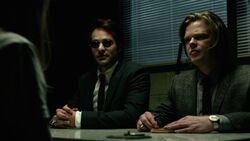 Nelson and Murdock's first client was Karen Page, a secretary for Union Allied Construction and the prime suspect in the murder of her co-worker Daniel Fisher. Despite all of the evidence pointing to Page being the murderer, Murdock believed that Page was innocent and was suspicious that the New York City Police Department was not filing charges against her.
After Page was nearly killed in her cell by Clyde Farnum, she was released into Nelson and Murdock's custody. She told them that she uncovered evidence of financial misdeeds at Union Allied Construction and set up a meeting with Fisher to discuss it with him. She blacked out at the bar where they met and regained consciousness in her apartment, holding the bloody knife, with Fisher dead on the floor. Page believed she was framed as a way to intimidate her to keep silent about what she learned.
The case was dismissed after the Man in Black delivered a hired killer named Rance and files pertaining to a cover up of money laundering at Union Allied Construction to the New York Bulletin, proving Page's story.
The jury could not reach a verdict. The judge declared a hung jury and the case was not retried.
Investigations into this case led Nelson and Murdock to discover connections to Wilson Fisk's criminal empire. When Fisk felt that the Man in Black was becoming too much of a problem, he ordered Cardenas murdered to draw him out.
The D.A. asked him to wear a wire to meet with a known drug dealer named Edgar Brass. In reality, the D.A. used him as bait to draw out the Punisher. In the ensuing gunfight between the Punisher and the police, Grotto fled. Eventually, the Punisher caught up with him and killed him.
Castle agreed to hire Nelson and Murdock to represent him, and they managed to reduce his sentence in exchange for a guilty plea. However, at the arraignment, Castle surprised them by pleading not guilty. The highly publicized trial ended abruptly when Castle furiously and loudly declared that he was guilty on the stand.
The loss of the case, combined with increasing tensions between Murdock and Nelson, caused the lawyers to shutter the office.
Employees
Clients
Appearances
Gallery
Screenshots
Promotional
References
External Links