"What legal authority does an enhanced individual like Wanda Maximoff have to operate in Nigeria?"
―News reports following the devastation in Lagos
Nigeria, officially the Federal Republic of Nigeria, is a country located in West Africa.
History
Lance Hunter once had a bad run-in with a Nigerian drug dealer in Trinidad and Tobago.[1]
Crossbones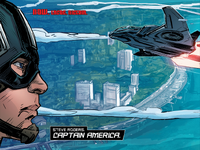 Brock Rumlow, now known as Crossbones, visited Lagos, Nigeria. Here he was spotted, which drew the attention of Captain America and Falcon.[2]
References
External Links